Microsoft has finally released the first stable build of its Chromium-based Edge browser. Since it based on Chromium, it is obvious users will be able to enjoy most of the features available on the Chrome browser. Like, you can install Chrome extensions, themes, and other things possible only in Chrome.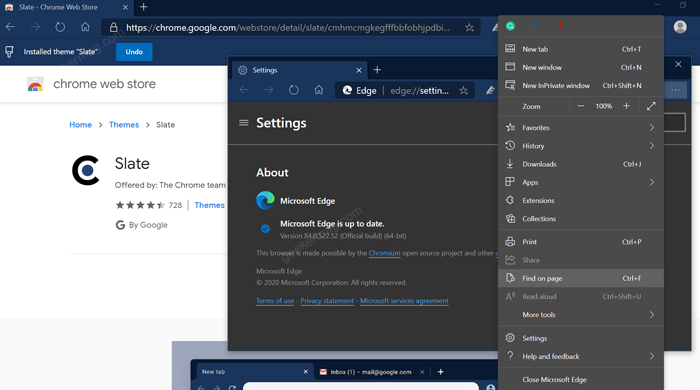 In our previous blog post, we have already covered how you can install Chrome Extensions in Chromium Edge. In case, you're a fan of Chrome themes and would like to apply your favorite one in the new Edge, then, fortunately, it is possible.
In case, you have downloaded and installed the latest version of Microsoft Edge and want to try the feature, then here's how you can do it.
Install Chrome Themes in Edge Chromium
Starting with Microsoft Edge Stable v84.0.522.52 or higher the company adds support for Themes in Chrome Web Store. It means users can install and uninstall Chrome Themes in Edge more easily.
Make sure, you're using the latest version of Microsoft Edge v84.0.522.52.
Next, you need to visit this flag address: edge://flags/#edge-allow-store-extension-themes
Next using the drop-down next to "Allow installation of external store themes" change the setting from Default to Enabled.
Click on the Restart button to apply the changes.
Install Custom Theme on Edge
To install Chrome themes in the Edge browser. You need to visit the Chrome Web Store Theme Page.
Make sure to click on the "Allow extensions from other stores" button and then Allow button.
You can also manage same setting by going to Settings > Extensions. On the left bottom corner turn on "Allow extensions from other stores "
Next on the page, choose the theme of your choice and then click on the "Add to Chrome" button. Wait for a few seconds. The same theme will be applied to the Edge browser soon.
Uninstall Custom Theme from Edge
You can uninstall the theme from the Settings. Here's what you need to do:
Go to 'Settings and more' icon and select Settings. Switch to the Appearance tab on the left side. You can also visit this address to directly reach the setting: edge://settings/appearance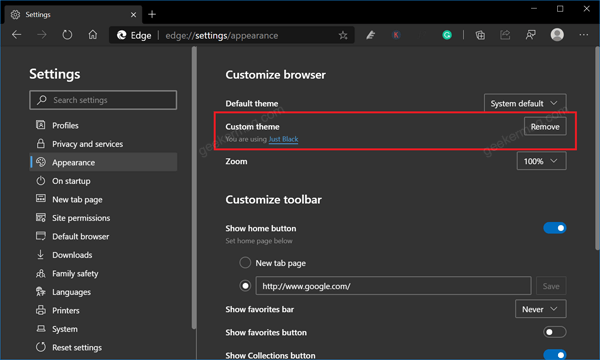 On the right side, head over to the Custom theme section. Here, locate the theme and click on the Remove button.
After that, you can again head over to the Chrome web store and install another theme of your choice.
You can also check YouTube for step by step instructions:
You're done! Let us know your favorite Chrome web store theme which you want to set in Microsoft Edge.
Donate on Paypal or Buy us a coffee or Join Patreon if you find the information shared in this blog post useful. Mention 'Coffee' in the Subject. So that I can thank you.