Starting with Microsoft Edge v87.0.664.57, the company introduced a Sidebar search feature. Let's learn more about this feature.
Recently, Microsoft announced the 'Sidebar search' feature for the Edge browser. With the help of this feature, users can search for their queries right from the sidebar within the new tab page. What's make this feature special is that you don't have to leave the page to search for your queries.
The Sidebar search feature is inspired by the "Ask Cortana" feature available in Edge Legacy. Microsoft replaced Ask Cortana with Sidebar search because it was not upto the mark and not able to satisfy users.
How to Use Sidebar Search in Microsoft Edge
If you're using Microsoft Edge Stable v87.0.664.57, then here's how you can try the feature:
Launch Microsoft Edge browser and visit any webpage.
Here, you need to highlight the phrase or word, then make right-click and select "Search in Sidebar (Your Phrase) "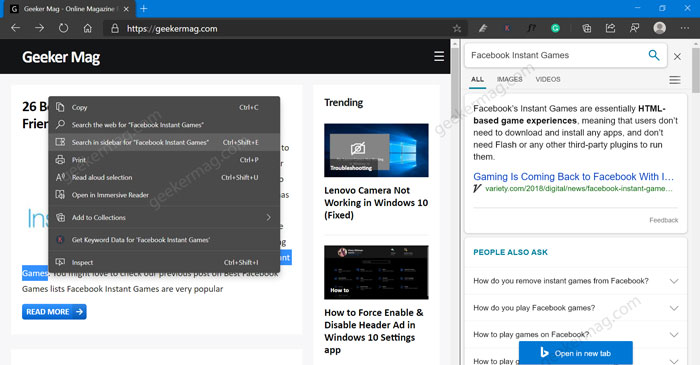 Note – In case, you're using Google or other as a default search engine, then instead of the above query, you will see "Search in Bing in Sidebar"
Instantly, Sidebar search section will open on the right-pane giving you web results for your query. All your queries will be powered by Bing search.
In addition to Web Results, Sidebar search will also show you Images and Videos results based on your queries. You can use Sidebar search window for find additional information.
Apart from this, you can click on the "Open in New Tab" button to see web results in full page.
Are you going to test the Sidebar search feature in Edge? If you have used the Ask Cortana feature in Edge Legacy, then which one is better? Sidebar search or Ask Cortana? Let us know your opinion in the comments.