Starting with Microsoft Edge in Canary v85. 0. 564. 0, the company added a new setting called Throttle Javascript timers in background using which you can reduce CPU and Battery Consumption.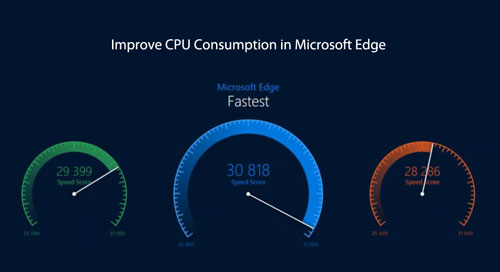 "Throttle Javascript timers in background", is already implemented in Chrome and now available in the Edge browser too.
Once you enable the same setting, it will improve CPU and Battery Consumption upto 30% if you keep many tabs open at the same time. Specifically, When enabled this feature causes Javascript timers in background tabs to be aggressively throttled and coalesced, running no more than once per minute after a page has been backgrounded for 5 minutes or more.
Reduce CPU Consumption & Boost Battery life in Microsoft Edge
In case, you want to improve the CPU and Battery Consumption in Edge browser, then here's what you need to do:
Make sure you're running Edge Canary v85. 0. 564. 0 or above.
After that, you need to visit edge://flags/#intensive-wake-up-throttling
Using "Throttle Javascript timers in background", change the setting from Default to Enabled.
Click on the Restart button to apply the changes.
Doing this will enable JavaScript Limiter and definitely help in reducing CPU consumption and boost batery life.
Since it is an experimental feature, it might break functionality on some websites. In this situation, you can repeat the same steps and change the settings from Enabled to Default to turn off the feature.