CCleaner, the popular computer cleaning software, recently introduced a new "Easy Clean" feature, a new simplified cleaning mode.
According to company, they have made one of the biggest change to its software after 15 years. The feature is dedicated to the non-technical users and is a great alternative to the earlier cleaning mode.
CCleaner Clean Mode
After installing the latest version of the CCleaner, you will find a new Easy Clean tab on the upper left side of the application user interface. Easy mode is a new addition to the toolbar.
Previously, when you open the application, the Cleaner was the default cleaning screen of the application, but it is now replaced with the new Easy Mode. Don't worry Cleaner mode is also available, but it has a new name i.e. Custom Clean.
Difference between Easy Clean and Custom Mode
Easy Clean
Clean Mode is for the non-technical users, and to get started; you have to click on the Analyze button. The scanning process will start, and present you following screen featuring two tabs; Finding trackers and Finding junk. Here Trackers are Cookies, which it detects while scanning website data.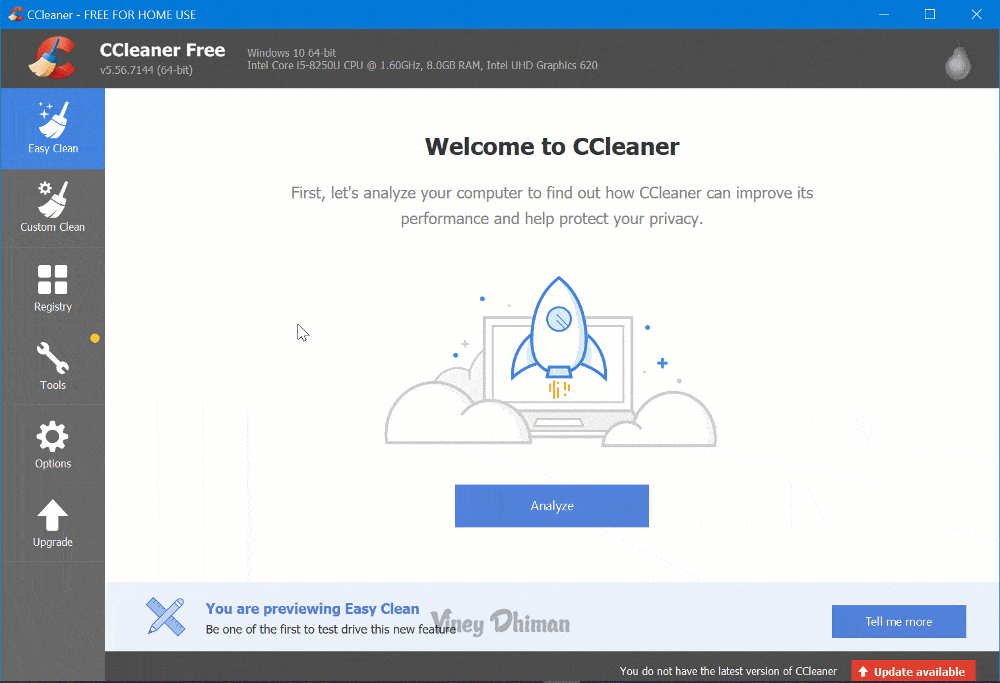 On the other hand, Easy clean mode will clean junk from system files which includes Recyclebin, Temporary system files, Temporary internet files, and, Temporary application files.
Once the scanning process completes, the application will present you list of the trackers and amount of the junk. You can review both and click on the 'Clean all' button to complete the scanning process.
Note: The intelligent scan for cookies a feature CCleaner use to delete cookies, will not delete cookies that are in the "Cookies to keep" section. Once you clean cookies, you need to enter the login credentials again to login into the website.
Custom Clean
Custom Clean is dedicated to users who want more control over the cleaning process. There's no new addition to this cleaning mode. It works just like earlier Cleaner mode.
Change CCleaner Default Cleaning Mode
The company learned from its past mistakes and introduced a new option in the settings which make it easier for the users to easily change default cleaning mode.
The feature is useful for the users who want to set CCleaner old Cleaning screen as a default cleaning screen. Here's how you can do it:
Open CCleaner and then head over to Options > Settings. Here, on the left right side, select 'Custom Clean' in the 'CCleaner Home Screen.'
You can download a free version of the CCleaner using this link.
What are your take on CCleaner Easy Clean feature? Find it useful? Let us know your thoughts in the comments.
Donate on Paypal or Buy us a coffee or Join Patreon if you find the information shared in this blog post useful. Mention 'Coffee' in the Subject. So that I can thank you.