Looking for some online flashcards makers? The following blog post has a list of excellent sites to make flashcards online for free.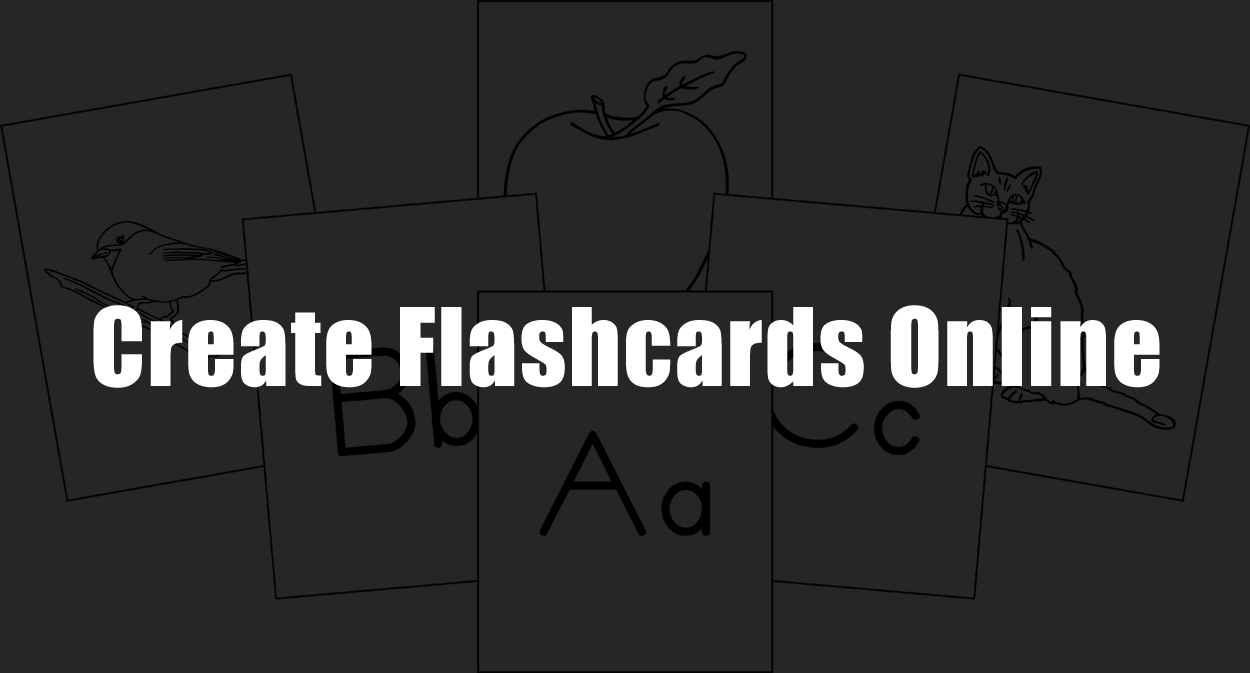 Flashcards are cards holding a small amount of information, help students to see, as assistance to learning. They contain information related to your topics like words, images, numbers, or phrases, and let you quickly test yourself on the subject you preparing.
Usually, pre-made flashcards are seen in elementary schools as compared to high schools or colleges. They are so useful for both studying and learning that lots of students try to create their flashcards. If you're reading this blog post, then the chances are high that you belong to the student group looking for an online flashcards maker.
Fortunately, there are lots of sites that you can use to make flashcards online. In this blog post, I decided to cover the best sites that make it easier for you to make your flashcard online.
Best Sites to Make Flashcards Online
The good thing about these online flashcards makers is that you don't have to waste paper for creating them. So without further delay why don't you start reading about the first site in the list:
Cram is easy to use an online tool to create Flashcards online which is dedicated to beginners and learners. All you have to do is create a free account. After that, you need to create a new Flashcards set.
In Flashcard description, enter the title, give it a subject, also add the description(optional), then select between public or private access.
After that, type the content which you want in the Flashcard. You can take the help of the Flashcard editor to add text, pictures, and required information to the front and backside of the cards.
Once done, head over to Finish & Create section and click the Create Set button. Now your Flashcard is ready to use.
Once the Flashcard is created, you can use it to learn the information, test yourself by playing a game or quiz. If you want, you can also edit the Flashcard sets. You can also share a card with your friends, print and export them.
Cram.com also offers an app for both Android and iOS devices.
Similar to cram.com, Flashcard online is a useful site to make Flashcards online, but in a little different way.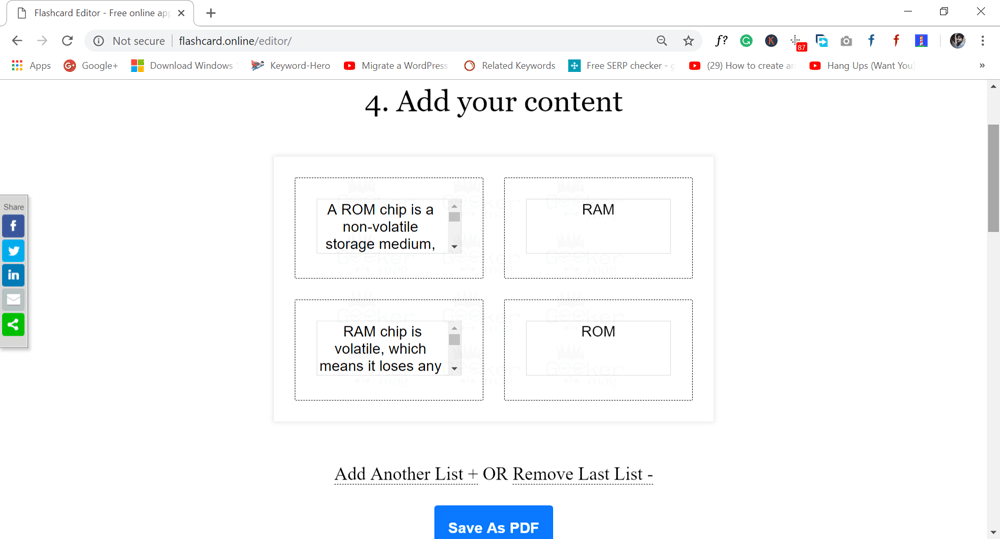 To create a Flashcard, Click on the Start now button on the site. After that:
Enter the title for the card in the space provided
Choose several cards per list. It can be two cards, four cards, and eight cards
Next, select type for the card, from Only Text and Pic + Text, and head over to the next page.
After that tap on the add your Content. You can add more than one list or also remove the list. Then hit on save as PDF and Free Download buttons. Finally, you will have a PDF file of Flashcards, the one you can print, also cut.
The only drawback of using Flashcards online is that it doesn't have the feature like Cram.com of fronts and backs. Either it is also a useful app for Flashcards.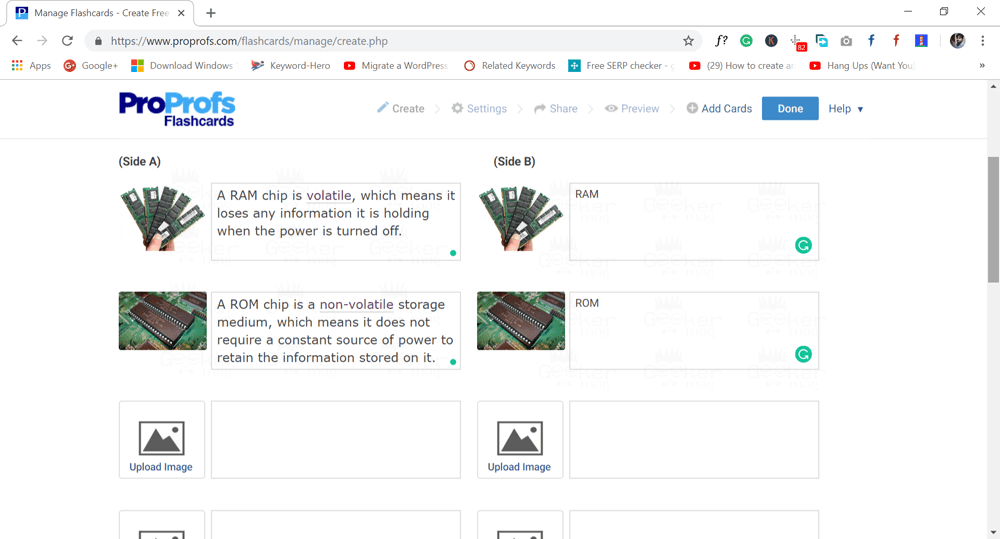 ProProfs.com is also another site for creating Flashcards online. Just visit the site and create your free account.
Before creating the Flashcard it will offer you two options Create Flashcard and Create using Template, it's your wish with which you want to go.
Enter the title for the card and then add a description as per your requirement. Apart from that, there is an option for users to import their Flashcards set. You can create five Flashcards within a second using Online Flashcard maker.
It offers both features either you can type text or use images on the Flashcard. As per your requirement, you can arrange your stack of Flashcards sets. You can also edit your previous set or add more cards to your Flashcards sets. Also, you can delete your set.
ProProfs offers features similar to Cram.com which includes viewing Flashcard sets, memorizing information, playing games, playing quiz, and more.
You can also share your Flashcard deck on social sites and via email.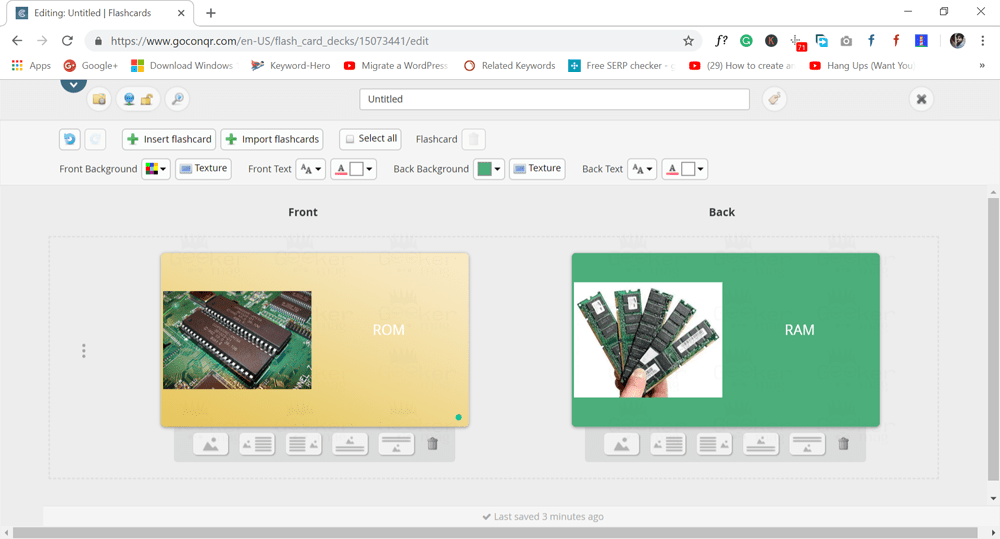 GoConqr is another site to make flashcards online and it has an advanced flashcard creation process. You can set up your account by providing answers to questions like what is your grade level and topic to create your learning profile.
Once you have set up your account, click on the Create button to available on the upper left side and choose Flashcards.
Next, add the information you want in the Flashcard to the front and backside of the cards it can be text or a picture. You can also use the editor for formatting background color, textures, and text. Similar to other services discussed above, this online flashcard maker also lets you import cards.
Apart from creating Flashcards, the site offers extra features like groups, free content, a calendar, and even more. Go Conqr also has premium features, and for that, you need to purchase a subscription.
Brainscape is another good site to make Flashcard online and all because of its attractive features. This online tool allows students, teachers, and corporate trainers to create (or upload) electronic flashcards.
You can use Flashcards created by others or create your own. Just create a free account and start adding content you want to display on the Flashcards set. You can add more than one class as well as Flashcards sets in each section. This feature will help you learn multiple courses to one extent.
You need to enter your questions and answers on both front and back sides of the cards. Once you're done click on the Save this deck. Now, the Flashcard is ready for your study.
The free version of the Brainscape only lets you use text on the Flashcards. Apart from that, you can also sort, edit and share the decks with your friends.
For additional features, you can check the Brainscape paid plan.
Study Blue is also another useful online Flashcards maker which it easier for newbies to create Flashcards. As usual, the very first step is to create a free account. You can ignore the question asked just after creating the account.
To create a Flashcard click on the same option available on the menu bar and select New Flashcard. You can click on the Browse option to use pre-created sets of Flashcards available on this service.
You can add more than one card to your deck. Use texts, pictures, audio files, equations, and even more.
When you are studying the Flashcards created by you, you can quickly flip through them, check out your review sheet, and take the quiz. This online tool also offers additional features like classes that you want to join; homework helps, flashcard decks curated by other users, and even more.
StudyBlue also has applications for iOS and Android devices.
Flashcard Machine is a web-based flashcard maker that you can use to share Flashcards created by you with others. Create your account on this online tool to get started.
It offers users the option to create new Flashcard sets, Flashcard Library in which you can search by pressing key or subject.
You can use Flashcard editor to get started, insert a picture, type text, equations, and other items to set up all the things as per your requirement. With the help of its advanced editor, you can edit your text, make it bold, italic, text-align, font color, etc.
You can also export, print, or review your Flashcard sets. Also, play the quiz-like game for study.
Flashcard Machine also has applications for iOS and Android devices.
Make a free online account to use this feature. Predefined decks have already been given in it, apart you can create your own Flashcard Deck set. After creating Flashcard Deck set a title for your set, provide a description, add the subject you want to study. Next, add text on both sides (front and back), upload a picture and you're done.
In case you want to examine your Flashcards, you will see a front side of each display. To check the backside click on it to find out if you have done the right job or not. This indication comes in handy when you want to keep track of statistics displayed correctly in a graph.
Apart from that, you can check the Flashcards created and shared by other users. If you want, you can also share your cards with other users on the site or with a friend via social media.
Which online Flashcard maker do you find useful? Do you know any other helpful web tool which we forget to include in this blog post? Feel free to share it in the comments.
As an independent platform, it takes a lot of effort to create and curate quality content daily. Our content is totally funded by users like you.
Therefore, if you find information on this website useful, we kindly ask for your support in maintaining the longevity of our platform. If each person who benefits from our website contributes, we can secure a brighter future for our website.
Donate on Paypal or Buy us a coffee if you find the information shared in this blog post useful. Mention 'Coffee' in the Subject. So that I can thank you