Whenever you start typing in the address bar of the Edge browser, it send the information to default search engine. The information include typed character, website you visit, previous searches, and even more.
Now considering this information, your favorites, and browsing history your default search engine start showing suggestion accompanied by websites that matches your query.
Some users might not be happy with this behavior of the Edge Omnibox and would like to turn it off. Starting with Microsoft Edge Canary v86.0.587.0, the company introduced the same option that's available in the Privacy section of Edge browser settings.
You might be interested in reading – Set Custom Image as Background in Microsoft Edge NTP
Enable and Disable Site & Search Suggestions in Edge Address Bar
If you're not happy with this omnibox suggestion in Edge browser, then here's you can turn it off.
Launch Microsoft Edge browser. Make sure you're using the latest version of the browser.
Click on the Ellipse (…) icon, select Settings.
Here on the left side, switch to Privacy and services. While on the right side, scroll down to bottom and select Address bar. Alternatively, you can visit this edge://settings/search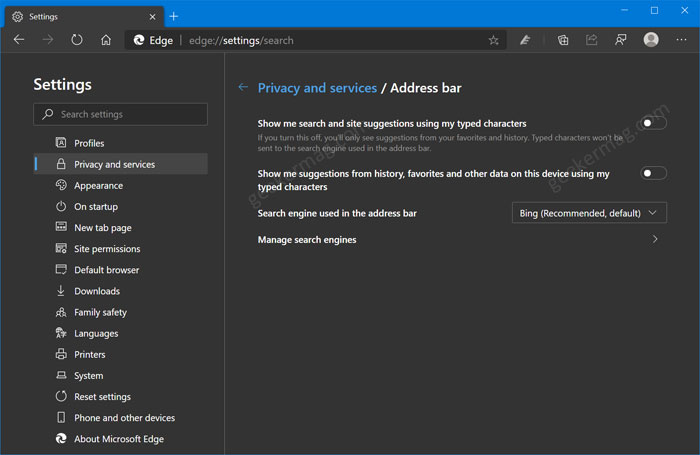 On this page, you will find a setting which reads "Show me search and site suggestions using my typed characters", which is ON with default settings. You need move the slider for same setting to OFF position.
According to description of this settings:
If you turn this off, you'll only see suggestions from your favorites and history. Typed characters won't be sent to the search engine used in the address bar.
In case, you don't want see suggestion from your history, favorites, and other data in the Edge address bar, then there's another settings which reads: "Show me suggestions from history, favorites and other data on this device using my typed characters"
You can turn OFF this setting too, to completely disable the suggestions in the Edge omnibox.
Are you happy with Microsoft move of adding new option to manage suggestion in Edge browser? Let us know your thoughts in the comments.
Please do not hesitate to Contact me on Twitter if you want assistance with issue related to Windows 11, Windows 10, and Edge browser. I will try my best to assist you ASAP. (Follow me first and then PM your issue on Twitter)

Buy us a coffee if you find information shared in this blog post useful. Mention 'Coffee' in Subject. So that I can thank you