In the latest build of Chromium Edge in Canary Channel, it is possible to enable Extensions Menu button. In this post, learn how to do it.
Once you enable Extensions menu, the icon for same will start appearing in the toolbar of the Edge Chromium. Now if you click on the Extensions menu icon, a quick context menu will open up showing you a complete list of extensions installed on the browser, and Manage Extensions link for your convenience.
Each extension visible in the menu has More action (three dots) icon, which further shows you a context menu with more options. From the same menu, you can Pin that extension in the toolbar, which will appear in the area of Extensions menu group. Check the following screenshot: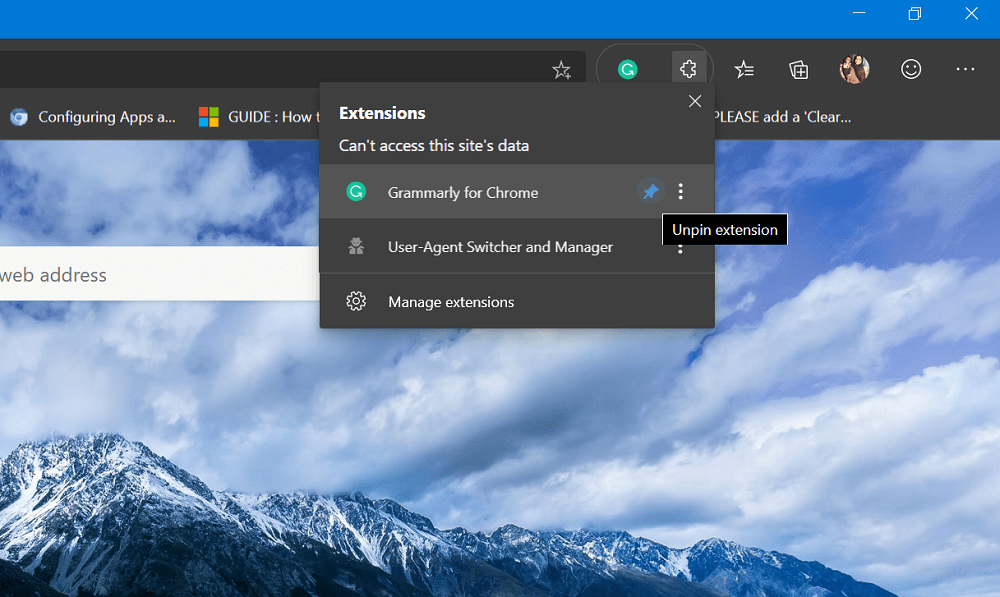 To Unpin the extension, you can repeat the same procedure or right-click on the extension and select Unpin. Alternatively, you can also click on the Pin icon to do the same.
In case, you're interested in trying the new feature, then here's what you need to do to enable Extension menu button in the Edge Chromium.
Enable Extensions Menu Button in Microsoft Edge Chromium
1. Close Microsoft Edge Chromium in Canary Channel.
2. Next, search Edge Chromium using Start menu search bar, when it appears in the search results, right-click and select "Open file location."
You will reach the following location: C:\Users\viney\AppData\Roaming\Microsoft\Windows\Start Menu\Programs
3. Find Chromium Edge shortcut and make a right-click and select Properties.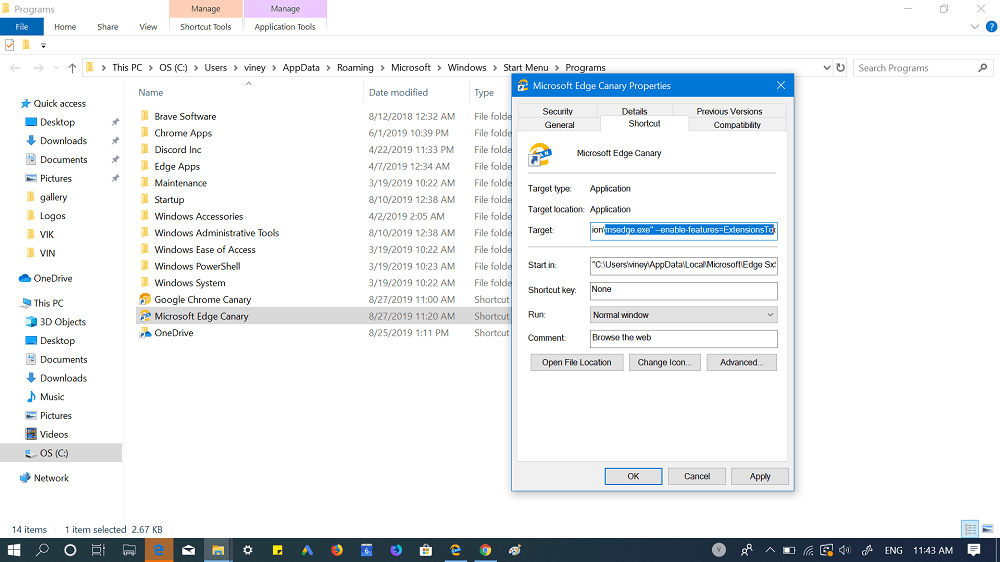 4. In the Microsoft Edge Canary Properties, head over to Target section and in space next to it add following code after msedge.exe
--enable-features=ExtensionsToolbarMenu
So the complete code will look like: msedge.exe" --enable-features=ExtensionsToolbarMenu
5. Click on the Apply, and then OK.
6. Now launch Microsoft Edge Chromium and Extensions Menu icon will start appearing in the Toolbar.
Note: In case, you've Pinned Edge Chromium in Taskbar, then Unpin and Pin it again, else you will not see Extensions menu if you launch the browser from their.
Are you going to enable Extensions menu in Chromium Edge using above workaround? What are your thoughts about this Extensions menu? Let us know in the comments.
Credit – Winaero
If you find this blog post useful, please share it on Social Media. A quick share will help in growth of this blog. It hardly takes 10 seconds, isn't it?