Some users have constantly been reporting about a new bug that is blocking them to update their PC to the latest version i.e. Windows 10 May 2020 update.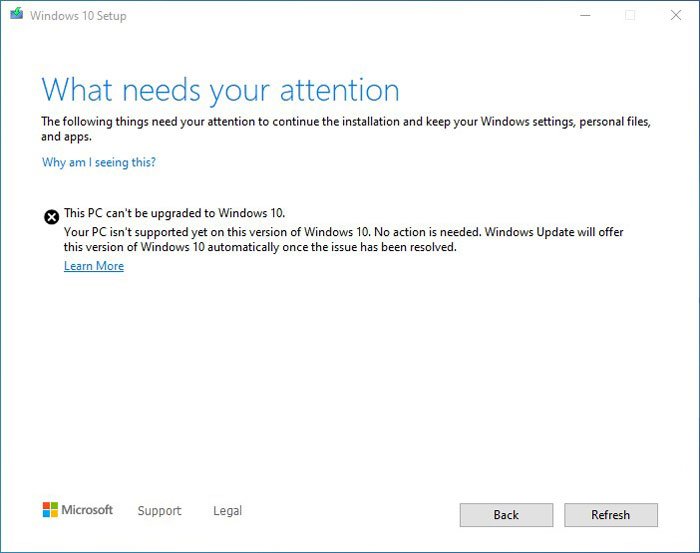 While updating their computer to Windows 10 v2004, a quick dialog box with a message appear which reads:
"This PC can't upgrade to Windows 10.

Your PC isn't supported yet on this version of Windows 10. No action is needed. Windows Update will offer this version of Windows 10 automatically once the issue has been resolved."
Devices using Storage Spaces might have issues using or accessing their Storage Spaces after updating to Windows 10, version 2004 (the May 2020 Update). When using some configurations, partition for Storage Spaces might show as RAW in Disk Manager.
Fix – Storage Spaces issue in Windows 10 version 2004
Microsoft is already aware of the issue and shared a temporary solution to deal with this bug. If you're affected, then here's what you need to do:
Launch Elevated command prompt. For that, right-click on the start button and select Windows PowerShell(Admin).
When UAC dialog appear, click Yes to continue.
In the PowerShell window, you need to copy-paste this command: get-virtualdisk ? WriteCacheSize -gt 0 get-disk set-disk -IsReadOnly $true and hit enter.
Doing this will set the Storage devices status to 'Read-only' resulting in any volume not seen as RAW should be readable.
Are you affected by this bug? Does the workaround suggest above fixed the issue for you? Let us know in the comments.