Starting with the latest Chrome Canary v88.0.4303.0, the company is testing a Side Panel where users can host content.
Microsoft Chromium-based Edge browser already has a Collection feature using which users can organize content from the web to access it quickly. Some users call the Collections Edge side panel feature. It looks like Google also wants to bring a similar Side panel in the Chrome browser.
As of writing this blog post, there's now information about what kind of content users can host on the side panel. But the code change request on this Chromium bug explains "Add side-panel prototype using read later". So it is possible that users will find content saved in Chrome's new Read Later in a side panel.
If you're aware of Read later feature of Chrome browser, it let users save webpages, and whenever you click the dedicated button Reading list bar pop-ups. It is possible that, Google want to replace Read later panel with Side Panel, where users can not only save content which they want to read later, but other contents like Notes, Images just like Edge Collections.
Enable Side Panel in Chrome
With Chrome Canary v88.0.4303.0, the Side Panel feature flag is available and interested users can enable the feature. Here's what you need to do:
Make sure, you're using the latest version of Chrome Canary and then visit this flag address: chrome://flags/#side-panel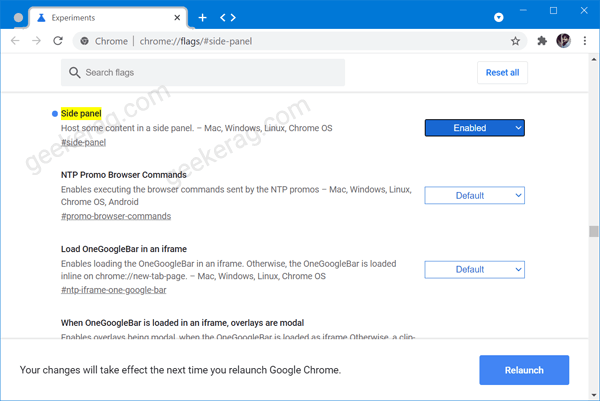 Here using the Side panel change the settings from Default to Enabled.
Click on the Restart button to apply the changes.
The Side Panel flag description reads "Host some content in a side panel" and it will be available on Chrome for Mac, Windows, Linux, and Chrome OS platform.
Right now, enabling the flag does nothing but broke the Read later feature at least for us. It's because whenever we click the Reading list button, the Chrome browser crashes. Seems like the feature is not ready yet.
Whenever we get more update about the Chrome's Side panel we will update it in this post.
If you find this blog post useful, please share it on Social Media. A quick share will help in growth of this blog. It hardly takes 10 seconds, isn't it?