Remember, Chrome's Reading List feature? Google is working on improving it by allowing users to host more content in it. Starting with the latest Chrome Canary build 91.0.4453.0, the company added a new Side panel feature which when enabled add bookmarks and search box to Chrome's new Read Later.
Microsoft Chromium-based Edge browser already has a Collection feature using which users can organize content from the web to access it quickly. Some users call the Collections Edge side panel feature. It looks like Google also wants to bring a similar Side panel in the Chrome browser.
Enable and Use Side Panel in Chrome
With Chrome Canary build 91.0.4453.0, the Side Panel feature flag is available. In case, you want to try how an improved Reading list or Side panel looks like, then here's how you can enable it:
Note – You need to make sure that Reading list is already enabled in Chrome, else you won't be able to enable Side panel featuring search box and bookmarks.
Launch latest build of Chrome Canary and then visit this flag address: chrome://flags/#side-panel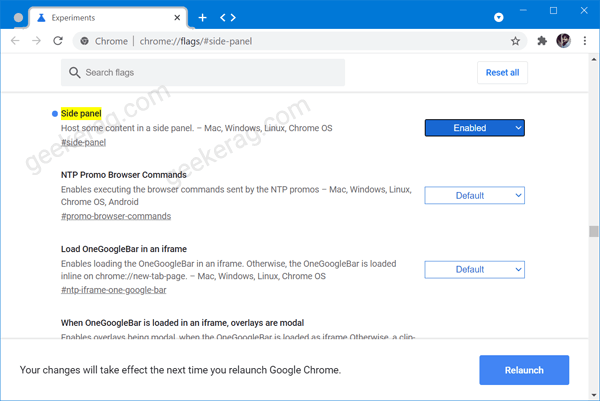 Here using the Side panel drop-down change the settings from Default to Enabled. Click on the Restart button to apply the changes.
After doing this, if you open the Reading list, available on the upper right side of the browser, then this time it will not only showing the Reading list but Bookmarks and a search box. Here's how it looks like: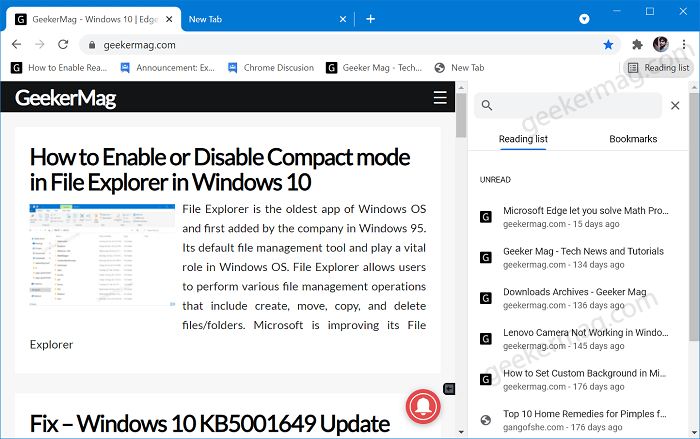 Under Reading list tab, you will find a list of posts that you have saved to read later.
Under Bookmarks tab, you will find bookmarks you have saved in your Chrome browser.
With Search box, you can quickly search the content of the reading list and bookmarks.
To close the side panel, you need to click on the Close (X) icon available next to search box.
It is possible that Google might replace the Reading list panel with Side Panel, where users can not only save content which they want to read later but other content like Notes, Images just like Edge Collections.
What are your thoughts about Chrome's Side panel? What content do you want to see in Side panel of Chrome browser? We would like to hear from you.