If you're one out of the users looking for a way on how to check Youtube messages? The following article has step-by-step instructions on how to do that.
Youtube is a video-sharing website where you can enjoy videos in every category. The site keeps changing things around with the layout due to which lots of users find it challenging to try out the features.
A few months ago, the company refined the layout of the website and introduced new features like YouTube Dark Mode, dedicated to users staying up till four in the morning madly watching videos on YouTube.
The layout is fantastic, but lots of users not able to find out the inbox, and due to this reason they find it difficult to check messages on YouTube which they have received.
Actually, with YouTube's redesigned layout, the company has introduced a new messaging system which appreciated by the users and I personally think is cool. But users are gone mad, and they are not able to check the private messages they have received from other users on their channel.
How to Check Messages on YouTube
To help out those users I decided to write the following tutorial in which you will read out step by step guide on how to check messages on YouTube.
Checking messages on Youtube is simple as long as you have an account on the site. Here is how you can check messages on the redesigned YouTube layout.
1. First of all visit youtube.com.
2. Click on the YouTube channel profile icon available on the top right side of the screen.
3. From the menu click on the 'Creator Studio.'
3. In the next screen, click on the 'Community' option available on the right side.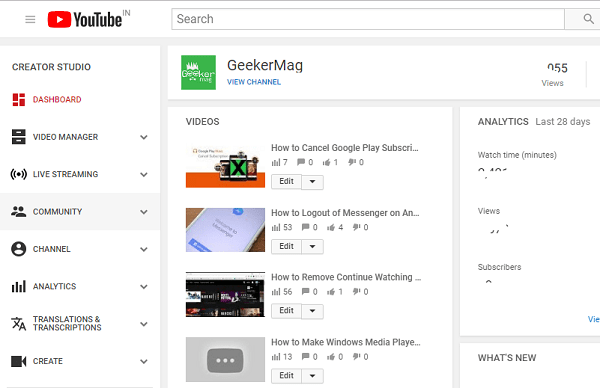 4. Click on the 'Messages' tab, and this will open the YouTuube inbox on the right pane. This is the place where you will receive all messages sent by the users who have visited your channel.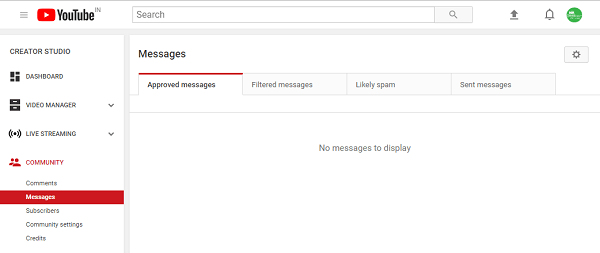 The right panel of the YouTube messages section has a different tab which includes:
Approved messages – The messages which you have approved.
Filtered messages – The messages filtered by you.
Likely spams – The messages that seem to be spam.
Sent messages – The messages submitted by you.
This is the only method to check messages on Youtube using the website.
Bonus: Alternatively, you can visit 'https://www.youtube.com/messages' address to directly reach the YouTube inbox for your channel. But this will only show you the messages if you're logged in
The above-discussed bonus trick can be used to check YouTube messages on Android & iOS devices. But in the case of Android and iOS devices, you need to visit 'https://www.youtube.com/messages.'
That's it!
You might love to about: How to Message Someone on YouTube
I hope you find this article on how to Check Youtube Messages useful. Let me know your thoughts in the comments section.