Starting with Windows 10 in Dev channel build 21286, the company introduced News and Interests on the taskbar. The feature is enabled out of the box and users will find a dedicated section for the same on the right side of the taskbar.
The 'News and Interest' section will give quick access to an integrated feed of dynamic content that includes Weather and News updates for the whole day.
As of writing this blog post, the company testing these features in limited regions (United States, Canada, Great Britain, Australia, and India.), and users need to be running Chromium-based Edge browser. Due to this reason, it is possible that even if you're running Windows 10 build 21286, you might not see News and Interest section on the taskbar.
Activate News and Interest icon in Windows 10 Taskbar
In case, you want to try the new News and Interest feature before anyone else, then first you have activate the feature using registry hack:
Launch Registry Editor. For that, type regedit in the start menu search and when a similar result appear in search results, then click to open it.
When UAC dialog box appear, click Yes to continue.
In the Registry Editor address bar, you need to copy-paste this key address: HKEY_CURRENT_USER\Software\Microsoft\Windows\CurrentVersion\Feeds and hit enter.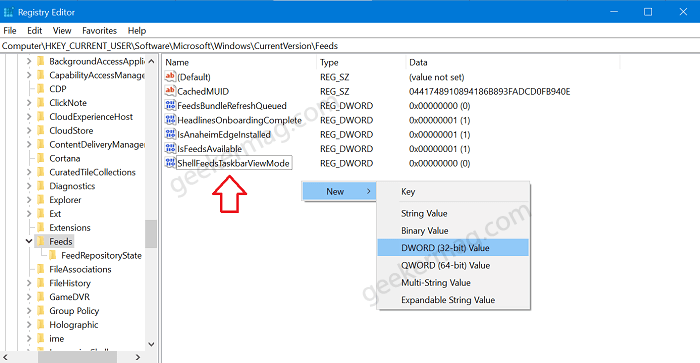 Here, Create a 32-bit DWORD value called ShellFeedsTaskbarViewMode and set its value data to 0 to display News and Interest section on the taskbar.
Apart, you can set Value data 1 for Weather, and Value data 2 for hiding News and Interest icon.
Restart your computer to apply the changes.
Doing this will activate News and Interest icon on the taskbar of Windows 10. Now if you place cursor over the icon, quick flyout will open up showing weather updates on the top accompanied by latest news.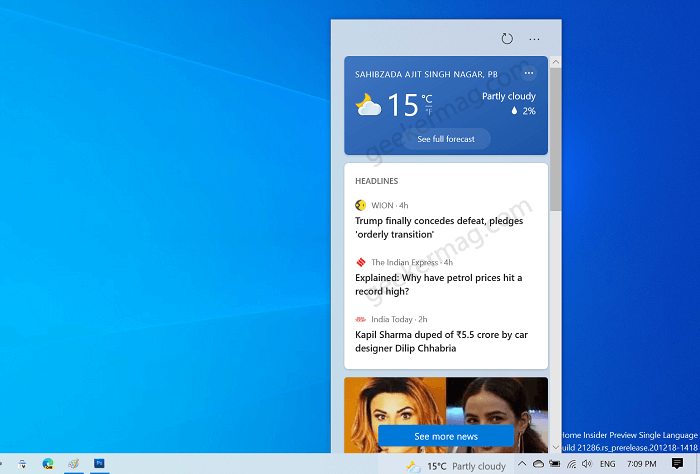 You can also personalize your feed. For that, click on Ellipse (…) icon and from the menu select the desired option.
For weather, you can edit location, hide weather card, and select more settings options. Doing this will take you to the MSN Experience settings page.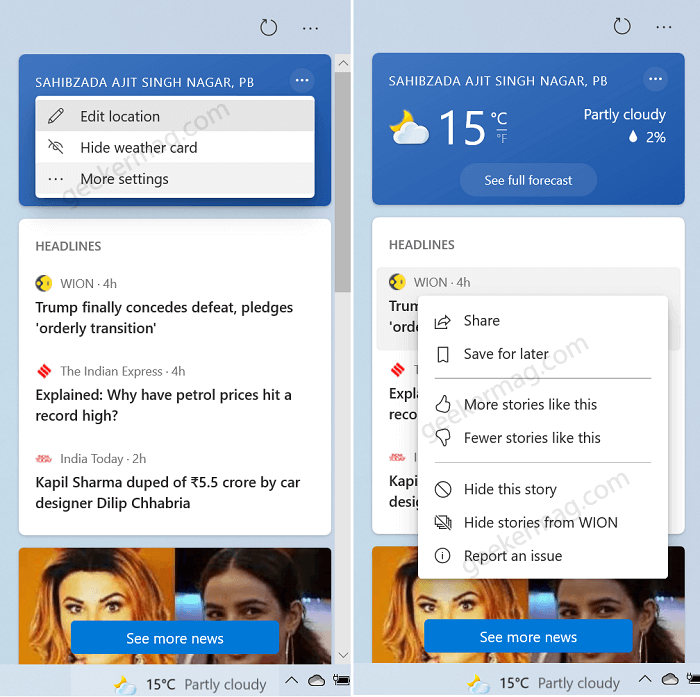 For headlines or news, you can share, save for later, like & dislike to see more and lesser stories, hide story or even report an issue.
Show or Hide News and Interest icon on Taskbar
Just like any other element on the taskbar of Windows 10, you can also hide or show News and Interest icon on the Windows 10 Taskbar. Here's how you can do that:
Right-click on the Windows 10 Taskbar and then from the menu select News and Interest > Hidden.
Apart from this, you can also select Show icon and text, Show icon only, and Reduce taskbar updates.
The method discuss above will not activate the exact News and Interest flyout but gives you an idea about what Microsoft is cooking.
What are your thoughts about new addition to Taskbar of Windows 10? We would like to hear from you.