The world is swiftly getting used to all digital life facilities, and every person wants to use digital products like videos and photos for success. Marketing can be easy and effective if it is not just marketing but entertainment; video marketing is a better way to do this. Video marketing is very effective for the success and growth of the business, but if you are new to this field, the risks of losing them can be high. 
For this reason, we are going to introduce an innovative tool by which you can repair MP4 files successfully. Not just video repair, but you can also repair any files by using this data repairing tool named Wondershare Repairit.
Part 1: How is Video Marketing Helping the Professional Market Transition to Improved Models?
From messages to marketing, everything is digitally transformed now, and people like it better. If you want to improve your business, video marketing can effectively accomplish this goal. Here are some reasons which will clarify how video marketing is helping the professional market transition for the business's success.
1. Increase Brand Awareness
The business is successful if you have clients from every corner of the world, it may sound like a very big and hard task, but it is not impossible. Not everyone can understand the same language, but they can understand photographic content. With the help of video marketing, you can introduce your brand or business in a better way. Moreover, video content can captivate users' attention and convert them into potential customers.
2. Deliver your Message Entertainingly
You can deliver your message quickly and more engagingly through video marketing. Video marketing allows you to say more in less time and clarify the idea of your business proficiently. Not all customers would like to read a full-length blog before buying a pair of heels, and why should they if they can get the whole idea in a good way? You can grab customers' attention and grow your reach organically with the video message.
3. Go with the Trend
If you are still stuck on the newspaper or magazines to showcase your business, that is a major drawback. Nowadays, everything is on digital platforms, and people prefer watching them online instead of reading a newspaper. Video marketing is the future of content marketing, and people believe it.
Your business will be called old fashion if you have no online presence, and as the digital landscape changes significantly, you have to change also. Adding videos for marketing purposes can boost your business growth effectively.
4. Make your Online Presence on Social Media
Social media is a platform where you can find entertainment, information, and many more things in one place. Even kids have social media accounts and prefer to use them for many purposes. How will you market your brand if you have no online presence in such scenarios? That is why it is important to have a social media account where you can post video content about your brand. It will not just attract customers but also market your brand cost-effectively.
Part 2: How Can I Repair the Marketing Video If It Gets Corrupted?
Imagine you are marketing your brand through video content, which somehow got corrupted accidentally. Now there is no way to play them; what should you do in a situation like this? Don't worry because there's a way to cater to this issue. You can use Wondershare Repairit, an innovative data repairing tool that can effectively repair corrupted and unplayable videos. With this tool, you can repair corrupted files regardless of their damage.
The user interface of this tool is very friendly, so you can operate it easily. Moreover, with the fast repair speed of Repairit, you can fix severely damaged files in no time. This tool can support multiple formats, and you can repair videos regardless of any format restrictions. If you want to repair your corrupted videos, follow the steps mentioned below:
Step 1: Launch Repairit and Add Corrupted Video
First, install Wondershare Repairit on your Windows or macOS device, and once installed, launch it. There are two methods for adding a corrupted video. Click on "Add Video and Start Repairing" from the middle interface or hit the "Add" button. You can also add more than one video, as it can repair multiple videos simultaneously. Once the video is added, you will see file information like file size, type, and name.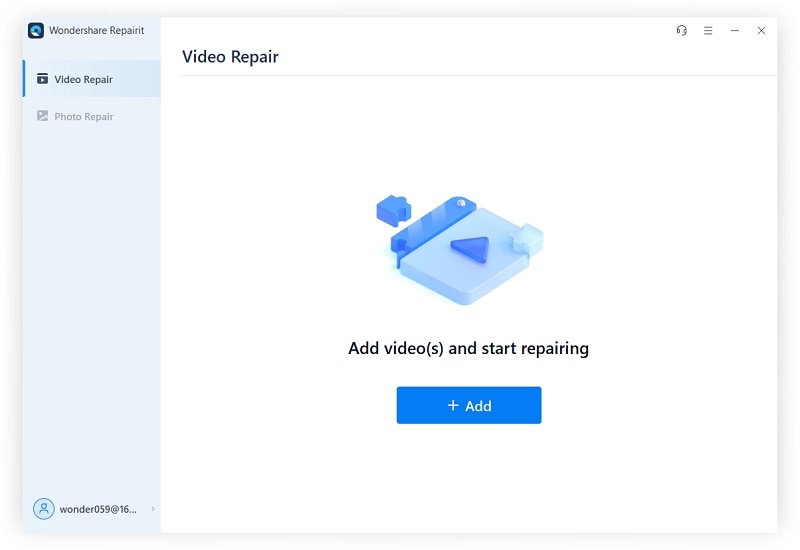 Step 2: Start Video Repairing
Once the videos are added, click on the "Repair" button. When this action is completed, you will see a window on the computer instructing you to save and preview videos. Continue by hitting the "OK" button.
Step 3: Preview the Repaired Video
Select the "Preview" button to preview the video file and analyze whether the results are satisfactory. If the repaired video meets your expectations, click the "Save" button and choose a path to save the repaired video on the device. Make sure you do not save them in the folder where they got corrupted. You are now good to use the video just as you want.
Step 4: Try Advanced Video Repair
Some videos are severely corrupted, and it doesn't meet the repairing expectations. Here, you can take assistance from the Advanced Video Repair feature of Repairit. For this, select the "Folder" icon and add the sample video to fix. The sample file should be in the same format as the corrupted video. Next, click on the "Repair" button and once the video is fixed, save it into the folder of your choice.
Wondershare Repairit is a data-repairing tool that can fix multiple types of files, including photos and videos. It is a widespread repairing tool that can support multiple video formats, including MP4, MOV, M2TS, MXF, INSV, MPEG, ASF, and many more. Whether your video file got corrupted by a virus attack or sudden power outage, it can assist you in multiple scenarios.
It comprehends the most advanced technology and can fix damaged files beyond expectations. The software of Repairit is excellent, and the repair speed is ultra-fast. Moreover, it comprises the best security features, so there are no chances of a data breach. If you need help, you can take assistance from the customer support service of Repairit. It is a feature-rich tool, and some of the prominent features of Repairit are mentioned below:
1. File Repair
Repairit supports multiple file formats, and you can fix damaged files with this tool without format restriction. This tool can fix all files, whether PDF, Word, Excel or PowerPoint. All your confidential data will be accessible to you in a great way. It can repair a PDF file without modifying the original file. This tool can efficiently support PDF file versions 1.2, 1.3, 1.4, 1.5, 1.6, and 1.7.
2. Audio Repair
Never worry about permanently losing your audio files if they get corrupted because, with Repairit, you can repair them just as they were. This tool can support M4A, WAV, AAC, and many more formats of audio files. You can repair them anytime and anywhere, no matter why they got corrupted.
3. Photo Repair
Photos are the most important part of our digital life and damaging these photos can be problematic. With Repairit, you can repair damaged photos in no time. Repairit can support JPEG, PNG, JPG, RAF, NEF, and many more formats of photos. You can solve your image corruption problems in all aspects with this tool.
Conclusion
As discussed in the article, Wondershare Repairit is a complete data-repairing tool that can repair many data types. This tool can help you in fixing your essential files in multiple scenarios. It is quite easy to operate, and there is no complicated procedure that you have to fulfill. So, download Repairit today and fix all your files in no time.
As an independent platform, it takes a lot of effort to create and curate quality content daily. Our content is totally funded by users like you.
Therefore, if you find information on this website useful, we kindly ask for your support in maintaining the longevity of our platform. If each person who benefits from our website contributes, we can secure a brighter future for our website.
Donate on Paypal or Buy us a coffee if you find the information shared in this blog post useful. Mention 'Coffee' in the Subject. So that I can thank you