Microsoft recently added a new Screenshot tool to the Drop app panel available on the sidebar for apps in the Edge browser that allows you to take and edit screenshots before sharing.
If you don't know, Drop is a nifty feature using which users can easily share notes and files across the devices where they have installed Edge browser. The addition of a new screenshot tool will make it more productive.
Microsoft Edge already has a native screenshot tool named Web capture, but the availability of the Drop Screenshot tool is a great addition for users who prefer using the Drop app for sharing screenshots and pictures.
As of now, Microsoft is testing a Drop native screenshot tool in Edge build v108.0.1451.0. In case, you're already using the Drop feature to share files, then you definitely want to try a Screenshot tool, right?
Enable Drop Native Screenshot tool in Edge
In earlier builds, Microsoft was testing Screenshot tool with limited users, and later Screenshoot icon was removed. Now starting with Edge build 109.0.1474.0 there's a flag to enable it. Here's how you can do that:
In the Edge browser copy-paste this: edge://flags/#edge-screenshot and hit enter. This will highlight Enable Screenshot.
Using the drop-down change settings from Default to Enable.
Restart the browser to apply the changes.
This will bring the Drop native screenshot tool option to the Edge browser.
Use Drop Native Screenshot tool to Edit Screenshot in Edge
In upcoming lines, you will learn how to take and edit screenshots using the native screenshot tool of the Drop app. So without further ado, let's get started:
In the Edge browser, take a look at Sidebar on the left side, locate Drop, and click on it to open Drop Panel.
Click on the New Screenshot tool icon, this will blur the whole screen. Here, you need to select a region of the screen.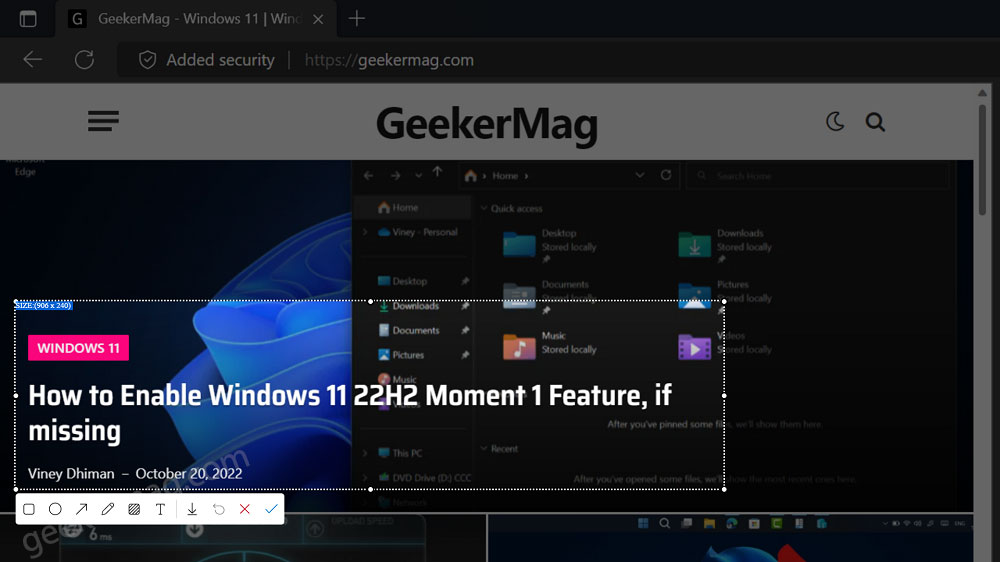 Once done, a bar will appear on the bottom featuring some basic editing options. The list of tools includes:
Square – let you create a square box in the selected area
Circle – let you create a square box in the selected area
Arrow – ley you add an arrow in the selected area
Pen – You can write or draw anything
Text – Add text
After making changes to the screenshot, click on the Download button (Down arrow) to download the screenshot. This will download the copy of the screenshot to the PC
In case, you want to send it directly, then click on the Green Tick icon. This will show Send photo dialog, click on the Send button.
Drop native screenshot tool is under development so don't expect a better experience than the Edge Web capture screenshot tool offer.
What is your opinion about the Drop native screenshot tool in the Edge browser? Let me know in the comments.
Thanks, Leo for the tip.
Please do not hesitate to Contact me on Twitter if you want assistance with issue related to Windows 11, Windows 10, and Edge browser. I will try my best to assist you ASAP. (Follow me first and then PM your issue on Twitter)

Buy us a coffee if you find information shared in this blog post useful. Mention 'Coffee' in Subject. So that I can thank you