From the day, Microsoft added a Collections feature into Edge browser, it has received lots of updates which includes Show suggestions from Pinterest, Export Collections to OneNote, and even more
Starting from Edge Canary 86.0.614.0, Microsoft added new options using which users can now sort the collections with two parameters, date and name. Very often, we use the collection feature to make sure the pages that we frequently visit are clicks away. To make things simpler, you can now sort the collections by date of adding or name of the page. This is possible in both ascending and descending order of the parameter.
Sort Microsoft Edge Collections via Date and Name
If you want to try the new Sort Collections feature in Microsoft Edge, then you have to follow some basic steps:
Make sure you're running Microsoft Edge Canary v86.0.614.0 or above.
Open the collections tab, now besides 'Add current page', you will find Ellipse (…) icon, click on it.
Doing this will open Sharing and more menu featuring various options including Sort by date created and Sort by name. Now, select Sort by either 'date created' or 'name'.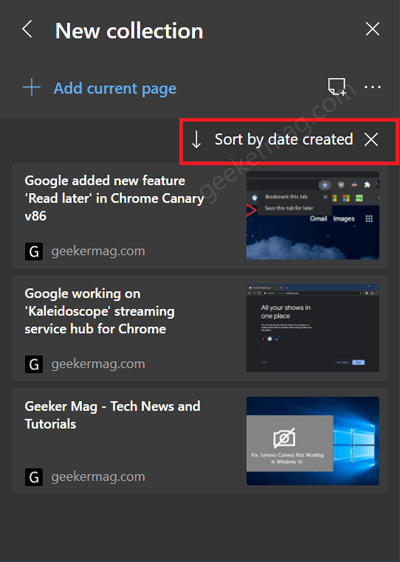 You will find that the pages have been sorted automatically.
Above the pages list, there will be an arrow, using which you can sort them in 'ascending' and 'descending' order. You can click here to check feature in action.
Sorting your workspace is the most important thing while working, right? Microsoft adding sorting settings to Collection feature in the Edge browser will help users in saving time and make their work more efficient.
Comment your thoughts on Edge Collections sorting feature below.
If you find this blog post useful, please share it on Social Media. A quick share will help in growth of this blog. It hardly takes 10 seconds, isn't it?