Microsoft is heavily promoting Skype's Meet Now in Search UI and other sections of Windows 10. Later, the company testing the Meet now button in the Edge browser with limited users. In the browser, Meet now button appears just below the search bar. Starting with Windows 10 Build 20221 in Dev Channel, the company has added Meet now button in Taskbar.
The purpose is adding the Meet now button on a different product from Microsoft is to encourage people to use the video conferencing app developed by them. And of course, they want to compete with their rivals using the user base they already have.
With the availability of Meet now button in Windows 10 Taskbar users can quickly create or join a meeting by making few clicks. The process is simple, click on the Meet now button, and it will take you Skype's Meet now page. From where users can start or join the meeting.
Tip – If you're using Windows 10 build 20221, then you can also Pin Notification in Your Phone app for Windows 10.
Create or Join Meet Now meeting from Windows 10 Taskbar
If you're already using the Windows 10 build 20221 and interested in using the new feature, then here's how you can do that:
Click on the Meet Now (Camera) icon available on the Notification area. Doing this will open a dialog box with two options Create a meeting and Join a meeting.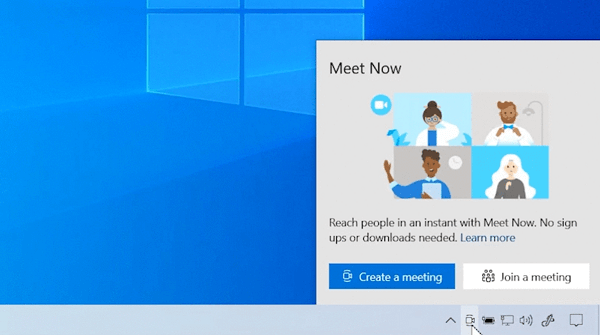 If you click on the Create a Meeting button, it will take your https://web.skype.com page with predefined settings for Meet now.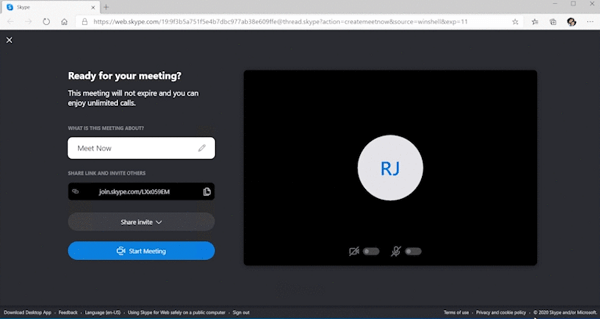 Here Turn on Microphone, and Web Camera permission.
Click on the Start Meeting button. You can check this gif in action.
If you click on the Join a Meeting button, then it will take you to https://join.skype.com page.
Here, you need to enter meeting link or code and then click on the Join button. You can check this gif in action.
In case, you don't want Meet now button to appear in the Notification area of Windows 10, then you can also hide it. For that, right-click on the Meet now icon and select Hide.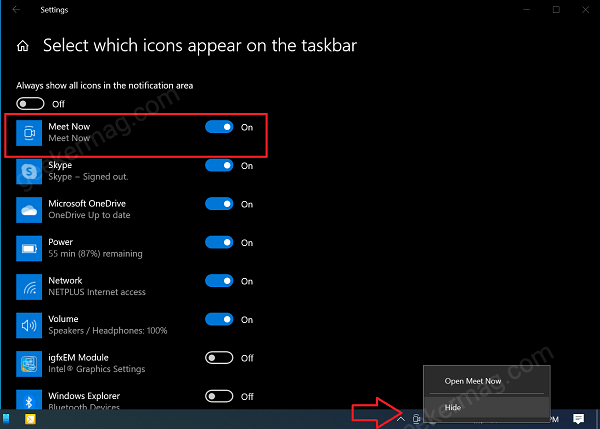 Alternatively, you can right-click on the Taskbar and then select Taskbar settings.
Here, you need to scroll down to Notification Area section and then click on the link which reads Select which icons appear on taskbar.
In the next screen, turn off the option for Meet now.
In case, you're not seeing the Meet Now button in Windows 10, then fret not! Still, you can create Skype Meet now video meeting without creating an account. You can check our previous post on How to Create Video Conferencing Call using Meet Now
What are your thoughts about Microsoft adding a Skype's Meet now button in Windows 10 Taskbar? You can start a conversation in the comments
Please do not hesitate to Contact me on Twitter if you want assistance with issue related to Windows 11, Windows 10, and Edge browser. I will try my best to assist you ASAP. (Follow me first and then PM your issue on Twitter)

Buy us a coffee if you find information shared in this blog post useful. Mention 'Coffee' in Subject. So that I can thank you