Starting with Microsoft Edge Canary v89.0.767.0, the company has added a new Weather and News Web Widget to the browser. If you don't know, Microsoft recently added a similar News and Interest widget to Windows 10 Taskbar.
With the help of this widget, users will be able to get access to an integrated feed of dynamic content that includes Weather and News updates for the whole day. The same web widget will be useful for those users who want to get search and personalized news anytime without opening an Edge browser.
Show Edge Web Widget in Windows 10 Taskbar
The widget is enabled out of the box and if find Web Widget interesting and would like to try it, then here's how you can use it:
Launch Microsoft Edge browser, click Ellipse (…) icon and select Settings.
Switch to the New Tab Page tab on the left and then on the right side, you will find a new section called Get search and personalized news anytime.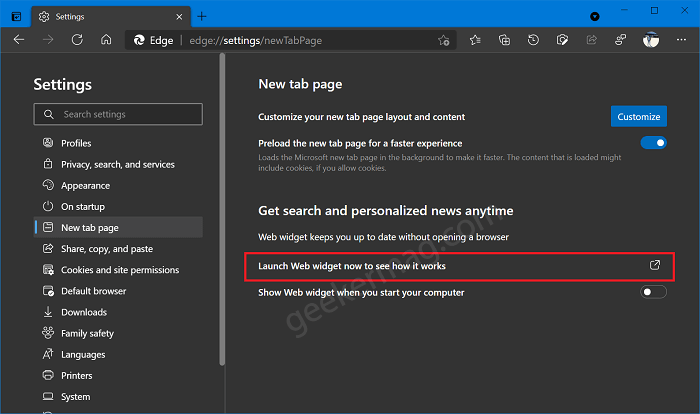 Under this section, click on the link that reads "Launch Web widget now to see how it works".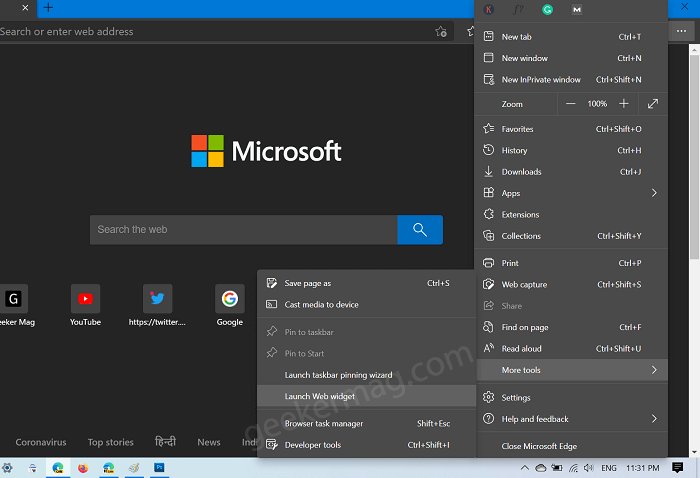 Alternatively, you can also launch a Web Widget from the Edge Settings menu. For that, click on Ellipse (…) icon > More tools > Launch Web Widget. Doing this will instantly open the Web widget.
In Web Widget for Edge browser, this is what you will find:
On the top, you will find a Bing search box using which you can search the web. All the queries will be opened in the New Tab Page of the Edge browser.
After that, there's is a Weather section, where you will get information about local weather.
The next section features Headlines, where you will get news updates based on your interest.
There's a See more button at the bottom, clicking on it will take you to msn.com homepage.
Next to Feeds there is a Settings and more (gear) icon, click on it will open the menu on which you will find various options which include Dashboard and Vertical Layout, Refresh (To refresh feeds), Settings (Take you to New Tab Page settings page), Send feedback, and close (Close the widget).
That's all about Web Widget for Edge browser.
Close Edge Web Widget
Right-click on the Web Widget icon available on the taskbar and then select Close.
Alternatively, click on the Settings and more icon in Web Widget and select Close from the menu.
Pin Edge Web Widget to Windows 10 Taskbar
The good thing is that you can also pin the Edge Web Widget icon to the taskbar of Windows 10. Here's what you need to do:
Right-click on the Edge Web Widget on the taskbar and select Pin to taskbar.
Automatically open Edge Web widget on startup
There's a option available in the Edge browser settings using which you can manage whether you want Edge Web Widget to open automatically when you start your computer. Here's how you can do that:
In Edge address bar, visit this address: edge://settings/newTabPage
Depending on your requirement, you can turn ON or OFF option that reads "Show Web widget when you start your computer".
In case, you're not seeing the same option, then fret not. Microsoft is rolling out this feature under the Controlled feature rollout.
That's all about Microsoft Edge Web Widget. Do you find Edge Web Widget useful? We would like to hear from you in the comments.