Microsoft Edge browser gets a new feature called Super-Duper Secure Mode. The feature when enabled will disable the JIT (Just-in-time) in the JavaScript V8 engine to make the browser safe.
FYI, JIT work as a compiler that preloads JavaScript code before the Edge browser needs it and as a result, it optimizes the performance of the browser and makes it lightning fast.
According to information shared by the developers of Microsoft, the majority of the bugs related V8 engine are associated with JIT. So, disabling the same technology will improve security.
Enable & Use Super Duper Secure Mode in Microsoft Edge
Super-Duper Secure Mode feature for Edge browser is available behind the flag and made its appearance in Edge browser in the canary channel. In case, you want to give it a try, then here's how you enable and use it:
Launch Microsoft Edge Canary and then copy-paste this: edge://flags/#edge-enable-super-duper-secure-modeand hit enter.
Doing this will highlight the Super Duper Secure Mode flag, using the drop-down to change the setting from Default to Enabled.
Following the same procedure, visit this: edge://flags/#edge-sayaand this will highlight the Saya flag.
Again using the drop-down change the settings from Default to Enabled.
Click on the Restart button to apply the changes.
At this point, you have successfully enabled the feature. Now to turn it ON. here's what you need to do:
Launch Edge browser, then click (…), select Settings.
Switch to the "Privacy, search, and services" option on the left side and then on the right side, head over to Security section.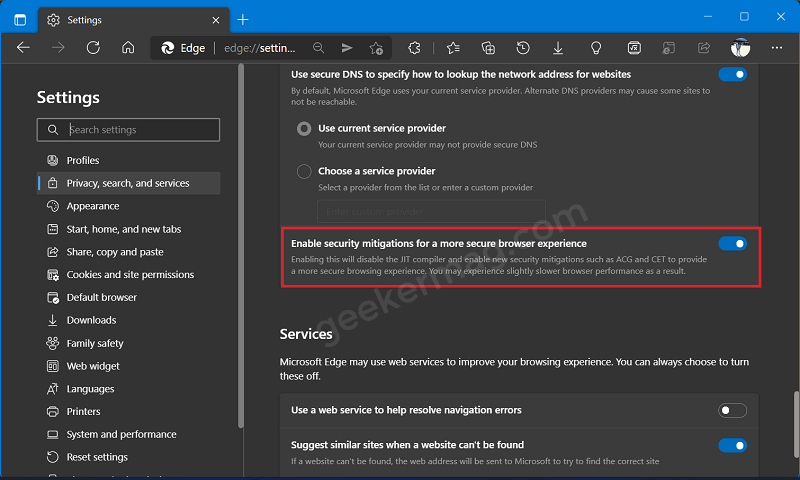 Here, turn on the option i.e. "Enable security mitigations for a more secure browser experience".
"Enabling this will disable the JIT compiler and enable new security mitigations such as ACG and CET to provide a more secure browsing experience. You may experience slightly slower browser performance as a result."
As Simple As That!
Why don't you turn ON Super Duper Secure Mode in Microsoft Edge and let us know what changes you experience after using the browser with this feature?