Starting with Firefox v86 (In nightly), Mozilla added support for Picture-in-picture for multiple videos. With this functionality users will be able to view multiple videos in Firefox PIP mode at the same time.
FYI, Picture in Picture mode allows users to watch the video in the floating video player outside of the browser while using other applications. For example, the user can check their emails in Gmails while watching an important video.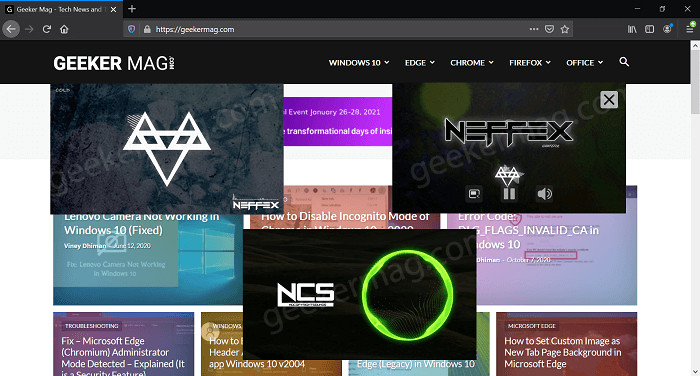 And as of writing this blog post, it was possible to view a single video in PIP mode of Firefox. Starting with Firefox v86 it is possible for users to watch several videos in parallel while doing other tasks at the same time. In laymen, each video will have it's on PIP mode.
Watch Multiple Videos in Firefox Picture-In-Picture mode at Once
In case, you want to check how you can watch multiple videos in the picture in picture mode in Firefox at the same time, then here's how you can do that:
Make sure, you're running Firefox v86 (In Nightly).
Next, open any video in Firefox Picture in Picture mode. For that, click on the PIP mode icon on the video player. Doing this will open minibar on the bottom left corner.
Following the same procedure, open another video in Firefox PIP mode. Once done, you can drag it anywhere on the screen. You can open as many videos as you want.
Would like to share your opinion about Mozilla adding support for watching multiple videos in Picture in Picture mode at same time? Are you support or hater or this feature? Let us know in the comments.
Donate on Paypal or Buy us a coffee or Join Patreon if you find the information shared in this blog post useful. Mention 'Coffee' in the Subject. So that I can thank you.