Microsoft officially rolled out the Windows 11 build 22000.51 for Windows Insiders. Since it's a developer build, it's not fully stable and the company is just testing it with early adopters.
In case, you want to hand on Windows 11 before its official release can easily get it from Windows 10. You just need to enroll in the Windows Insider program in Windows 10 and select to receive upcoming builds in the Dev channel.
Once you make these changes head over to Settings > Updates & Security > Windows Update. Here on the right side, you will find the Windows 11 build 22000.51. From there, you can simply upgrade to Windows 11.
Some users might not want to enroll in Windows Insider program to get Windows 11. All they want is Windows 11 ISO images so that they can clean install Windows 11 on their device or dual boot Windows 10 and Windows 11.
How to Download ISO Image of Windows 11
No matter what's your reason behind looking for ISO images of Windows 11. The following blog post has quick workaround on how to grab Windows 11 Dev build ISO images.
Disclaimer – The ISO image of Windows 11 that you're going to download using following workaround is not from an official, but third-party source. Its upto you whether you want download it or not
Open your browser and then visit uupdump.net. Here, click on the Download tap available on the left menu.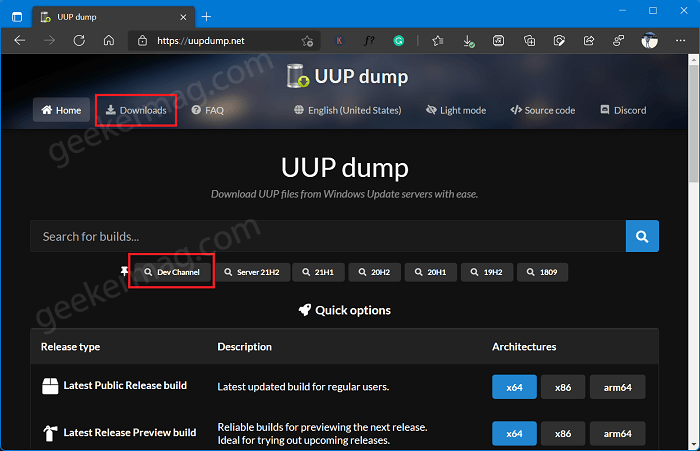 On this page, click on Dev channel button and you will get list of build with information like Architecture, Date added, and Update ID
In the Architecture column, you will find three variants of Windows 11 builds, X64, X86, and arm64. Use x64 builds for Intel and AMD devices. You can use arm64 build for the device running arm microarchitecture. For example, Apple's New M1 processor.
Select the right Windows 11 build depending on the architecture of your device. As of writing this blog post, "Windows 11 Insider Preview 10.0.22000.51 (co_release)" is the latest build available. Click on it to head over to the next step.
Select the OS Language and then click on Next button.
Select the edition of Windows 11 for which you want to create an ISO image. If you want to download an ISO image of a particular edition, let's say Windows 11 Pro, then check the box for that and uncheck the box for another.
Alternatively, if you want to create an ISO image with multiple editions of Windows 11, then checkboxes for all the editions listed.
After that, click on Next button.
On the next page, you need to select the Download and convert to ISO option. After that, Create download package.
Instantly a zip file will be downloaded to your computer. The file contains all the vitals files required for downloading the creating ISO image of Windows 11.
Extract the zip file and open the folder. Once done, you will find various files and folders in it.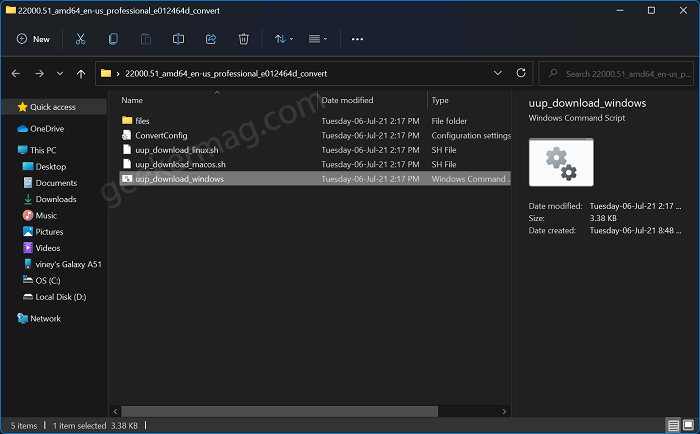 Depending on what OS your device running that you're going to create ISO image, you need to run one of the file with the prefix "uup_download_xxxxx.xx.
For example, if your host device running Windows OS, then you need to run uup_download-windows. For Mac and Linux, you need to run macos.sh and linux.sh.
Once you open the file, the command prompt window will open up and start downloading the ISO image of Windows 11. During this process, you need to make sure that your device is connected to an internet connection.
The process will take around 10-15 minutes depending on your internet connection.
Once ISO Image creation process completed, you will see following message:
At last, open the folder that you extracted in step one. Here you will find the ISO image of Windows 11.
Microsoft has already mentioned that Windows 11 will be available for devices with x64 bit architecture. So with this method you will be able to download Windows 11 ISO image 64-bit.
Later, you can use ISO image of Windows 11 to create bootable Windows 11 USB and install it on your device.
Please do not hesitate to contact us if you want assistance with Windows or its solutions. Our team is always here to help you. (Mention 'Tech Support' in Email Body)