Microsoft is all set to release the upcoming version of Windows OS i.e. Windows 11. The event is set for 24 June 2021. Expectedly, Windows 11 build 21996.1 (Unofficial) has leaked before the official event, and it looks a lot like Windows 10X.
Some of the highlights of Windows 11 are rounded corners, a new start menu, a centered taskbar, new desktop backgrounds, cool animations, new sounds, and even more. All the new things that Microsoft has baked in Windows 11 are available in the leaked build 21996.1.
In case, you're desperately waiting for what new in Windows 11 and want to hand on it before the official release, then in this blog post, we will share everything you need to know about from download Windows 11 ISO to installation of Windows 11. As a bonus, we will cover initial troubleshooting too.
Note – Before you move forward, we would like to inform you this tutorial is just for Educational Purpose only. This Informative tutorial is solely based on an unofficial and leaked copy of Windows 11 (As windows 11 is still not released).
We Strictly against the Piracy and don't encourage it at any cost, But Being a Windows lover.. if you really want to try Windows 11, then Please wait for it to Officially release and try it only with Original Windows 11.
How to Check if Your Windows 10 PC Can Run Windows 11
Before you start installing Windows 11 on your PC it is very important to confirm if your device meets the minimum system requirements for installing Windows 11 listed here on Microsoft Site.
Processor: 1 gigahertz (GHz) or faster with 2 or more cores on a compatible 64-bit processor System on a Chip (SoC)
RAM: 4 gigabyte (GB)
Storage: 64 GB or larger storage device
System firmware: UEFI, Secure Boot capable
TPM: Trusted Platform Module (TPM) version 2.0
Graphics card: Compatible with DirectX 12 or later with WDDM 2.0 driver
Display: High definition (720p) display that is greater than 9" diagonally, 8 bits per color channel
Internet connection and Microsoft accounts: If you're running Windows 10 Home edition, then you need to have Microsoft Account to install it.
In case, you have any doubt about system requirements, then fret not! The company released Microsoft's PC Health App using this link.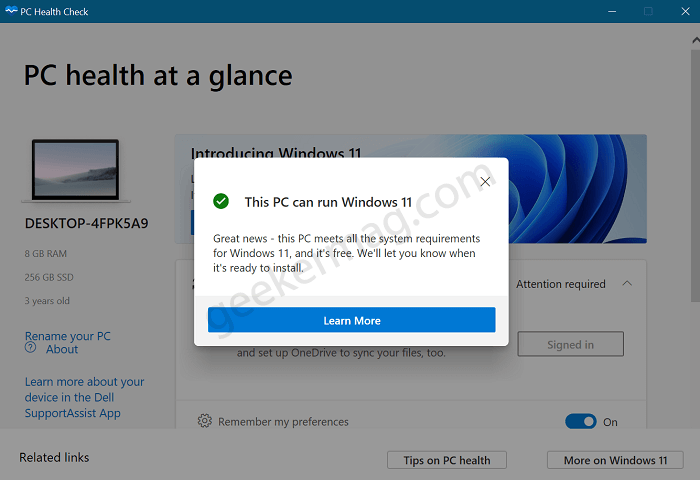 Once you install it on your device, open the app, click on Check now button, it will detect system configuration and let you if your device can handle Windows 11.
If Yes, you will see a dialog with the message "This PC can run Windows 11". Apart from that, if NO, then "This PC Can't Run Windows 11".
Check out our blog post on how to fix "This PC Can't Run Windows 11" due to Secure Boot, TPM, and Minimum System requirements.
Upgrade from Windows 10 to Windows 11
Windows 11 is available as a free upgrade for the supported devices. All you need to do is to launch Settings > Update & Security > Windows Update.
If Windows 11 update is available for you, then it will appear on the right side. Download and install it just like you install any other feature update in Windows 10.
Note – As of writing this blog post, the first build of Windows 11 is available for the users who have enrolled in Windows 10 insider programs. If you want to give it a try before anyone else, then you can enroll in the program.
Download ISO Image of Windows 11
Since Windows 11 is not released yet there's no official link available on the internet to download Windows 11 ISO.

Although, there are some leaked versions of Windows 11 ISO circulated all over the web. For your security and privacy reasons, we don't want to include those in our post.
As soon as official link is available the following link will become active:
Download Windows 11 ISO images
Create Windows 11 Bootable installation media
Once you successfully manage to get an ISO image of Windows 11 our next step is to create Windows 11 Bootable Installation Media that will help in installing Windows 11 on your device.
There are various ways to create Bootable installation media for Windows 10, but we will cover one of the easy methods. You can check our previous post on How to Create Windows 11 Bootable USB from ISO using CMD
The tutorial is based on Windows 10, but the steps are the same. You just need Windows 11 ISO to complete the process.
Install Windows 11 on Laptop or PC
Installing Windows 11 is super easy. There are two ways to do that. You can either upgrade from Windows 10 to Windows 11 using ISO image or clean install Windows 11. Let's start with first method:
Upgrade from Windows 10 to Windows 11
Once you have the ISO images of Windows 11, double-click to mount it.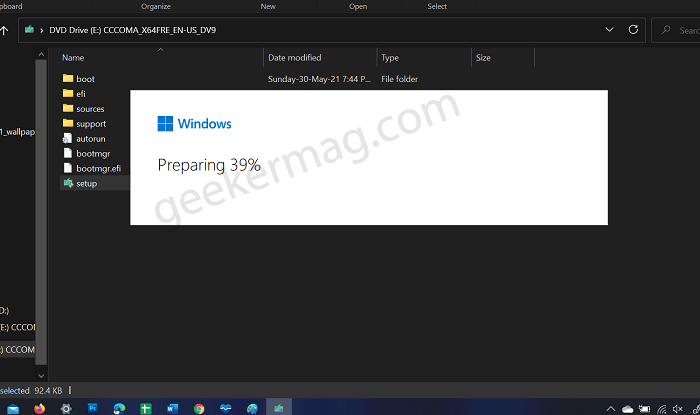 Next, click on the Setup file and when UAC dialog box appears, click Yes to continue. Doing this will instantly show you Preparing Windows 11.
Windows 11 Setup window will appear, click Next to continue.
Application Notices and License terms window will appear, click Accept to continue.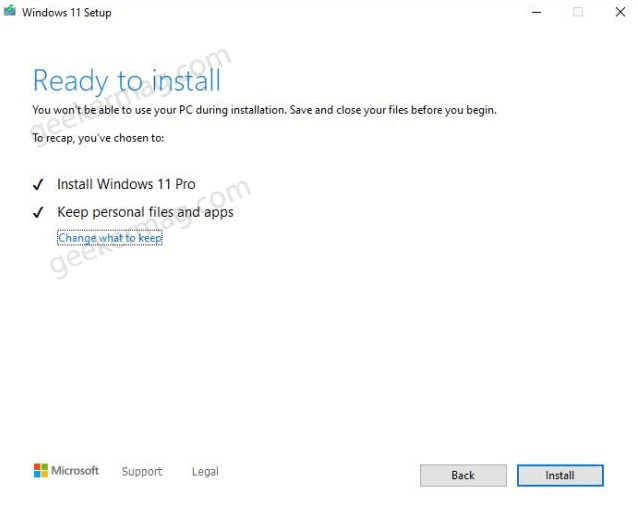 Next, you need to wait until the "Ready to Install Windows 11" dialog appears. Here, you can click the "Change what to keep" link to customize the installation of Windows 11.
Under this, you will find three options:
Keep Personal files and apps – You will be able to manage settings
Keep Personal files – Your settings and apps will be deleted, except files
Nothing – Everything will be deleted; Settings, files, and apps.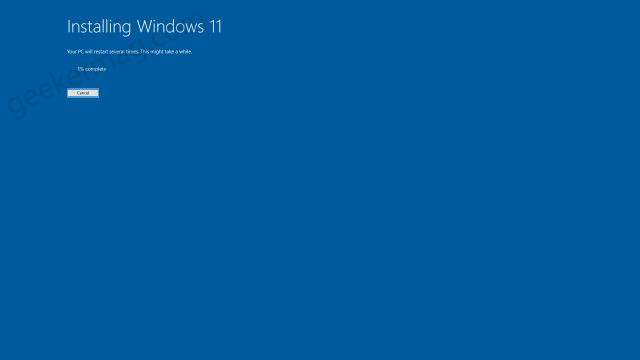 Once done, click on the Install button. After installation is completed, you will be presented with the new Windows 11 OOBE screen.
Clean Install Windows 11
Now that you made it upto this section we assume that you've bootable Windows 11 USB Drive, right? The process to install Windows 11 on PC and Laptop is the same as you install Windows 10. Here's what you need do to:
Check out YouTube video on How to Install Windows 11
Insert USB Drive in the PC or laptop
Reboot your device and when it turns on keep pressing the boot key to bring the Boot Options Menu on your device so that you can select Windows 11 bootable device to start the installation.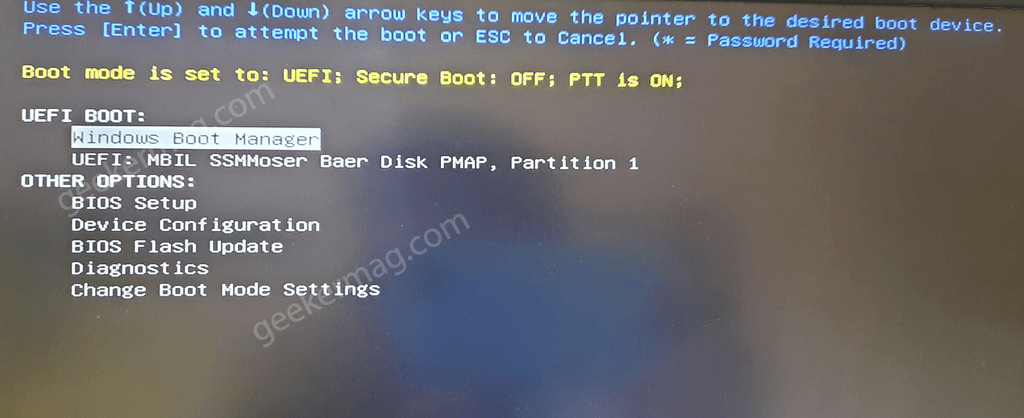 The different devices have different keys to bring Boot Options Menu. You can try any of these: Esc, F9, F12, F10, etc.
Select the Windows 11 USB drive from the Boot Options Menu. Doing this will instantly take you to Windows 11 Installer screen.
Select Language to install, Time and Currency format, and Keyboard or input method, and then click Next.
Click on Install Now button.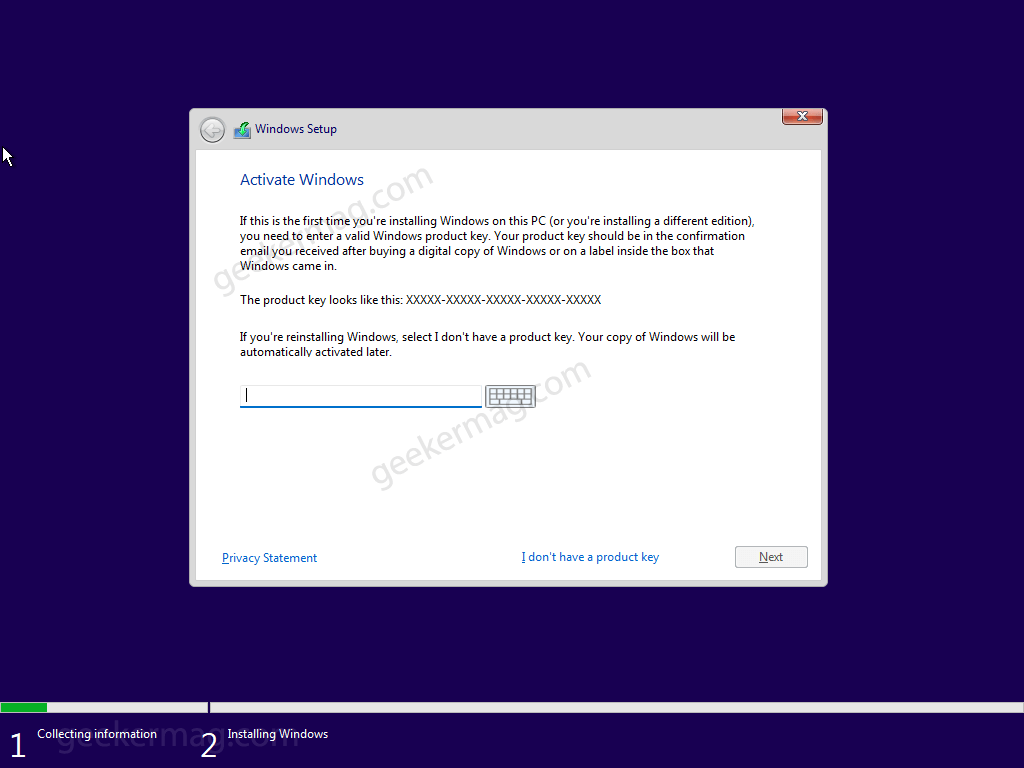 In Activate Windows screen, enter the product key of Windows 11. Since its not officially available and we're testing it without product key, click on "I don'thave a product key" and select Next.
Select the edition of Windows 11 of your choice. You need to select the one of which you have a key.
Select Terms and conditions of Windows 11, click Next.
Here, you need to select the drive where you want to install Windows 11. In case, you have the fresh drive, then click on the New option and then create the Drive.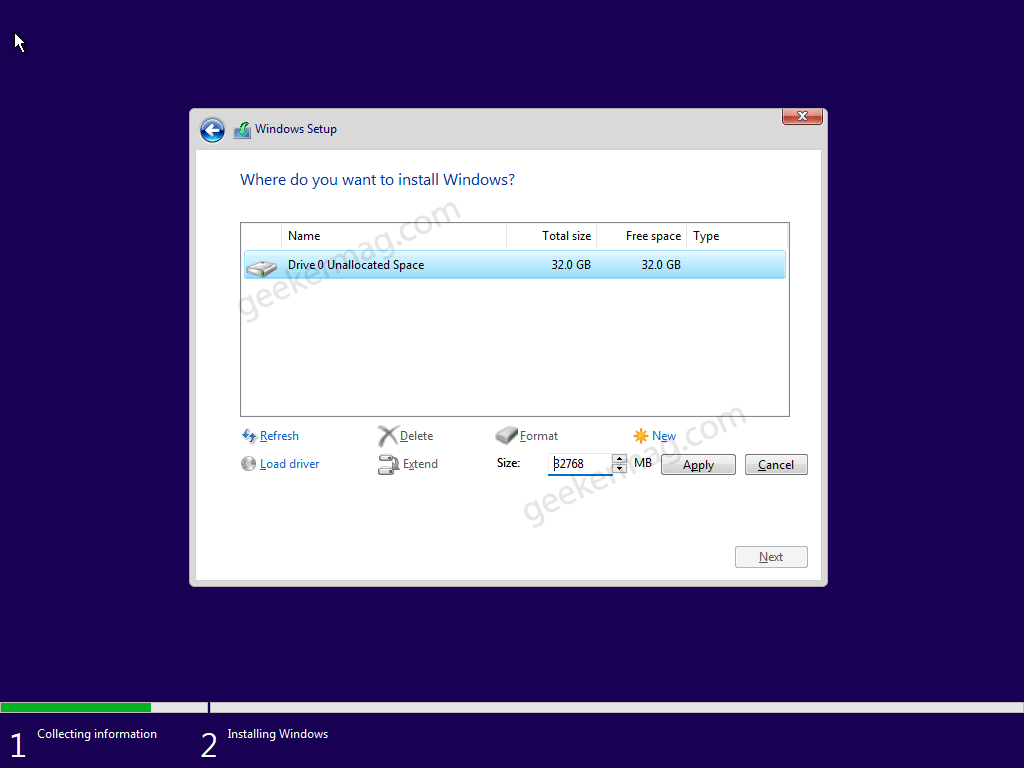 Create new drive in which you want to install the Windows 11.
Select the drive where you want to install Windows 11 and then click Next.
Now you will following screens back to back, follow the instructions as suggested: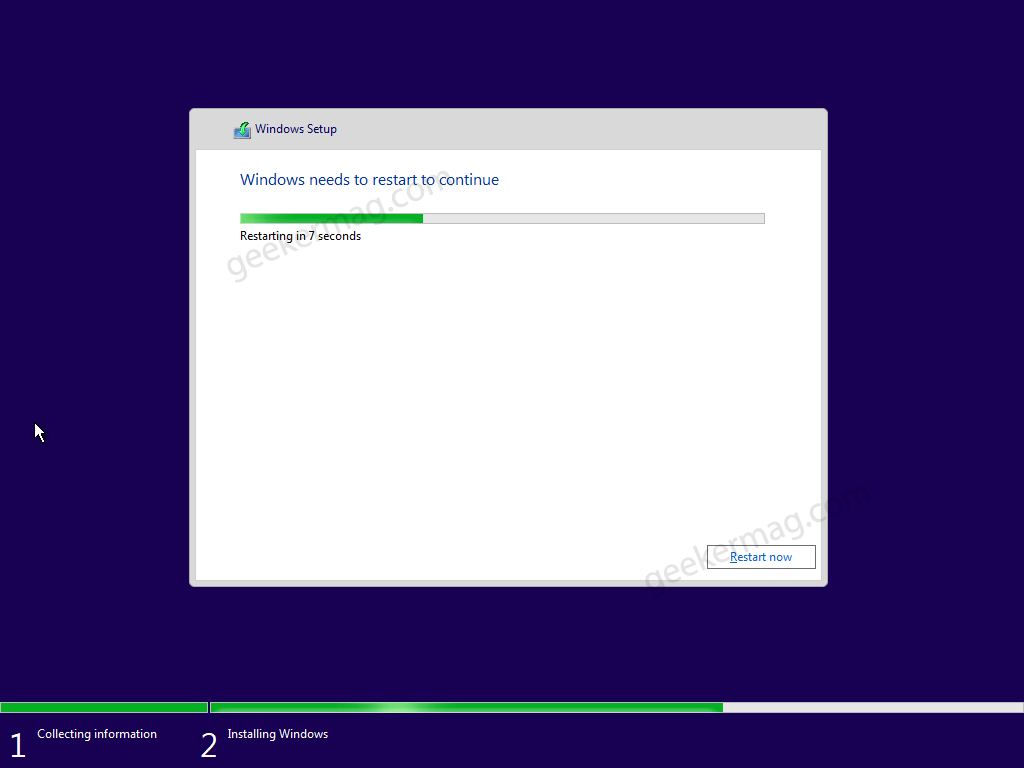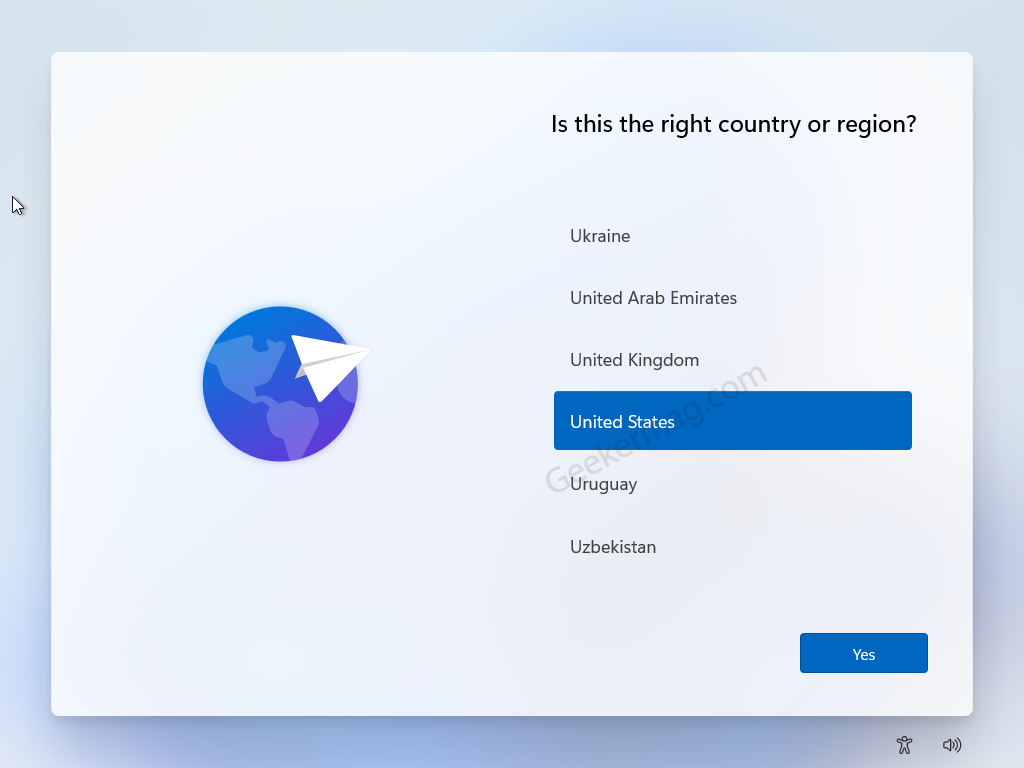 Select Country or Region and then Click Yes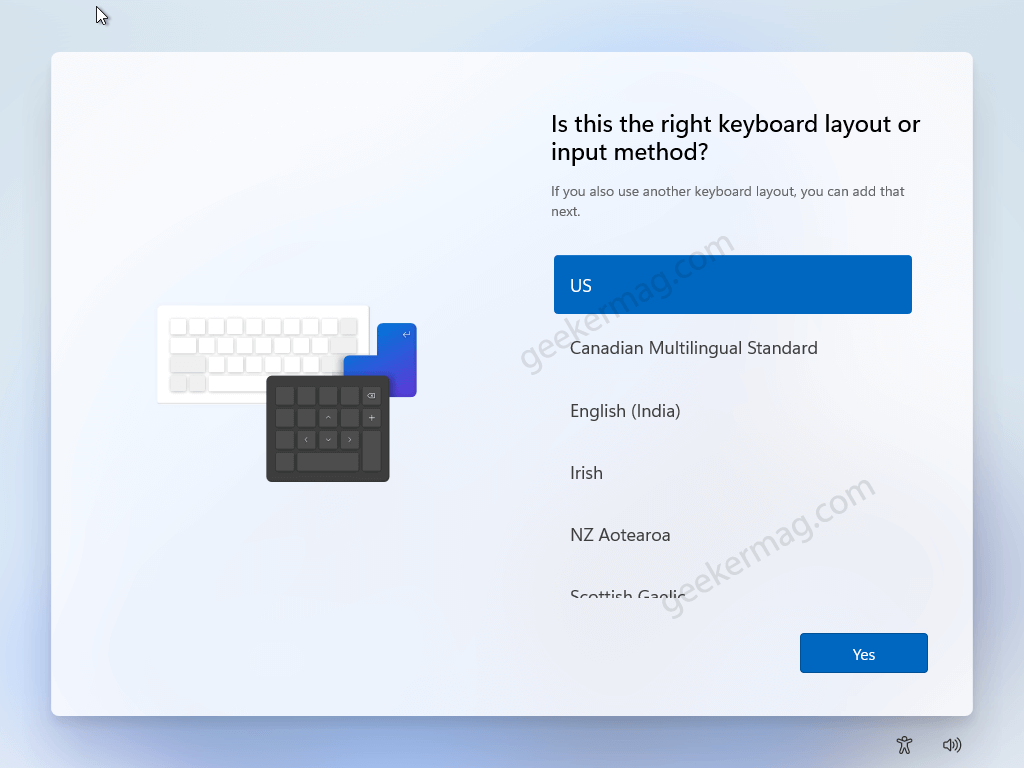 Select the Input method and then click Yes.
Add a Secondary keyboard if you want, else click on Skip
Select whether you want to setup this device for Personal use or Work or School and then click Next.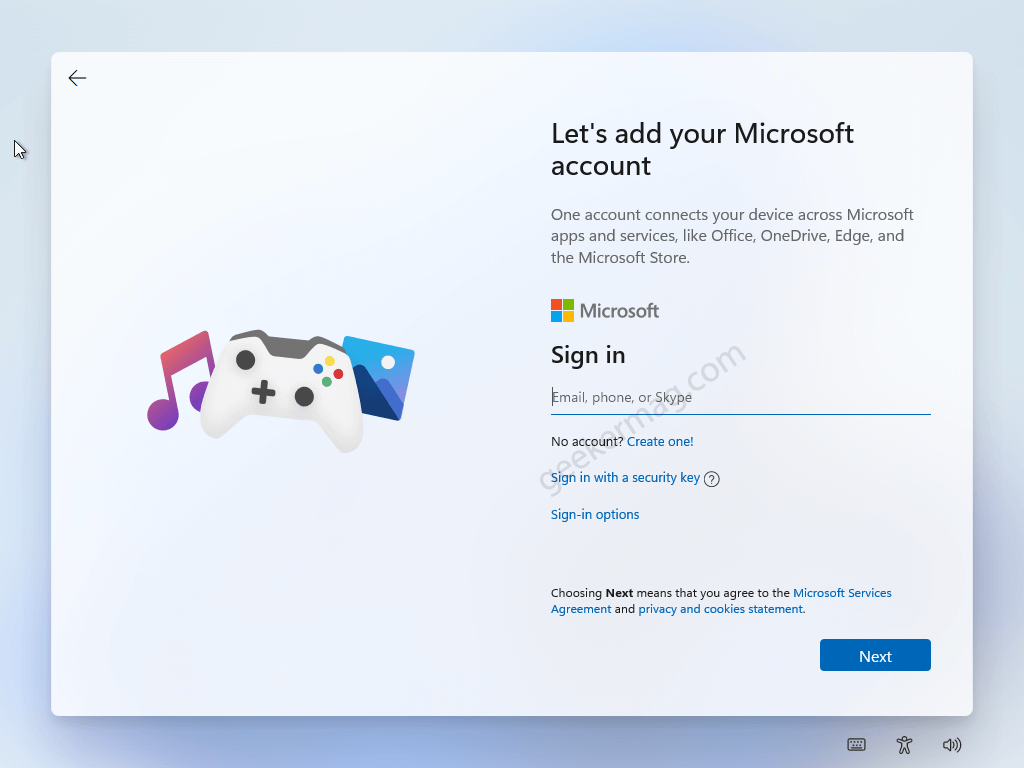 Here, you need to Add Microsoft account for Windows 11. You need to enter your Microsoft Account credentials and click Next.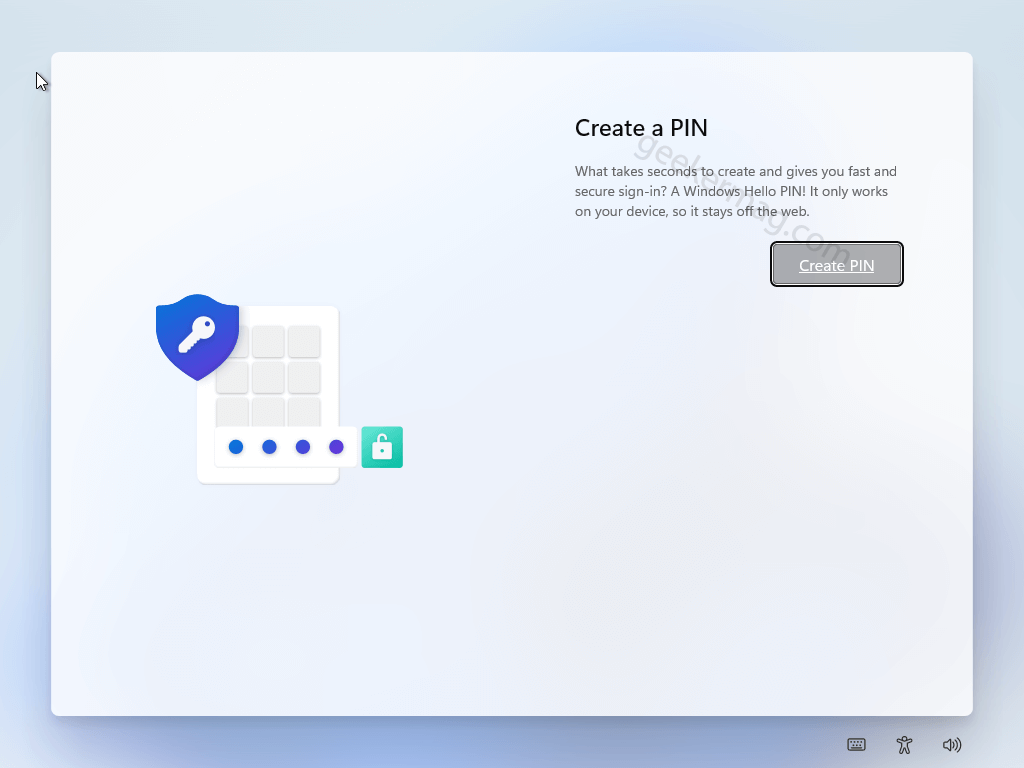 Click on the Create Pin button and then enter PIN of your choice and select Next.
Select Various Privacy Settings in Windows 11 and then click Next.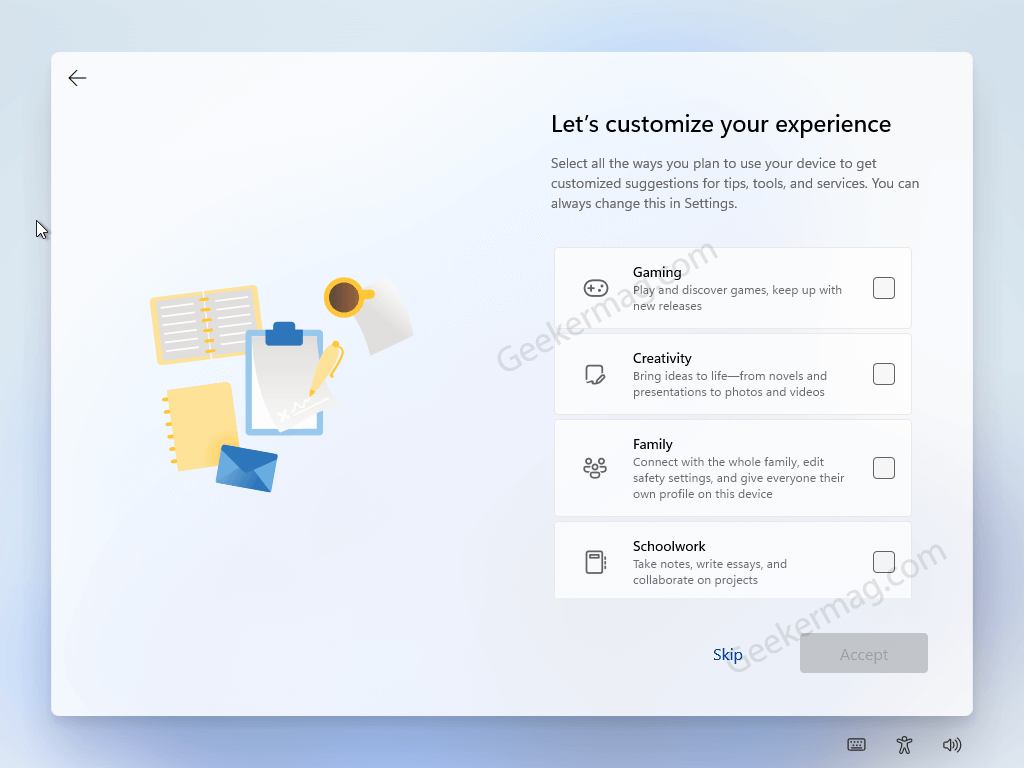 The above screen will show you various tips and suggestion that you might want to turn ON, select the one you want and then click Accept. You can make these changes later too. So, you can skip this too.
Here, select where you want to store the files. One Drive or locallly
Once all done. You will be presented with a new Windows 11 OOBE setup screen. Now you can eject the USB drive and complete the on-screen instructions to complete the installation of Windows 11. Here's how the Windows 11 desktop looks like:
There are various section of Windows 10 which you might love to check: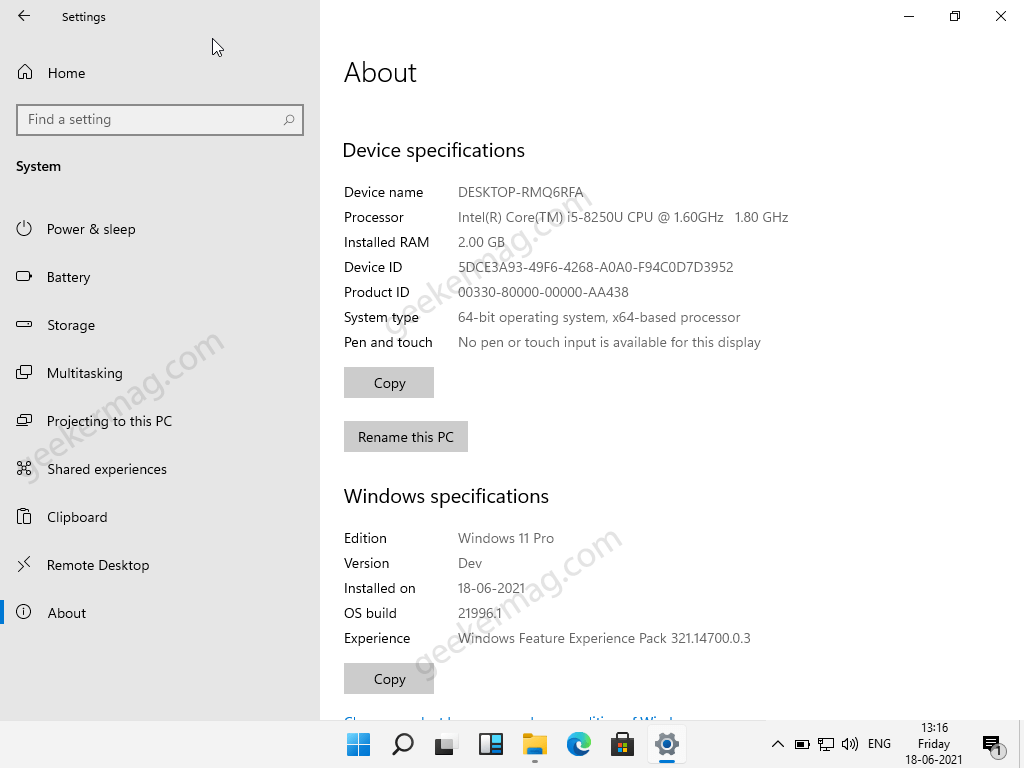 Windows 11 About Page
Windows 11 Notifications Area
Windows 11 Search Window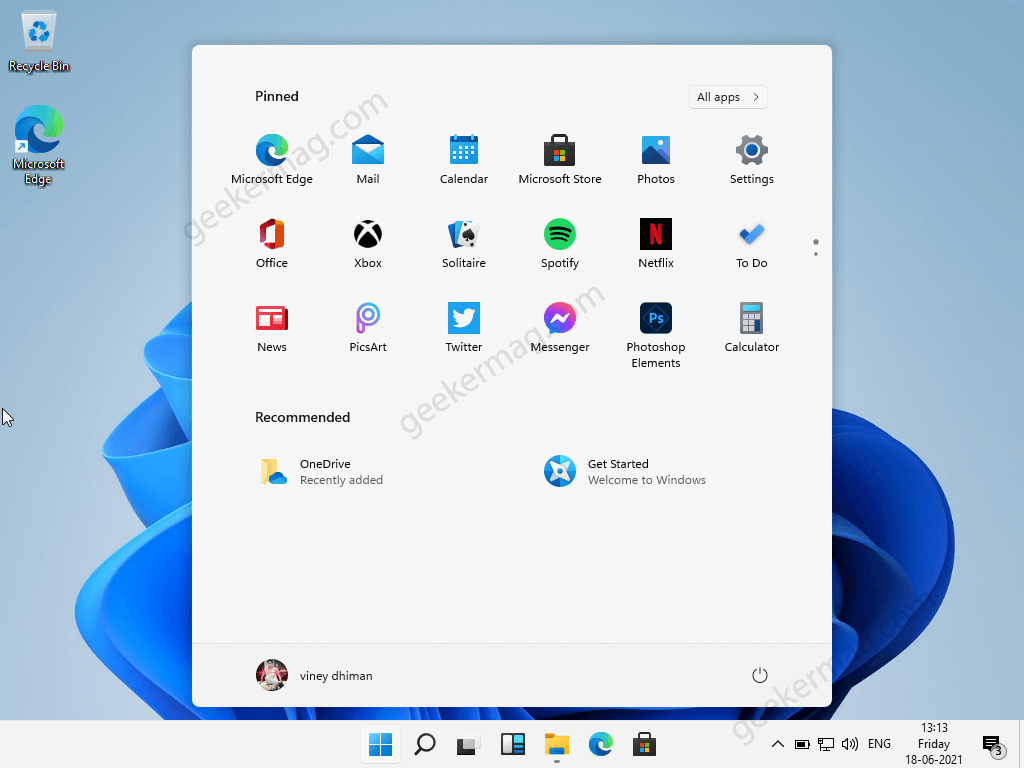 Windows 11 Start menu
Windows 11 Task View
Windows 11 Widgets
So that's all about our detailed guide about How to Install Windows 11 on any PC or Laptop. Now you have installed Windows 11 on your device, why don't you share your opinion about it in the comments.
Also, Windows 11 is not officially released so it is possible that the company might release final version of it with features that aren't available leaked build.