Retail traders now have a range of options when it comes to crypto trading, from automated strategies such as crypto trading bots to the convenience of crypto trading apps. Cryptocurrency apps let you invest in various cryptos currently available in the market and allow you to trade (buy and sell) them right from the app. It involves an easy procedure and you would need nothing more than a mobile device and a bank account.
These apps act as convenient gateways into the world of decentralized digital currency blockchain networks. You simply need to sign up while the mobile app interface facilitates quick learning on the go.
If you want to invest in digital currency, then Cryptocurrency apps are one of the best options to get started because they are convenient. You can use it right from your smartphone.
You might be interested in check out the blog post on the 5 Best Bitcoin Mining app for Windows 10
Best Crypto Currency Apps
Fortunately, the internet is full of Cryptocurrency apps but not all of them are good or deliver what they promise. So to help you out we decided to cover this blog post featuring some of the best Crypto Currency apps for both Android and iOS devices.
Let's start with the first one in our list:
The eToro app is a facile choice for trading in cryptocurrencies but it primarily focuses on short-term trading rather than long-term. eToro furnishes you with valuable strategic analytics via their most successful online users and traders to help you decide wisely and correctly. It has a 0% commission policy that is quite an upper hand when compared to other platforms and competitors which charge a fee for the same.
Like any other cryptocurrency app, you will not be actually owning any of the cryptocurrencies you trade unless you decide to cash out.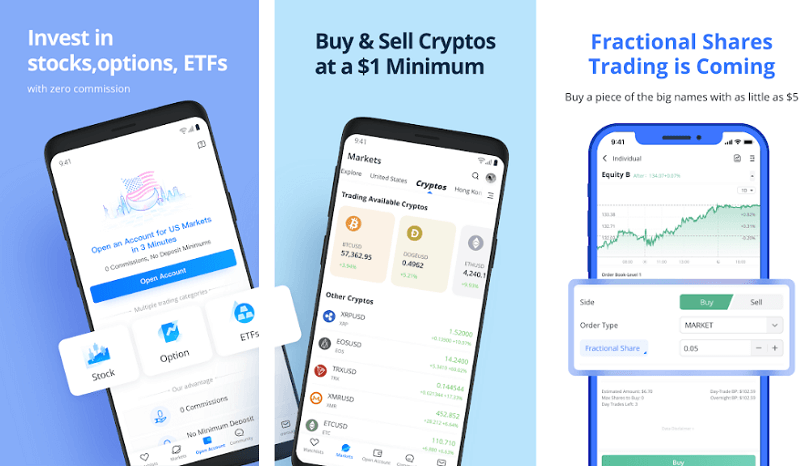 Contrary to a few other apps on this article, WeBull does not just let you trade in cryptocurrency but also other investment fields such as stocks, margin, and options. WeBull is especially famous among novice traders thanks to its slick and cool interface that is also easy to use. The only downside to this app is that does not provide news and current market statistics which are otherwise valuable for newbie traders looking to establish a firm footing and learn more about their choices.
However, its cool features and the intriguing interface does compensate for lacking news content.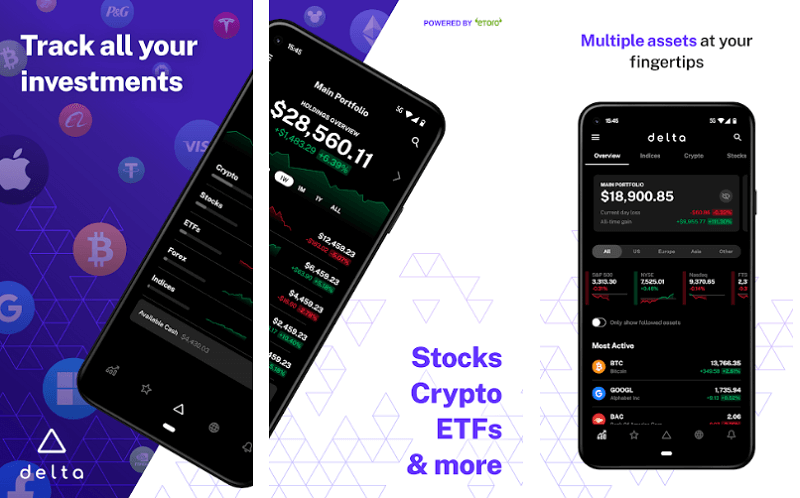 Delta is a comprehensive cryptocurrency app that requires basic knowledge and is usually not a great choice for beginners. It's worth sticking to since it allows you to trade with over 7,000 different cryptocurrencies, allowing you a multitude of options to choose from. The app data can also sync across several devices which makes it easily accessible from all kinds of devices.
Delta additionally provides trade history analytics, trade history, asset history, asset location, and investment updates.
Hailed as one of the best beginner-friendly cryptocurrency apps that are available, Blockchain has earned quite a name. Anyone can use Blockchain. It lets you trade in a lot of cryptocurrencies and enables its users to buy, sell, store and manage their Bitcoins and altcoins sans complexities. It even allows crypto-to-crypto conversions and coin transactions with nothing more than the app itself.
Blockchain's digital wallet can additionally suffice as an interesting account, allowing users to earn as high as 12% whilst using their savings account.
CoinBase is one the most popular cryptocurrency app out there. It lets you buy or sell a load of different cryptocurrencies including Bitcoin, Bitcoin Cash, Litecoin, Ethereum, USDT, BAT, Ethereum Classic, and ZRX. Coinbase particularly appeals to novice crypto investors due to its simple and easy-to-use interface. It is highly user-friendly and provides the best intuition for amateur users.
The dashboard lets you manage all your trades and purchases and you can even earn rewards for specific coins.
If you do not like the idea of investing your money in a savings account and accumulating no more than minimal interest, BlockFi might interest you. This app claims to provide 3%-7.5% interest on your crypto investments. You do not require you to create a new portfolio to begin accumulating interest via BlockFi. It makes use of your existing portfolio and lets you earn up to 4% interest on your holdings.
If you are looking to maximize your interest in crypto holdings, you should consider using BlockFi to invest and trade in stable coins like USDC and GUSD, which can reportedly yield as high as 7.5% interest.
Voyager lets you deal with more than sixty different cryptocurrencies. The app is especially suited for novice traders since it requires only $10 for a user to get started. Voyager, however, has a drawback: it lacks control for you to manage your actual trades. It does not let you view your holdings. Instead, Voyageremploys its own Smart Order Router to invest on your behalf and lets you draw the profits with zero commission.
Due to this feature, Voyager acts as a bot crypto user which invests your funds where it deems fit.
8. FTX (formerly Blockfolio)
Blockfolio is hands down, the best cryptocurrency portfolio tracker. It does not just support more than 10,000 different cryptocurrencies but also over 500 different exchanges. If you are trading in cryptocurrency, the odds of Blockfolio letting you track it is high. The app also syncs your exchanges data to let you automate the tracking procedure.
It also displays the latest statistics and prices, market data, trend shifts, and news content. The best thing about Blockfolio is that it is absolutely free to use.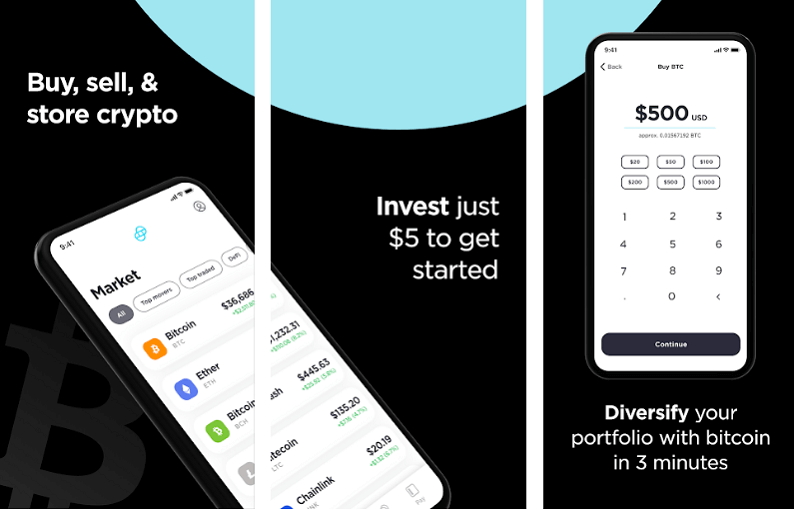 Gemini lets you deal with several dozen cryptocurrencies (like Bitcoin, Bitcoin Cash, Dogecoin, Litecoin, Ether, Dai, BAT, Chainlink, and Orchid) and it has gained trust throughout new users across the world, making it a reliable cryptocurrency app. Moreover, it has adopted more features than just the basics of a cryptocurrency app. You can create price alerts, develop a crypto portfolio, set recurring purchases, and more.
Gemini is especially famous for its renowned security and has never been hacked throughout its run.
Exodus is one of the best crypto wallets available that is not just secure but also user-friendly for newbies who do not have any experience with Bitcoin and other cryptocurrencies. It supports more than 125 cryptocurrencies and acts as a trustworthy option for storage. However, the trading fees involved might prove to be a deal-breaker for you.
Exodus is suited for buying and selling your cryptos without any hassle. The built-in features it houses enable any amateur to begin without any complexities.
So these are some of the best Cryptocurrency apps for iOS and Android that we think are best and will definitely help you if you're starting your cryptocurrency trading as a beginer.
As an independent platform, it takes a lot of effort to create and curate quality content daily. Our content is totally funded by users like you.
Therefore, if you find information on this website useful, we kindly ask for your support in maintaining the longevity of our platform. If each person who benefits from our website contributes, we can secure a brighter future for our website.
Donate on Paypal or Buy us a coffee if you find the information shared in this blog post useful. Mention 'Coffee' in the Subject. So that I can thank you