Starting with Microsoft Edge Canary v88.0.672.0 users can modify saved passwords in the browser directly from the Password settings page. The feature is available out of the box and you don't have enable anything to start using it.
Microsoft Edge Password manage always save website credentials which include username and password here on this page (edge://settings/passwords) under the Saved password section. Users can use these details to autofill credentials, next time you login to the website.
Earlier when you click on the Saved Password more action (…) icon you get two options which include Copy password and Delete accompanied by eye icon clicking on which show you saved passwords.
With the latest update, the company introduced a new option called 'Edit Password' that lets you edit a saved password. The feature works better with another feature of Edge Password manage which gives you alerts when your saved password found in an online leak.
Suppose, Edge browser gives you an alert that your credential is exposed. With the Edit Password option, you can quickly modify credentials for particular websites listed under the Saved Password section.
Edit Saved Password in Microsoft Edge Password Settings Page
If you're curious to know try this new feature of Microsoft Edge Password Manager, then here's how you can do that:
Make sure, you're using Microsoft Edge Canary v88.0.672.0 or above.
Next, you need to click on the Ellipse (…) icon and select Settings.
Select Profile, and then on the right side click Passwords. You can directly reach this Password settings page by going to (here on this page (edge://settings/passwords)
On this page locate the Saved Password section. Here, you will get a list of all the saved passwords.
Head over to the website credentials for which you want to modify or edit passwords. Here, click on the Ellipse (…) icon and select Edit Passwords from the menu.
Doing this will launch show you Windows security dialog. Depending on your security option you need to verify your identity either by typing a PIN, Passwords, or Windows Hello.
Once done, the Edit Password dialog will appear with details which include Website URL, Username, and Password.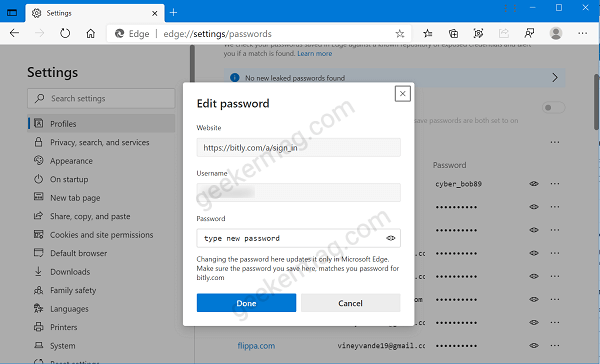 In the Password field, you can directly type the new password or click on the Reveal password icon to check the current password and then type the strong password.
After that, click on the Done button to apply the changes.
FYI, Password Manager for both Google Chrome and Firefox browser already offers functionality to edit saved passwords.