With Windows 11, Microsoft is forcing users to stick with the Edge browser as they have made the process to change the default browser in Windows 11 more complicated as compared to Windows 10.
Windows 11 keeps opening links in Microsoft Edge, the default browser that comes preinstalled in Windows 11. There are users who don't use the Edge browser and want to open links in other browsers. For example, Chrome, Firefox, and others.
In this situation, the first thing you need to do is change the default browser of Windows 11 to Chrome, Firefox, and other preferred browsers. Although Windows 11 makes it Hard to Change Your Default Web Browser, we have step-by-step instructions on how to do that.
Majority of users reporting that even after adding a new default browser in Windows 11, there are various components of Windows 11 that still opens in the Edge browser. For example, the links that appear in information cards in the Widget menu.
So the question is how to force Windows 11 to open links in the preferred browser?
How to Force Windows 11 to Open Links in Default Browser
Well, we have done the research and figure out that officially it's not possible but there's a third-party program using which the same thing can be achieved. Let's learn how to do that
Here's how you can do that:
EdgeDeflector is software that can prevent this from happening. It redirects links that are force-opened in Microsoft Edge to the default browser you set.
Download EdgeDeflector from GitHub from here.
Once you download the EdgeDeflector installer, run it and follow the instructions to install it.
Launch Settings > Apps > Default Apps. Here, look for EdgeDeflector and click to open it.
Here, you will find the "Set file types or file links" section, click on Microsoft Edge. The menu with different apps will open. select EdgeDeflector.
This will replace all Microsoft Edge link types with EdgeDeflector.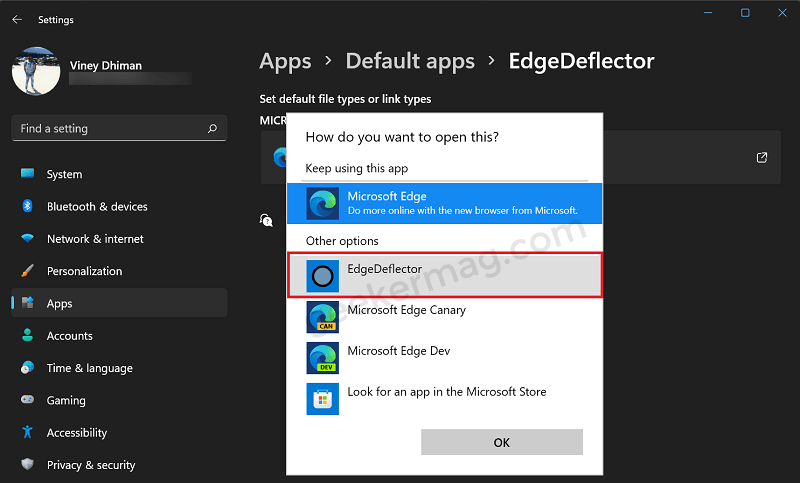 Now every time you open a link that would have otherwise taken you to Microsoft Edge, it will be redirected to the default browser you have set in Windows 11. Thanks to EdgeDeflector.
If Chrome is your default browser, then links will be open in Chrome browser. On the other hand, if Firefox is your default browser, then links will be opened in the Firefox browser.
Use Chrometana for Chrome
In case, you're using the Chrome browser, then there's a browser extension called Chrometana which when enabled will open all the links of Windows 11 in the Chrome browser.
For example, whenever you access a link in Cortana and the Windows search bar, it will be opened in a browser like Bing. This cannot be changed internally. So you can take help of this extension.
Once done, all links will be redirected from Cortana and Bing to Chrome.
Foxtana Pro for Firefox
Apart from that, if you're using Firefox as the default browser, then you can take the help of Foxtana Pro, a port of Chrometana for Chrome.
Easy, wasn't it?
With the help of EdgeDeflector, Chrometana, and Foxtana Pro opening links to the browser of your choice becomes easier.
Why don't you try the workaround discussed above in this post and let us know if this helps you or not? In case, you have any other solutions feel free to share with us in the comment.