Microsoft recently rolled out the Vertical Tabs feature in the latest version of Edge. With the help of this feature, users can easily shift to view your active tab in the left pane. The purpose of this feature is to make it easier for the users to manage tabs.
Vertical tabs feature is enabled out of the box and users can access it by clicking the button available on the upper left side. While on the hand, some users suggested developers behind Edge to include that option in the browser setting to so that they can remove or hide the Vertical tabs feature button from tabstrip.
Well, Starting with the latest version of Microsoft Edge v88.0.705.50, it is now possible for users to hide Vertical tabs from the tab strip. Now there's an option called "Show vertical tabs button" in the settings. You can achieve the same thing from the Vertical tabs customization menu.
If you're curious to know how you can hide the Vertical tabs button in the Microsoft Edge browser, then here's what you need to do:
Update Microsoft Edge to latest version i.e. v88.0.705.50
Hide Vertical Tab from Customization option
Locate and right-click on the Vertical Tabs button on the upper left corner and from the menu select Hide from Toolbar.
Hide Vertical Tabs from Settings
Click on the Ellipse (…) icon and select Settings.
On the left pane switch to Appearance tab and then on the right pane head over to Customize toolbar section.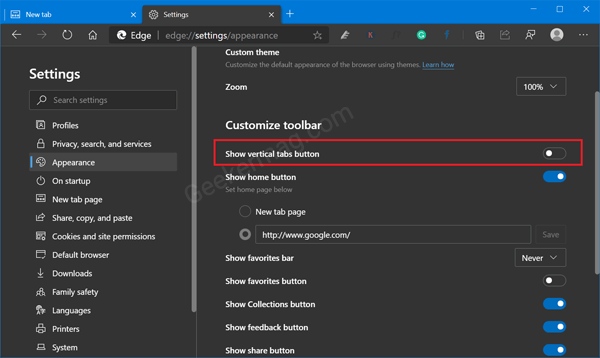 Here, you need to turn off the option called Show Vertical tabs button.
As simple as that.
Vertical Tabs The feature is still under Controlled rollout so it is possible that you might not be seeing the Vertical Tabs button on the tabstrip, even if you have turned the option Show vertical Tabs button.