Starting with the latest version of Microsoft Edge Canary (v89.0.727.0), Edge Password Manager gets a 'Scan now' using which users can force scan compromised passwords whenever they want.
Earlier, Edge Password Manager automatically initiates the scan and shows users a list of compromised passwords after the scanning completes. With the addition of the Scan Now button, Edge developers give power to the user so that they don't have to rely on the browser and start a scan for the saved passwords whenever required.
Force Scan Compromised Passwords in Microsoft Edge
If you're curious to find out if there's are any compromised passwords in saved password lists, then here's how you can do that:
Make sure, you're running Edge Canary vv89.0.727.0 or above.
Click on the Ellipse (…) icon and select Settings.
On the left side select Profile and then on the right side click Passwords.
Next, you need to click on the Forward arrow icon available on the Show results bar as shown in the following screen: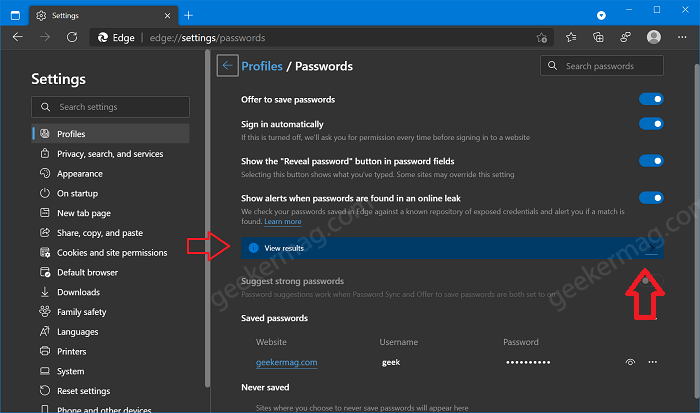 On this page, head over to the Leaked Passwords section. Here, you will find the Scan now button, click to start Scan.
Depending on how many passwords you have saved in Edge Passwords manager, it will take time.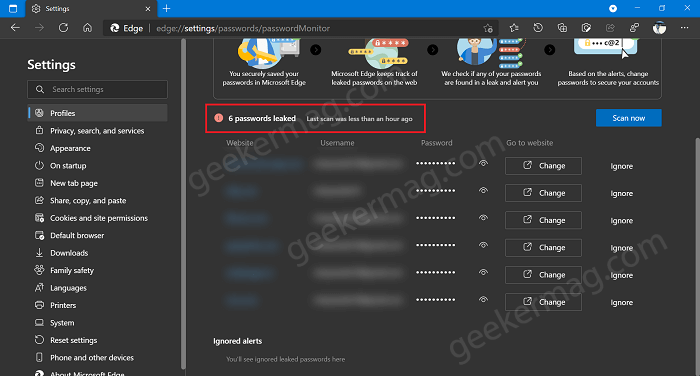 During the scan, if there are compromised passwords, it will appear right below the Leaked Password section. Later, you can Edit Saved Passwords from the Settings page.
Are you happy to get On-demand Leaked Passwords Scanner in Microsoft Edge? We would like to hear from you in the comment.