Starting with the latest version of the Chromium Edge in Canary channel, the company has introduced a new option in the setting section using which users can easily clear browsing data every time you close Chromium Edge browser.
The feature is already available in the classic Edge browser, and now the company decided to implement the same feature in the settings menu of Chromium-based Edge browser on the heavy demand of the users.
Chromium Edge is going to be the default web browser in the Windows 10 and Microsoft is doing there best to bring each and every useful feature in the browser, the one which is going to take place of classic Edge browser in upcoming browsers.
Clear Browsing Data on Exit Chromium Edge
To get access to this feature, you don't have to enable any flag, the option is available in the Chromium Edge version 77.0.222.0. Using this setting, you can select what to remove from the browsing history whenever you close the browser. Here's how to reach the settings and select what to delete:
1. Click on the three dots (…) Settings and more icon available on the upper right corner and select Settings.
2. On the Settings page, you need to switch to "Privacy and services" tab. Now on the right side, you will find a link which reads "Choose what to clear every time you close the browser."
Alternatively, you can reach the same page, by visiting this address: edge://settings/clearBrowserDataOnExit
Here, you will find different browser data options like shown in the following screenshots: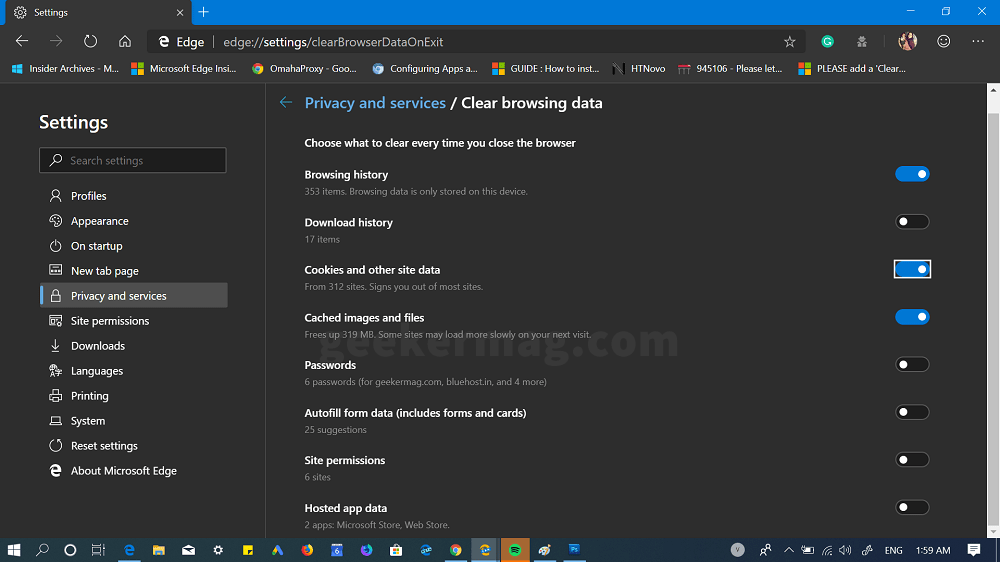 With default settings, all the option are turned off. According to your requirement, you can select the desired options using the toggle switch.
After selecting the options, whenever you close the Microsoft Edge, the browsing history will be deleted. Using this option, you can clear the browsing history, cached images and files, cookies and more
The browser automatically installs the latest update available for the Chromium Edge browser. You can visit Help and Feedback > About Microsoft Edge to install the latest update.
Source – Winaero