Microsoft Edge in Canary channel now has a new feature which suggest strong passwords. The feature when enabled suggest strong passwords and, if you choose to use them, they'll be saved and filled automatically next time.
The password generation feature is available in the latest version of Edge in both Canary and Dev channel. Password suggestion feature is already available in Google Chrome and Firefox browser.
Enable and Use Suggest Strong Password in Microsoft Edge
The purpose of introducing this security feature is to make the Password Manager robust and ensure the overall security of the users. In case, you want to try the feature, then here's what you need to do:
Make sure you're using the latest version of Microsoft Edge in Canary or Dev channel.
Next, click on the Ellipse (…) icon and select Settings.
On the left side, you need to select a Profile. On the right side, you will find 'Suggest strong passwords.' Make sure its Turned ON.
Once this feature is enabled, visit any website (For example Facebook) and try to create a new account.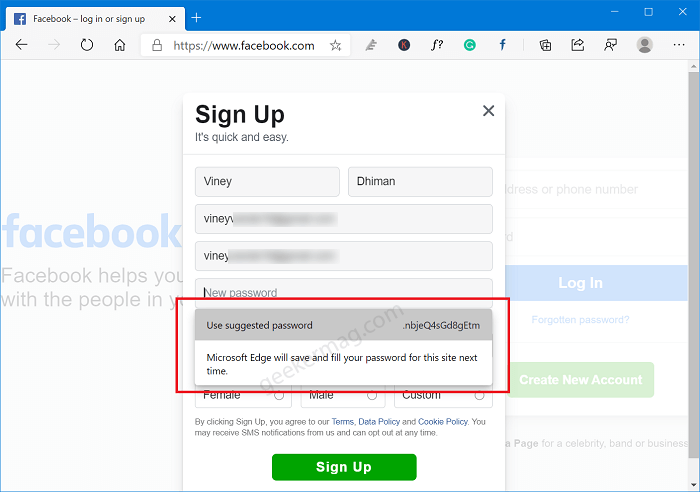 Now if you click on the Password field, you will find a new option Use suggested password option. Click on it to use the suggested password. Doing this will save the password in Password Manager.
If you're using the Sync feature of Edge browser, then the same password will save automatically saved on the both Edge for Android and iOS.
As of writing this blog post, I'm seeing suggestion in limited sites. Its expected behvariour as feature is still available in the Canary and Dev channels.
What are your thoughts about Microsoft Edge Strong Password suggestion feature? Let us know in the comments.