Microsoft has made a strange change in Windows 11 that the majority of users won't like. According to system specifications for Windows 11 released by the company, Windows 11 Home edition require a Microsoft account and internet connectivity to complete the installation.
Windows 11 Home edition is designed for family & personal use, due to this reason Microsoft account is required while trying to install Windows 11. So basically Microsoft is forcing every Windows 11 lover to use a Microsoft account to sign in.
In case, you're the one who wants to install Windows 11 without Microsoft account or Internet connection, then fortunately there's a quick workaround to bypass this restriction.
How to Install Windows 11 Home without Microsoft Account or Internet Connection
While installing Windows 11, when you reach "Let's connect you to network." Here, if you're not connected to an internet connection, then you will unable to move further.
So what you need to do is to SHIFT + F10 key combo.
When Command Prompt Window opens up, you need to type 'taskmgr' and hit enter.
In Task Manager, click on More details.
Under the Background process, scroll down until you find 'Network Connection Flow'.
Once you find it, right-click and select End Task.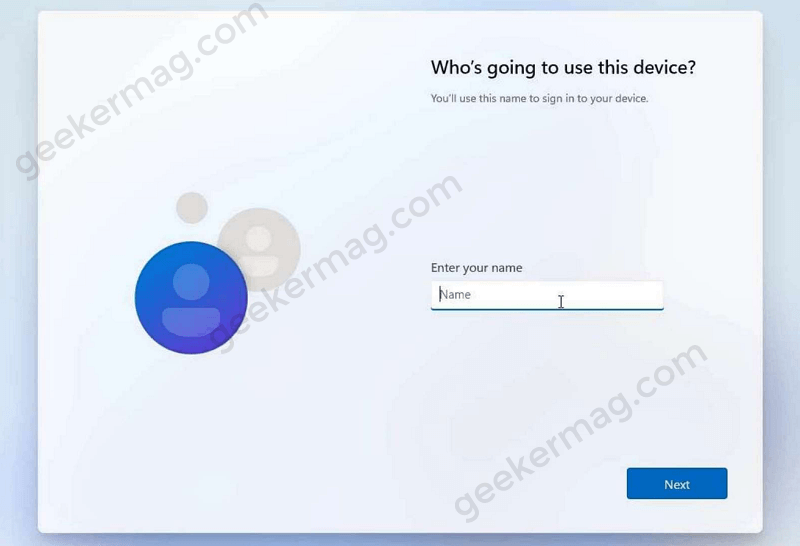 Now head back to Windows 11 Setup screen, and continue the process and complete the installation with a local account.
Alternatively, if you don't want to go through all the steps discussed above, then you can apply this hack right from the Command Promot. Here's how you can do that:
After pressing the SHIFT + F10 key, when Command Prompt window opens up.
Instead of opening task manager, copy-paste this: askkill /F /IM oobenetworkconnectionflow.exe and hit enter.
And again continue the setup.
Once installation complete is done, you can connect to an internet connection and complete the app download process.
You need to keep few things in mind:
Without an internet connection, the app's icon will fail to load properly
If you frequently use apps that require an internet connection, for example, Tips app for Windows 11, then it will open but won't show any information.
The workaround that allows installing Windows 11 without a Microsoft account is confirmed to be working in Windows 11 build 22000.184 in the beta channel.
Since, Windows 11 is under development and is all set to release on October 5, 2021, it is possible that Microsoft fixes this loophole.
Why don't you try this workaround and let us know if you're available to install Windows 11 without an internet connection?
Please do not hesitate to contact us if you want assistance with Windows or its solutions. Our team is always here to help you. (Mention 'Tech Support' in Email Body)