Starting with Microsoft Edge Canary v89.0.731.0, the company has added a new personalization feature using which users can set Custom Accent colors to Edge default theme.
Microsoft already makes it possible for the users to set dark, light, or system default theme or add themes from Google Chrome Store and Microsoft Edge Store a long time ago. With the addition of the Accent color section, the company put one step forward in Edge browser personalization.
Enable and Set Custom Accent Color to Edge Default Theme
As of writing this blog post, Custom Accent colors feature for Edge browser is available behind the flags in latest version of Edge browse in Canary channel. In case, you want set custom Accent color to browser theme, then here's how you can enable it.
Launch Edge browser and visit this flag address: edge://flags/#edge-color-theme-picker and using "Enable picker for color based themes", change setting from Default to Enabled.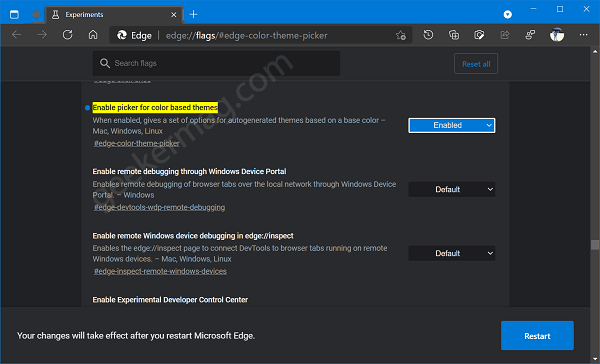 Click on Restart button to apply the changes.
At this point, you have successfully activated Accent color section in browser appearance settings page.
To set Custom Accent Color to Edge Theme, here's what you need to
In Edge browser, click on the Ellipse (…) icon and select Settings.
On the left side switch to Appearance tab and then on the right side you will find Accent Color section under right below Default theme option. You can directly visit this page by going to edge://settings/appearance.
Under Accent color section, you will find 14 custom accent colors which includes:
Light Gray
Dark Gray
Dark Blue
Medium Blue
Light Pink
Pink
Mint Teal
Grey Blue
Purple
Red
Yellow
Orange
Green
Click on the box of particular Accent color to apply it to browser.
The select custom accent color will instantly be applied to the Title bar, Toolbar, and New Tab Page of Edge browser. This is how Accent color looks like: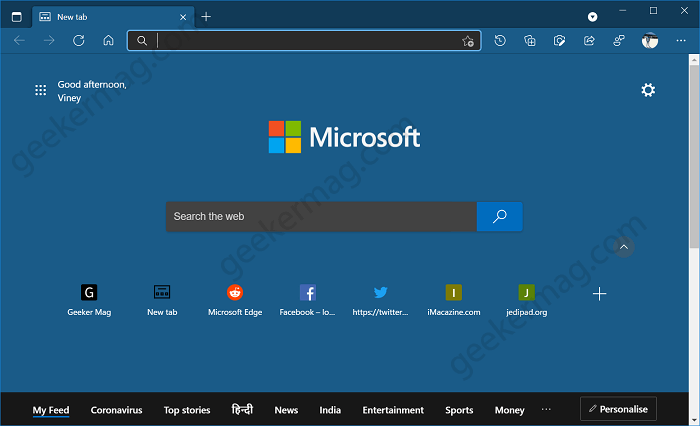 To Remove accent color from browser theme, you need to either select Default theme box or click on the Remove button next to Custom Theme option.
Are you a fan of Accent colors? Is you're going to apply custom accent color to Edge browser? We would like to hear from you in the comments.