The following blog post has instruction on how to set Custom Image as New Tab Page Background in Microsoft Edge browser
Microsoft recently rolled out the first stable build of its Chromium based Edge browser to people all across the globe. Unfortunately, there's no setting available using which users can add custom background to New Tab Page.
As of writing this blog post, the personalize menu for New Tab in Edge Chromium is limited to Layout, Quick Links, Image of the day and other content settings.
Fortunately, there's good news coming for the users who want to set custom background in Edge New Tab Page. Microsoft finally added a new option using which users can replace Bing Image of the Day background in New Tab Page with Custom Image.
The latest version of Microsoft Edge browser in Canary channel v83.0.471.0 has the new option. Google Chrome already has the same feature in the new customize menu for New Tab Page.
Set Custom Image as New Tab Page Background in Edge
In case, you want to set custom image of your choice as New Tab Page background in Edge, then here's what you need to do:
Make sure, you need to be running Microsoft Edge in Canary channel v83.0.471.0.
Next, Click on the Gear icon available on the New Tab Page. From the menu select Custom.
In the Custom menu, head over to the Background section and select Your own image.
Here, click on the Upload button, and select the image which you want to set as NTP Custom Background. The same image will be applied instantly.
To replace the NTP Custom background, click on the Remove button and again select the new image.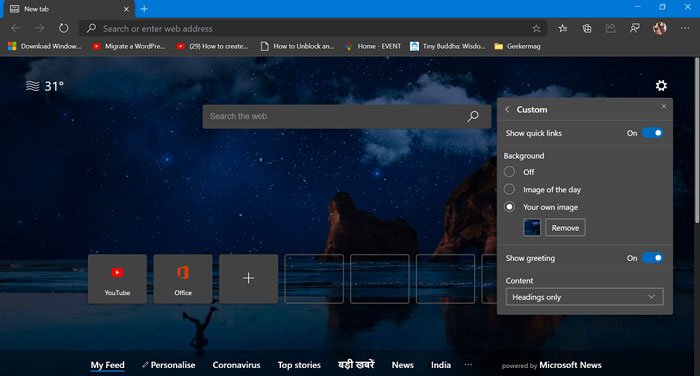 It is expected that the same feature will appear in the stable version of browser in upcoming weeks.
You can check following video to get step by step demonstration:
Alternatively, if you want to wait for the update to hit stable version of the browser, then you can also use same functionality using Clear New Tab extension to Edge.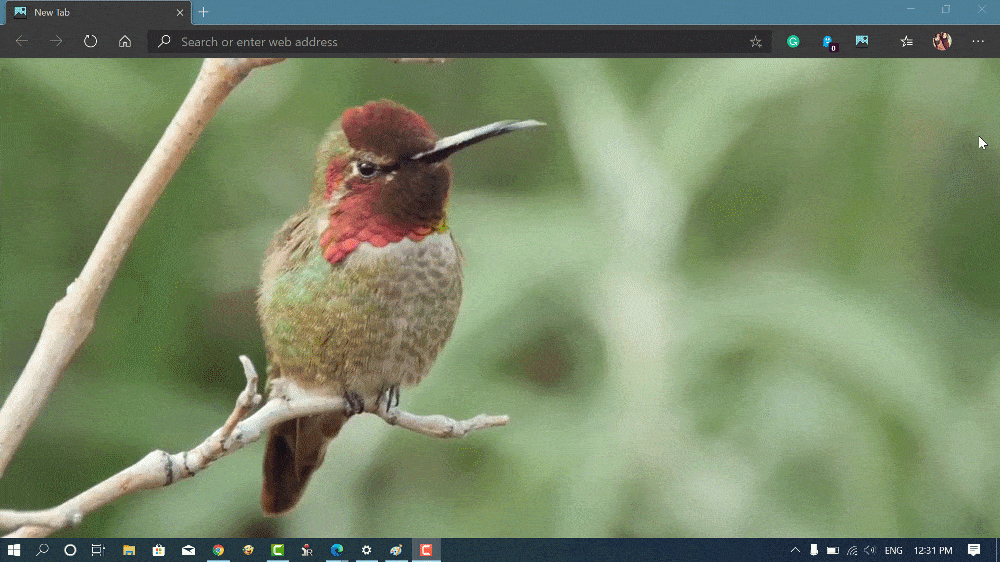 The extension not only let users set custom image, but custom video, gif as New Tab Page background in Microsoft Edge. If you face any issue with the extension, then you can reset Edge Chromium browser.
At any point, if you want to get back Edge Chromium personalize menu, then all you have to do is to remove the extension.
What are your thoughts about Microsoft added this new functionality to Edge browser? Are you going to try this new feature or wait for update to reach stable build and try extension?
Source – Microsoft Techcommunity
If you find this blog post useful, please share it on Social Media. A quick share will help in growth of this blog. It hardly takes 10 seconds, isn't it?