Habits are unconscious patterns that we follow on a daily basis, some of which are beneficial and many of which are detrimental and we are usuall more likely to embrace bad behaviours.
Habits have an influence on your everyday life, but they also have an impact on your productivity. To increase your productivity, you must first conquer your poor habits, which cannot be accomplished without tracking these activities. 
In order to overcome negative habits and embrace positive habits, which will undoubtedly increase your productivity and make you a better person. We've put together a list of the finest habit tracker apps for you to try.
Best Habit Tracker App in 2021
We've compiled a list of nine of the greatest and most user-friendly habit tracker applications that will undoubtedly increase your productivity while also helping you break undesirable habits.
Momentum
Available: iOS
Momentum is a beautiful and straightforward habit tracking app. You can see all of your behaviors in a split second thanks to an exceptionally basic and minimal user interface.
The app's main premise is based on is – 'Don't break the chain' by Jerry Seinfield's productivity secret. Each day that you add to the chain, you make it more likely that you will keep to your habit.
Productive
Productive is a habit tracker with significant features that allows you to chart habits, view weekly or monthly progress, and keep track of your streak for specific behaviors.
Productive has outstanding habits centered on morning routines, sleeping better, getting things done, and so on, making it simple for someone new to habit formation to get started. In iOS devices, Siri shortcut is another fantastic feature, that allows you to check routines by voice command.
StickK
StickK is unusual in that it creates a system of enforceable agreements rather than defining and tracking objectives in isolation.
As a stickK user, you declare that you would put money on the line to follow through on your newly established objectives and aims.
There is a psychology of loss aversion in place to ensure you do not lose the money you put in, but more significantly, it may help you stay accountable to yourself by demonstrating that you've made a physical commitment to your new objective with real consequences beyond a just conceptual one.
Coach.me
Coach.me is a habit and goal-tracking tool, its free version has many features, but the beginner templates are particularly noteworthy.
As the app provide organized counsel, exercises, and instructions made by coaches. Also, You can share progress and milestones with community members and friends, moreover, you can also ask questions about challenges that you are experiencing.
Streak
Streaks differ from other habit tracking applications in their approach. It is more of a to-do list than a tracker, with its key value proposition being to help you create positive habits.
The application accomplishes this by letting you write the behaviors you wish to instill as chores in a to-do list. Your streak becomes longer each day you complete the mission.
This would consolidate the behavior over time, assisting you in implementing new beneficial habits into your life.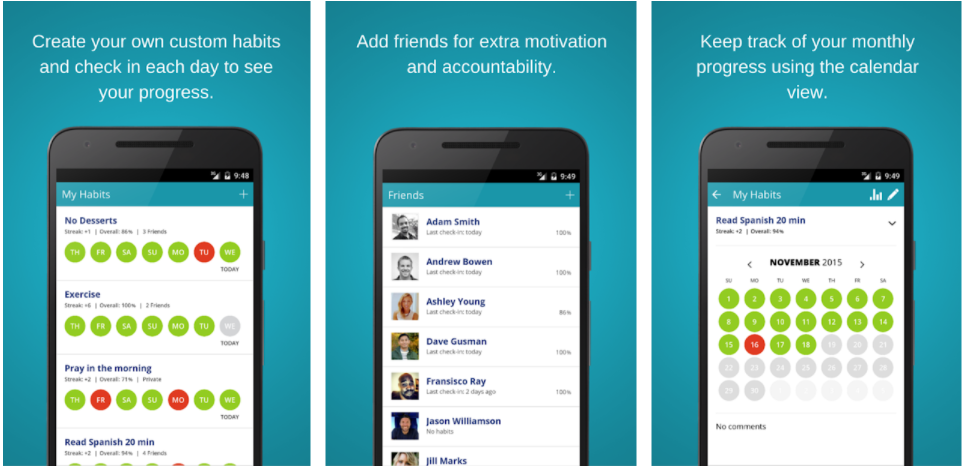 At first look, you may realize that Habitshare has an outdated user interface. However, do not allow this to divert attention away from the app's fundamental value proposition.
Habitshare is attempting to socialize habit monitoring. The app allows you to achieve this by sharing your habits with others, who can then track your progress and remain up to date.
The core premise is that by discussing your objectives and progress with habits with your friends, you enhance accountability and hence your chances of success.
Habitica
Habitica's authors have undoubtedly exercised their imagination while designing this habit tracker software, with a novel way to record behaviors that is mainly inspired by RPG games.
The actions and tasks you do in Habitica help you collect experience points and level up, exactly like in a game. You and your pals may use the app to perform quests or objectives.
Habitica is the software that embodies the process of converting your life into a video game. In addition, to be honest, it could be just what you need to have fun and stay motivated while leveling up in real life.
HabitBull
The app includes graphs and charts that display visual statistics on how you fared with your habits and what your success percentage is to your targeted goals. Even better, you may export all of the data in a CSV file and analyze it as much as you like.
The option to choose how frequently and how many times you need to do a habit is a nice tool. It is possible that you need to exercise twice a week, which HabitBull makes easy to track.
Loop
Available: Android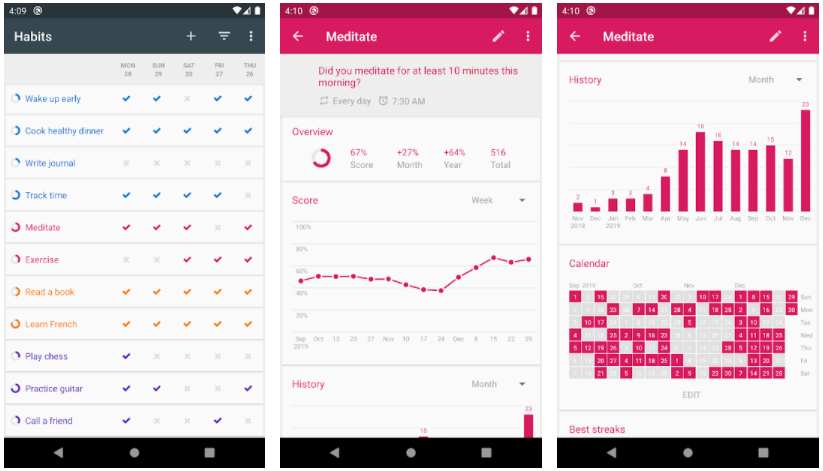 Loop is a simple, free software that displays the days you achieved the habit with a tick. Loop, like other habit trackers, provides graphs to display your progress. The calendars display your past and assist you in improving weaknesses such as difficulties on a specific day of the week.
App also gives you a Habit score that reflects the effectiveness of your habits. Do not worry; the application calculates overtime, missing a few days here and there will not affect your score.
As an independent platform, it takes a lot of effort to create and curate quality content daily. Our content is totally funded by users like you.
Therefore, if you find information on this website useful, we kindly ask for your support in maintaining the longevity of our platform. If each person who benefits from our website contributes, we can secure a brighter future for our website.
Donate on Paypal or Buy us a coffee if you find the information shared in this blog post useful. Mention 'Coffee' in the Subject. So that I can thank you