Microsoft Outlook is a popular email service provider among businesses and individuals. In Outlook for Mac, the email data of a user is saved in the OLM format, and in Outlook for Windows, data is stored in the PST format. Since the OLM file is incompatible with Windows, users cannot open or access it on their Windows PC. Therefore, one must convert an OLM file to PST using a reliable OLM converter.
Having said that, users may lose vital email data during the conversion process. So, a reliable OLM to PST converter is essential to transfer email data between Mac and Windows.
In search of the best OLM converter, we found a great tool called Stellar Converter for OLM. It is a dependable and easy-to-use application, which converts OLM to PST format with great ease and convenience, and we suggest you give it a shot.
The Stellar Converter for OLM from Stellar Data Recovery is the go-to app for converting OLM files to PST format as it comes with some highly effective email conversion tools. Stellar's products and services are relatively well-known in the market and surpass consumers' expectations every time.
Compatibility
Before downloading and installing Stellar Converter for OLM, we recommend users meet the following minimum system requirements:
CPU: Pentium series
RAM: Minimum 2 GB (4 GB Recommended)
OS: Windows 7, 8, 8.1 and 10
Storage: Free available storage space of 250 MB
User-friendly Interface
Stellar Converter for OLM has a simple and clean user interface. It's DIY software, so the screens are easily navigable.
Once inside the interface, data conversion for a user becomes a cakewalk with Stellar Converter for OLM. The GUI is designed to be as user-friendly as possible by the developers. Ease of use, software navigation, and risk-free conversion are a few helpful elements that make it a much sought-after software.
To maintain the intended usability, effectiveness, and overall performance, Stellar Converter for OLM receives regular updates to keep you informed of any new software upgrades. The OLM to PST converter program has an 'Update Wizard' option. Usually, there is no charge for small updates, but you need to register for large updates.
Check for updates by clicking the Update Wizard icon from the toolbar. A window will display the available updates if any.
We've been using Stellar Converter for some time and have found it trustworthy. The contents of the converted files remain untampered and unharmed. This is the reason why we can guarantee that it is one of the best programs for converting OLM to PST files.
We encountered no difficulties after installing or running the program. So we can conclude that the computer on which we checked the software was completely safe.
Here's how to convert OLM to PST using Stellar Converter for OLM.
Launch the software and click the 'FIND' button to locate the OLM file to convert.
Choose the files you wish to convert from the list of files.
During this phase, you must wait for some time for the program to finish the conversion. Once the conversion is complete, a message will be displayed stating that the conversion has been successfully completed. Click OK.
Now you can view the converted files on the preview page, and access all files, such as emails, notes, calendars, tasks, etc.
Key Features
Keeping a log of user actions
The program allows you to save a log report while converting OLM files to PST format. You can download this report in.txt format. This log helped us analyze the performance of the program at each level. For instance, we noticed that converting a 607 MB file took 5 seconds.
In addition, the log report captures any issues encountered while converting the OLM files to PST.
Locate and choose the files
This is one of the most significant aspects of the program. Simply select the "Find Files" tab to locate files on your system without manually searching them.
This website will scan your system and create a list of all OLM files. You may now select which files to convert from the list.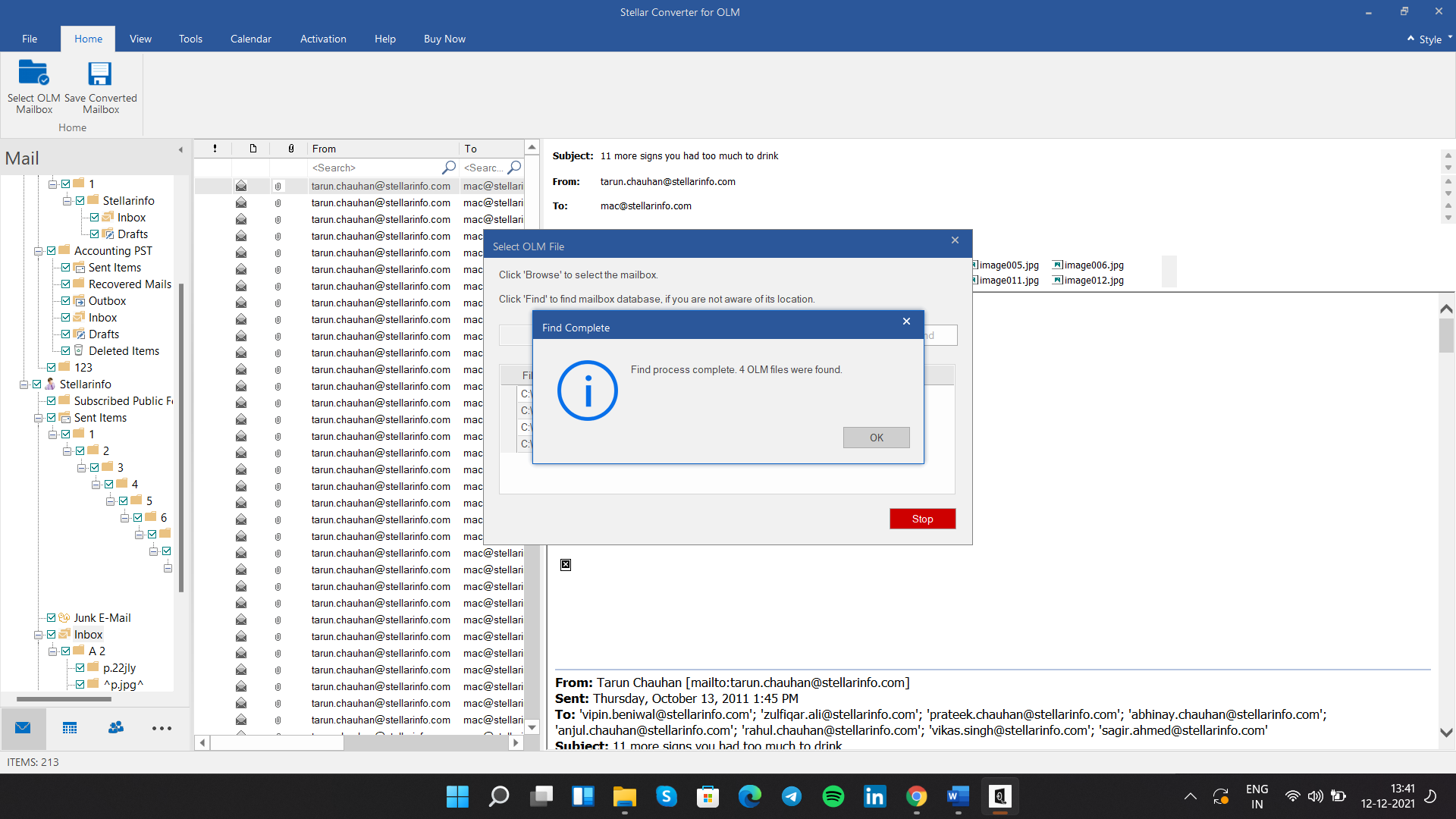 This saved us time when we weren't sure where the files were located.
Smart save
In addition to converting OLM files to PST format, the program can convert OLM files to MSG and EML. In addition, Stellar Converter for OLM allows you to save the converted OLM file into an existing PST file or a new PST file, based on your requirements.
Preview of premium features in Demo Version
The Stellar Converter for OLM allows users to toggle between many windows, including emails, calendars, contacts, etc. In addition, you may examine the converted files to determine if any modifications or adjustments have been made.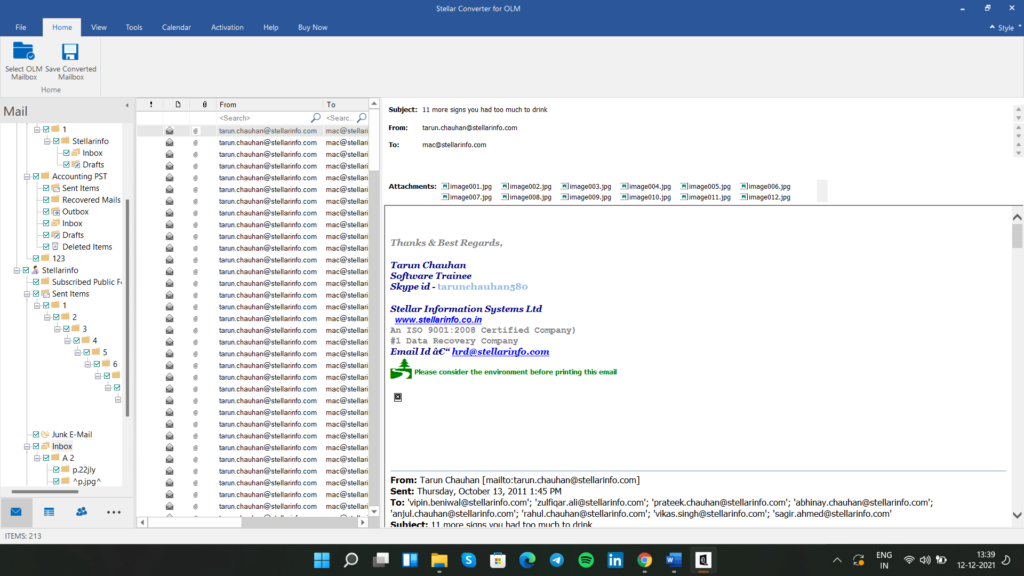 You may modify your preview list by adding or deleting items. Scroll to see the listings more clearly. Select "Reset" and "Ok" to save your modifications.
Advantages of Stellar Converter for OLM
Stellar Converter for OLM is preferred by users due to the following advantages: –
It allows the user to decide which OLM files should be converted. So if you don't want to transmit junk to your other device, don't worry. It will not occur until you want to make it so.
The converter transforms all data, including emails, attachments, and contacts, from OLM to PST, EML, and MSG formats in a few easy steps.
Exports the OLM mailboxes to Office 365 (Technician version).
It also alerts users of any updates provided by the developers, offering a seamless working experience.
Additionally, it lists all the files that will be converted in the process. Thus, you can locate and edit all your files in a single location.
Stellar Converter for OLM provides log reports to the user to record all converted data and the data to be converted.
Versions & Pricing
Stellar Converter for OLM comes in two variants – Standard and Technician. With its sophisticated capabilities, the Technician Edition is suited for Enterprise and Corporate customers while the Standard version is appropriate for personal, domestic, and academic use.
The Standard version is available for $39 after a discount, while the Technician version costs $99. Here are the common features available in both the editions:
Converts OLM data to PST with no file size limitation
Converts data conversion between PST, MSG, OLM, and EML formats
Shows previews of work attachments, email calendars, notes, and emails
Users can initially test the product via a demo. We recommend utilizing this version to test and investigate the tool's capabilities. Eventually, users can also purchase the license and upgrade to the Standard version.
Changes in Technical Version after Purchasing the License
Data in PDF, HTML, and RTF formats can be simply processed
OLM mailbox data is exported swiftly to Office 365
It is quite time-consuming to convert data from OLM to PST or any other format, such as MSG or EML, and you cannot do it without a dedicated converter tool.
With Stellar Converter for OLM, you may rest easy as the above characteristics make converting email files from OLM to PST quite secure and viable. So, what are you waiting for?
As an independent platform, it takes a lot of effort to create and curate quality content daily. Our content is totally funded by users like you.
Therefore, if you find information on this website useful, we kindly ask for your support in maintaining the longevity of our platform. If each person who benefits from our website contributes, we can secure a brighter future for our website.
Donate on Paypal or Buy us a coffee if you find the information shared in this blog post useful. Mention 'Coffee' in the Subject. So that I can thank you