During the Build 2019 event, Microsoft announced Windows Terminal, a new app that brings with it a completely renewed command line. The app is now available on the Microsoft Store. Learn everything you need to know about the app.
Windows Terminal app is of course still in the early development stage and there are still a few things missing. But the tabs are there, the switch between the command prompt and PowerShell is also there and more which is enough to get started.
To test the new Windows Terminal app, the interested users must be running Windows 10 version 1903 build 18362 or above. If you meet this requirement, then you're ready to go.
Windows Terminal App for Windows 10
The new Windows terminal app is a fast, modern, efficient, powerful, productive terminal app for users of command-line tools and shells like Command Prompt, PowerShell, and WSL.
Its primary features include Unicode, Multiple tabs, UTF-8 character support, and a GPU accelerated text rendering engine, and custom styles, themes, and configurations.
The Windows Terminal app store page also mentions that it's also available on HoloLens, Phones, PC, Surface Hubs. It's impressive that description also mentions about app support for Xbox One also.
Interested users can download the Windows Terminal Preview app from Microsoft Store using the following links.
Note one: If you want to test Windows Terminal app, then it is recommended to create a backup, then give it a go.
Windows Terminal app for Windows 10
The link will take you to the Microsoft Store page, from there you can download and install the app just like any other app.
To launch Windows Terminal Preview in Windows 10, either head over to Windows apps in the Start menu or search it using Taskbar search.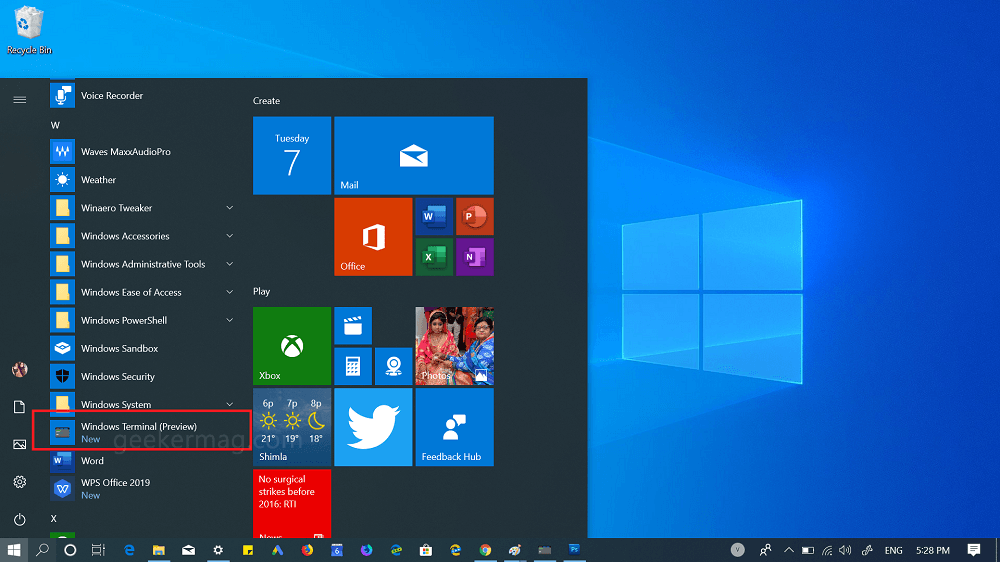 What are your thoughts about the Windows Terminal app for Windows 10? We would like to head from you.