Microsoft has been steadily integrating Bing Chat into various areas of the Edge browser. After integrating it into the Edge browser sidebar, the company has now expanded its integration by adding Bing Chat to the right-click menu, also known as the Edge Mini Menu.
The new integration of Bing Chat into the Edge Mini Menu includes an option called "Ask Bing Chat." When a user selects a particular text on a webpage, the mini menu will open up with this new option.
If the user selects "Ask Bing Chat," the selected text will open in Bing Chat AI mode on the right side of the browser. Bing Chat will then try to provide an answer to the user's query related to the selected text.
Integration of Bing Chat AI in Edge Mini Menu offers a quick and convenient way for users to get more information about the content they are viewing on the web.
How to Use Bing Chat Integration in Edge (Right-click) Mini Menu
Right now, the Ask Bing Chat option is available in the Edge Canary channel and is a controlled rollout. In case, you're frequently using the Bing Chat feature in Edge browser and find the new feature interesting, then here's how you can use it:
On the web page, select particular text. This will open "Search with Bing", click on (…) to open the Mini menu in the Edge browser.

Here, you will find a new option i.e. Ask Bing Chat. Clicking on it will instantly open the Discover panel in Edge.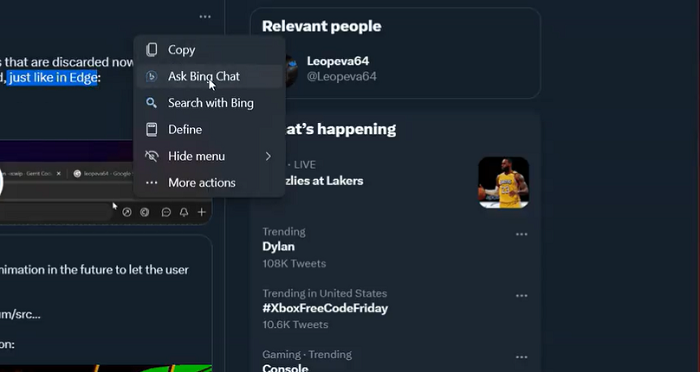 A dialog box will open with the message "Send selected text to chat". If you click Send button your query will be typed and Bing AI will try to under your query. Check out, How to Use New Bing with ChatGPT from Microsoft Edge Sidebar.
In case, this happens mistakenly, then you can click on the Ignore button.
You can check the feature in action here. As simple as that!
The new addition allows users to conveniently access Bing Chat while browsing with Edge. These integrations reflect Microsoft's commitment to incorporating AI technology to improve the user experience.
What is your opinion about the integration of Bing Chat AI in Right-click Menu of the Edge browser? Did you like it? Are you going to use it? Let me know your opinion in the comments.
Thanks, Leo for discovering this feature.
Donate on Paypal or Buy us a coffee or Join Patreon if you find the information shared in this blog post useful. Mention 'Coffee' in the Subject. So that I can thank you.