HP Solution Center in Windows 10 Stoped working? Don't worry in this post you will find out the possible solution to troubleshoot the issue.
HP Solution Center is a freeware software available for HP Printers. With the help of this software users can perform various tasks which includes ordering supplies, image scanning, check the level of inks and lot more. If users have any printer from HP, then they must have HP Solution Center to get most of the printer.
Lots of users complaining that HP Solution Center in Windows 10 stopped working after updating to latest build i.e. Windows 10 Anniversary, Creators, or Fall Creators Update. Due to this reason, they are not able to use useful features of HP Printer they own.
Fix: HP Solution Center in Windows 10 Stopped Working
This is a really annoying issue and I'm sure that a large community is going through this issue. So to help those users I decided to create this troubleshooting guide.
In upcoming lines, you will read about all the possible ways to troubleshoot the issues related to HP Solution Center in Windows 10
1. Perform Quick Reboot
Sometimes sticky errors in Windows 10 is fixed just by doing a quick reboot. So before trying anything I recommend you to do the same.
2. Check for Latest Update
Every latest update of Windows 10 comes with new features accompanied with bugs. And later when Microsoft come to know about those bugs, they release the bug fixes via Windows Update. So it is highly recommended to check if any latest update is available for your system
You can do that by navigating to Settings -> Updates & Security -> Windows Update. On the right side check the status. If an update is available simply install it and check if this fixes the issue.
3. Check Printer Drivers
Sometimes the main culprit behind the issue is outdated printer drivers. So it is also recommended to look out for the latest Driver for the Printer. You can visit this page and download the driver according to your printer model number.
4. Download Latest version of HP Solution Center
Most of the users suggested that they fixed the issue just by installing the latest version of HP Solution Center available for Windows 10.
Now there is a problem, there is no direct link to download HP Solution Center for Windows 10 as it is part of the full feature software solution. The question is how to get download the latest version of HP Solution Center for Windows 10? Here is how you get it:
First of all, you need to this HP Customer Support page. Here you need to type your HP product name, serial number or product number in the space provided.
When your HP Printer appears in the search result simply click on it. The system will automatically detect your Windows Operating system version and show you the list of the full feature software solution available for your model number accompanied by the driver.
Simply download the setup file of the software. In my case, I downloaded for "HP OfficeJet 250 Mobile All-in-One series"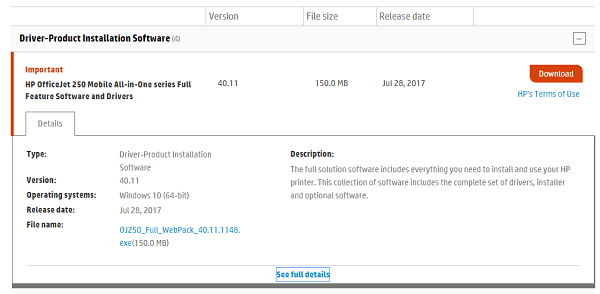 Install the full feature software using the file you downloaded in the above step. Once the installation completed the latest version of HP Solution Center in Windows 10 for the particular model will be installed automatically.
One done. Reboot your system. I guarantee your HP Solution Center in Windows 10 stopped working issue should be resolved.
Why don't you give a try to the step discussed above and let me know which step helped you in fixing HP Solution Center in Windows 10 not working?
Himachali, Mechanical Engineer, Snooker Lover, Avid drinker of Scotch, Content Creator, Traveller and Shorter than you (probably).