If you want to know how your Facebook profile looks like to other users when they visit your profile? You must take help of Facebook View as tool.
Facebook is well known for its privacy features. It has various privacy feature which users can employ to ensure a high level of privacy. Facebook users can easily those privacies just by making few clicks.
After applying the privacies, the first thing which every user check is how your Facebook profile looks to others when they visit your profile. This step is taken just to ensure that only users who're on your friend's list can check your personal details.
There might be other reasons to why users want to view their Facebook profile as someone else, but the reason which I discussed above is the main.
Facebook officially provide a tool named as View as using which users can quickly check how their Facebook profile looks to other. But not all the users know how to access that tool.
Use Facebook View as Tool
To help all the users I decided to write this post in which you can find answers to various questions like where is Facebook View as tool? How to use the view as on Facebook?
So without further delay why don't you start reading about it:
1. First of all, using your credentials log into your Facebook account.
2. Click on your 'Profile picture' which mostly appears on the top right side. This will take you to the Facebook timeline.
3. Here you will find the '(…) three-dot' button next to View activity log button. Click on it and from the menu select "View as."
This will instantly reload the page and show you how your Facebook profile looks like to other users when they visit.
In case, you want to find how your profile looks to a particular user when he/she visit your profile, then you can also check that.
For that, you need to be on Facebook View as a page, the same you visit in step 3 using the instructions. Here you will find a black color which reads "This is what your profile looks like to Public" accompanied by a link which reads  "View as Specific Person."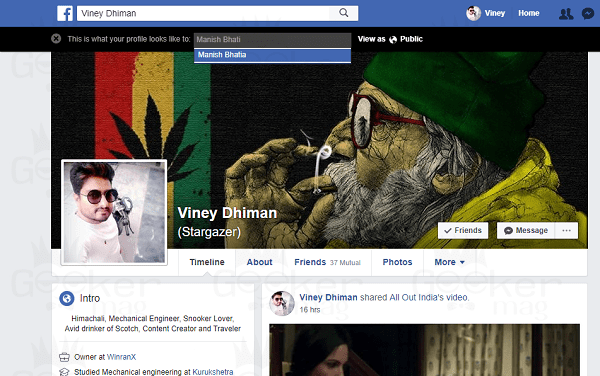 You just need to click on this link, and it will show you a bar. Here in the bar, you need to enter the name of Facebook friends. Once done the page will reload again and show you the similar profile which that particular user is seeing while he or she is visiting your profile.
That's it!
Facebook View as tool is indeed a useful tool, and one can take help of this tool ensure the how the Facebook profile looks to other after making privacy changes.
I hope you find this blog post useful and you have answers to all the questions related to Facebook View as tool. What are your thoughts let me know in the comments section?
Himachali, Mechanical Engineer, Snooker Lover, Avid drinker of Scotch, Content Creator, Traveller and Shorter than you (probably).