In this modern world, no longer is entertainment looked at as a source of amusement alone. It is being considered a way to make learning more accessible to students. It is this school of thought that is credited with the rise of edutainment. Edutainment can be classified as the integration of entertainment and education. Under this system of learning, a more significant interaction between the teachers and the students is encouraged.
Edutainment has been made possible by the growth of technology. The implementation of technological devices such as computers, television, virtual reality, movies and music has enabled students to be steadily involved in the learning process. It means that the teacher now does not have to do everything by themselves; implementing tech allows them to delegate some responsibilities to the students.
In these modern times, virtually everything we do is centered on education. Everyone starts to amass from the time they enter this world. Understand that even though there comes a time when one finishes school and does not go to class anymore, it does not mean that education ends there. Education continues up until the time when one dies.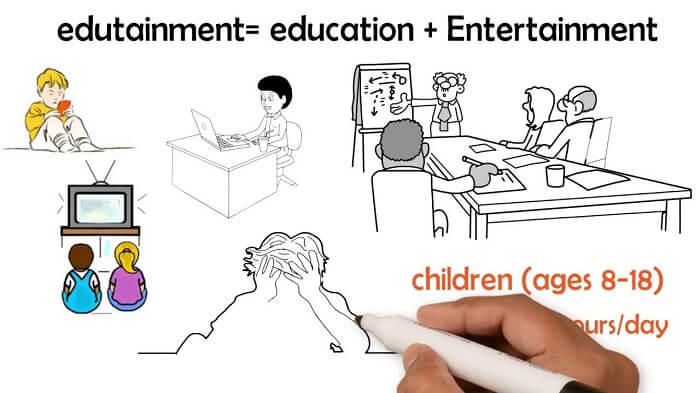 This blog looks to point out the benefits of edutainment to the educational spectrum as a whole. Even though both teachers and students understand the value of education, sometimes this process may become dull, making it even harder for students to concentrate. Introducing some form of entertainment into this space is the best way to eliminate this dullness. Here are some of the advantages of edutainment:
Motivates students to learn
When the teacher integrates tech devices as well as fun-filled activities when teaching the class, they get to capture the students' attention and keep them focus on the study session. It is essential to realize that availing computers and an internet connection to students will always be a good idea.
Even though some will choose to use these devices to check out essay writing service, most will use them to enhance their learning. Students will always look forward to the next class because they anticipate a lot of fun games, or they want to interact with multimedia devices. Nonetheless, this extra motivation will always have them ready to learn, which is what every teacher looks for.
A better understanding of what is being taught
It is elementary for students to drift away and lose their concentration as classes continue. This is especially true when it comes to theoretical classes like languages and grammar.
Through edutainment, multimedia devices and role play games are integrated into the teaching process. This does not only revitalize the students; it allows them to visualize what the teacher is teaching properly. In this process, the students can easily concentrate and in turn, properly understand what is being taught.
Allows for proper interaction between the students
Students are required to engage in fun activities such as role-playing and puzzle building as their lessons continue. While this helps enhance their learning, it also calls for the creation of social interactions between the students.
This means that as the students are solving the given puzzles, a sense of healthy competition is cultivated amongst them, which is very important. On the other hand, these activities also enable them to learn how to team up with their peers to see a given task through. In this process, they are adequately being prepared to integrate well into the business world in future.
Guest lecturers
Teachers are empowered to bring in experts to class for guest lectures. This is an added advantage as it enables the teacher to bring in someone more versed than them when it comes to a particular section of the curriculum. In this manner, students get a lot more information than they would have been able to normally.
Apart from having top experts speak to the students, bringing in guests help break the regular and monotonous learning process. The fact that the students do not know what to expect from the guest lecturer means that they will be eager to see who it is, and what they have to say. This will keep the students focused on the speaker and in turn, get to learn a thing or two from them.
Through studying, students are equipped with the ability to tackle the tasks they will face in the business world. This direct relationship between education and the business industry makes learning an essential activity of human life. By having a proper education, a student ultimately increases their chances of getting a decent job which in turn translates to higher financial security.
As an independent platform, it takes a lot of effort to create and curate quality content daily. Our content is totally funded by users like you.
Therefore, if you find information on this website useful, we kindly ask for your support in maintaining the longevity of our platform. If each person who benefits from our website contributes, we can secure a brighter future for our website.
Donate on Paypal or Buy us a coffee if you find the information shared in this blog post useful. Mention 'Coffee' in the Subject. So that I can thank you