Dave is known as the best app for advanced cash and undoubtedly, this app is on a whole another level. In short, Dave is a digital banking service that can help you take enormous amounts of loans in an instant. It allows you to avoid bank corrupts.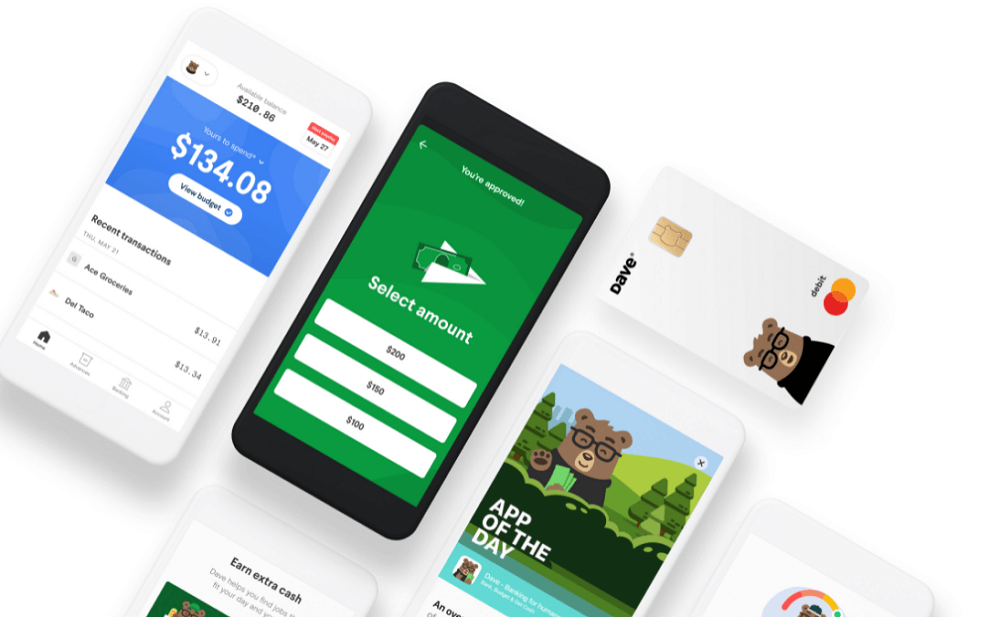 One of the best things about Dave is that it doesn't charge a high rate of users which is the most necessary feature that caused its popularity. With lots of merits, the has one demerit too i.e. you can't request a payday advance of more than $100.
Luckily, there are so various apps similar to Dave.
If you want to loan higher amounts, want more features that Dave lack or maybe you have a habit of always looking for the best alternatives of your favorite apps, then Luckily, there are so various apps similar to Dave.
Best Apps like Dave
To help you out we decided to gather all Dave alternatives in this blog post which you might love to prefer. So without further delay, let's move to the list of some of the best Dave alternatives.
Brigit is an excellent alternative to the Dave app and unlikely the Dave this app allows you to get payday up to $250. Although, the Brigit cash app is expensive too, as it can charge you up to $120 per year.
Whereas Dave will charge you only $12 in a year, and this is the worst disadvantage of using this app. You can also use its automatic withdrawal option that can help you maintain your bank balance spontaneously.
The Brigit cash app also has good contact support and email support to solve your cases. This app also allows the users to extend the payment due date whenever necessary.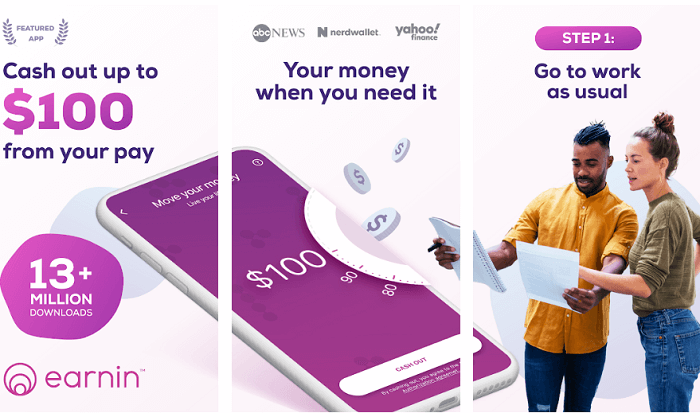 The Earnin cash app is substantial as it doesn't include any fees for any type of membership. You can borrow money depending on the hours you have worked already.
In the Earnin app, you can borrow a maximum amount of $500 daily.
Also, the Lightning speed program of this cash app allows getting your borrowed amount in your bank account in a single business day.
This app has a fixed charge and fees, and this is one of the prettiest features of the Earnin app to become more striking among the users.
Download for Android and iOS
PayActiv is really a great competitor for Dave, this app has 5.0 out of 5.0 ratings on Google Play Store. This app allows access to financial help depending on the work you have already completed.
You can easily get our payday before getting the salary but only if your employer supports this service.
This app also does not charge any interest rate, on top of that you can also pay bills and transfer enormous amounts to anyone. You can also track your financial steps and can get notified every time if your bank balance is going low.
Moneylion is one of the famous and state-of-the-art cash handling apps like Dave. For this app, you need to take membership that arrives in two different types, i.e., plus and core.
The core membership renders many services, such as free checking accounts for several bonuses and various further opportunities for the users, and it does not cost much.
Whereas, Plus members have to pay $28 per month to get more profits. It gives 5.99% of the APR plans to build the credit of the users. Moreover, the app also doesn't request a credit look-over, so the users will have lower credit ratings that help them to trade with the app.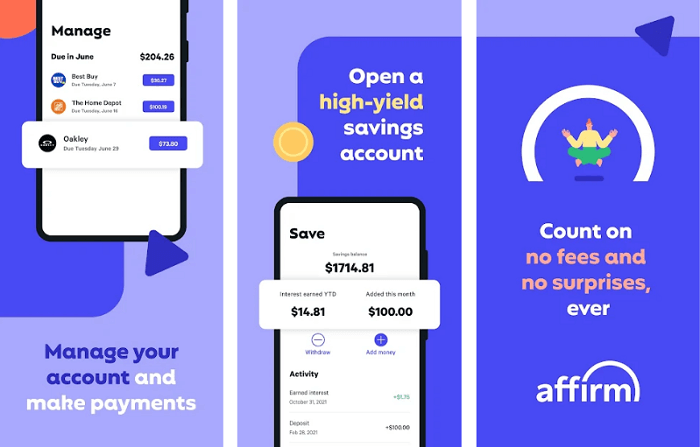 Affirm is one of the feasible finance applications that lets you distribute your online investing to help you make manageable monthly payments. It additionally acts as a virtual credit card that does not hold any charges.
You only have to fill up a form for an immediate decision, which is available on the app and select the schedule for the payment that suits you the best. Affirm allows you to buy anything from anywhere.
When you get this app installed and enter the shopping cost, it can arrange a monthly payment plan for you on its own that satisfies all your spending habits. Moreover, you can also send money to others.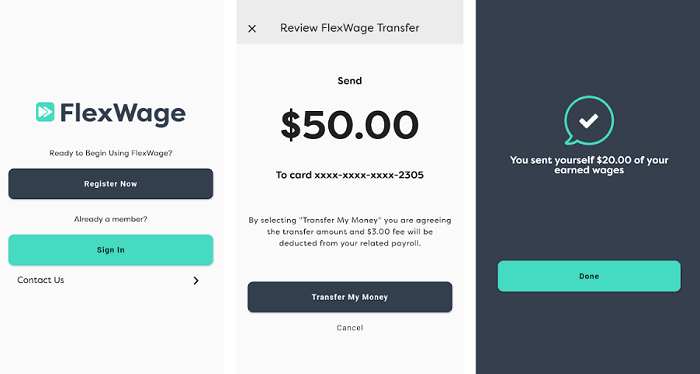 FlexWage supports the workers to access the payments depending on their needs, similar to the other payroll advance options. This is one of the reasons why this app is getting more popular, and they don't have to bother acknowledging the administration disputes.
FlexWage also contributes refillable payment debit cards for the workers who generally receive through the clicks. It is beneficial for employers who do not use bank accounts and cannot receive straight deposits from the owner.
The app charges a fee of $5 (approx.) for on-demand payroll transfer, and debit card use can also cost you, but it is less expensive as compared to other apps.
This app allows its users to manage loans of several types, this is really a great app for installment loans and payday. This app is highly secured for making funds transfer.
On the Speedy Cash app, you can borrow a minimum amount of $50 to the maximum of $26k. You can also invest in stocks, borrow loans in an instant, and so on.
You can easily get cash advances depending on the work you have done, and can easily track all the financial tasks done by your bank account.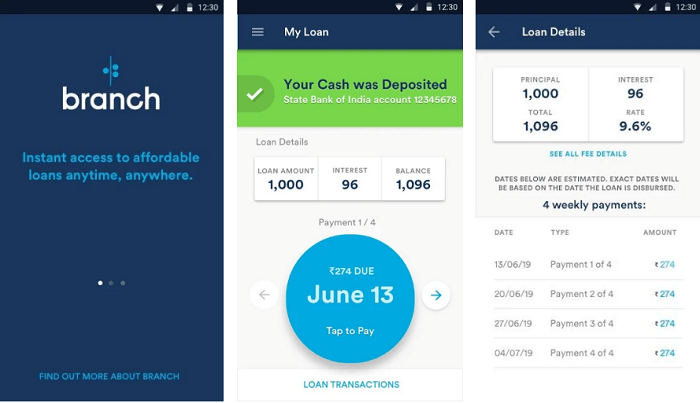 The branch is more than a different payment progress app. It enables you to control your work experience, including changing shifts, communicate with your coworkers, and follow your work hours.
Further, you can receive $500 each pay period in addition to $150 every day based on your working hours. The branch is the most familiar app to Dave in terms of speed and flexibility, but this app doesn't charge any fees for its subscription.
You can withdraw a part of the money as an advance from your income on a particular day itself. The only drawback is that your employer should also have an account with the branch.
DailyPay is the best app that starts marketing in a different method with employees rather than marketing to customers. Even the app will also run similarly to Dave and offer all the advantages to those people who experience it.
Employees make balancing with others easier through great aid and support for each other. If they need to access their money, they can also click into the balance before payday.
The app will quickly transfer the money to the bank, so you can get the money through payday whenever you require it. It also proffers a fee charge to pay from your hours to balance the bank and the price they consume. The app cost is $1.25 for each transfer.
Ingo Money is better than Dave in speed, it allows you to transfer money in minutes or even in seconds. Using this app can also help you to buy gift cards, transfer money, and pay your credit card bills and so on.
It is also way better to get an advance payment in just hours, no need to wait even for a day. On this app Pull API is available which can help you to receive loan amounts with the tokenized cards.
After all, reading all the information about Dave alternatives can help you a lot to choose one that can match your needs. Not a single app or business is perfect even, the Dave app, but it's the most popular one, so now, after gathering all the information, you can easily choose the best one for yourself.
Donate on Paypal or Buy us a coffee or Join Patreon if you find the information shared in this blog post useful. Mention 'Coffee' in the Subject. So that I can thank you.