Video production has surged all over the world since TikTok and Instagram reels hit the market.
As a result, the need for video editing and video production has increased dramatically in order to get the desired outcomes in video editing.
It is much simpler to edit films on a phone than on a desktop or laptop since it saves you a lot of time moving videos from one device to another.
That's why we have provided numerous fantastic video editing applications for iPhone users today that best feature & functionality to edit your videos properly.
Best App for Video Editing on iPhone
We've explored ten of the finest video editors apps for your iPhone and iPad that are jam-packed with video editing tools; let's have a look at these applications…
Premiere Clip includes many cool capabilities, Create a video quickly using an automated editing tool or more extensive customizable editing options that allow you to perform anything from clip cutting to music volume ducking over the conversation.
Also, it lets you sync your video to the beat of your choice of audio and add all of the standard finishing touches, such as titles and transitions. Premier Clip works perfectly with other Adobe as well.
Price: Free
Compatible with: iPhone, iPad, and Android
iMovie program performs all of the functions of a movie editor. All you have to do is drag and drop your clips into the editor, cut them to size, and then add built-in music, effects, and animated titles.
Split-screen effects, 10 high-fidelity filters, green-screen effects, and the ability to create Hollywood-style trailers are all nice additions. Because it's Apple, you may freely swap between your devices to make your final edit, utilizing AirDrop and iCloud Drive.
If you've a PC running Windows PC, then you can try iMovie for PC as well.
Price: Free
Compatible with: iPhone, iPad, and Mac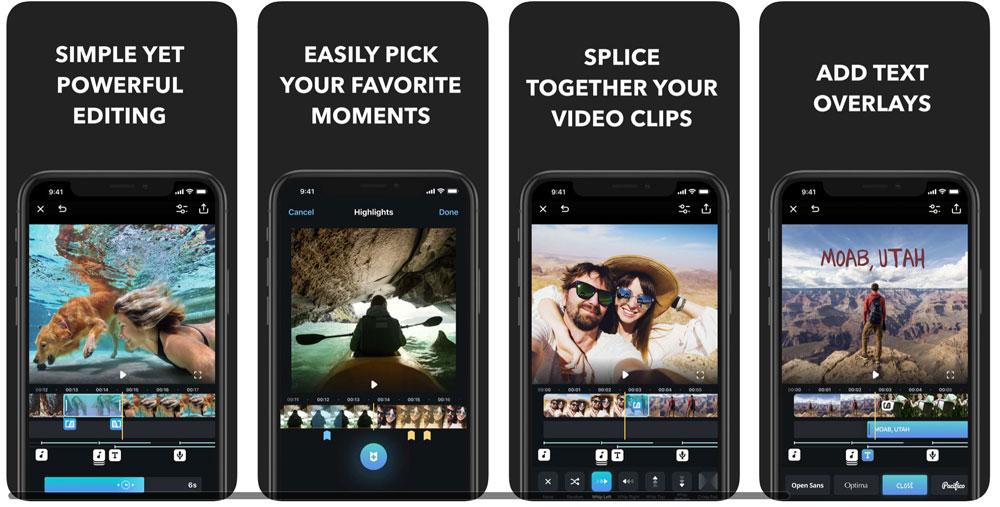 Splice GoPro's mobile video editing tool boasts a slew of awards and claims to provide you desktop editing functionality on your iPhone or iPad. Trimming, cropping, effects, titles, speed adjustments, animation, transitions, and music are all available in this well-known video editor, which has a cultish following of dedicated Splicers.
Splice's music library is one of its strongest assets. It offers a large selection of free music and sound effects to layer over your video, as well as the ability to synchronize your movie to the beat of your soundtrack.
Price: Free
Compatible with: iPhone and iPad
Vimeo, the video-sharing behemoth, has developed its own video editing tool Cameo. Cameo Video Editor and Movie Maker allows you to create HD films on the go.
You may not only cut clips, modify audio, and render videos rapidly, but you can also add themes, titles, and a soundtrack from a selected music selection that spans more than 12 genres. Of course, after your creation is complete, sharing your film on Vimeo is a breeze.
Price: Free
Compatible with: iPhone
LumaFusion is a professional mobile and tablet video editing program, a feature-rich app aimed towards mobile journalists, filmmakers, and professional video producers. With a variety of high-spec cutting tools and transitions, you can edit three movies and three extra audio tracks.
LumaFusion has hundreds of video effects, in addition, you will get layer effects, a live audio track mixer, and a color correction editor. That is only scraping the surface; there is so much more! LumaFusion is a good option if you want a video editing program with a little more heft.

Price: $19.99, with in-app purchases
Compatible with: iPhone and iPad
Quik, the first of two GoPro video editing programs, analyses your films to recognize colors and faces to correctly frame your clip. This free tool allows you to apply transitions and effects to up to 200 photographs and video clips from your photo library or GoPro Plus.
You may not only edit, resize, and rotate photographs and video clips, but you can also select from 26 distinct themes and a variety of fonts, effects, and graphics.
Price: Free
Compatible with: iPhone, iPad, and Android
This is one of the few video editing tools that can easily recolor a badly lit movie or simply add a touch of black and white noir to the proceedings.
Interactive histograms of your color channels give you complete control over your filters, and the split-screen preview option allows you to compare your altered clip to the original.
Price: $5.99
Compatible with: iPhone and iPad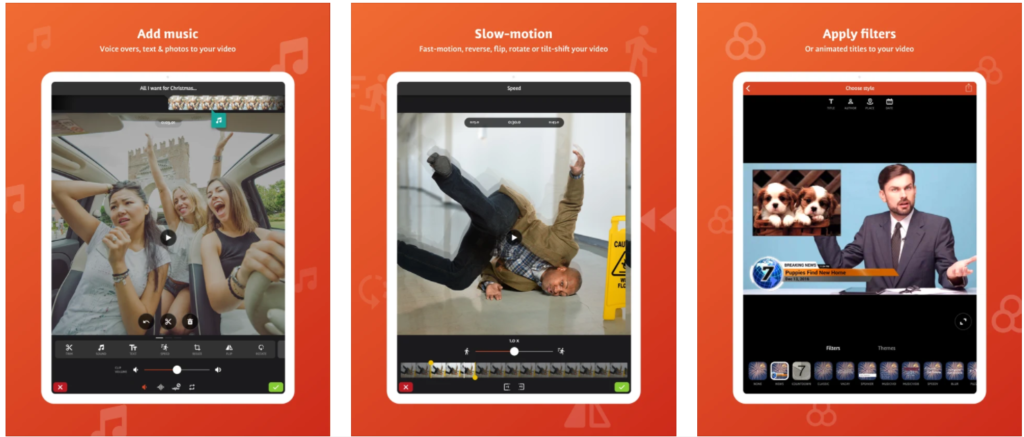 You may perform all of the standard clip cutting, as well as add text, transitions, and sound effects, as well as incorporate music from your collection. Aside from that, there are a few oddball additions.
Videoshop, for example, allows you to alter the playing of your video. You can slow it down to a halt, create stop-motion animations, and even play it backward. You can also overlay Insta-inspired effects and rescale your images within the movie frame, which is a lovely touch.
Price: Free, with in-app purchases
Compatible with: iPhone, iPad, and Android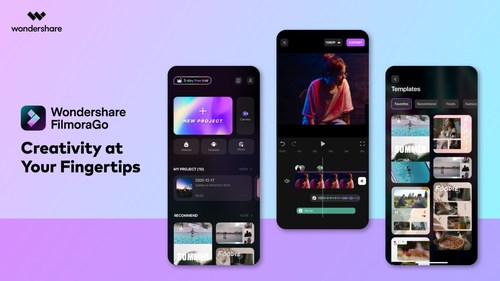 Reverse play, classic transitions, cutting and cropping slow or fast motion editing, rotate, flip-over, voice-overs, audio mixing, picture-in-picture (PIP), and color tuning are just a few of the editing features available in FilmoraGo.
The key selling point of FilmoraGo is its collection of template themes, which are meant to turn ordinary videos into stylized films. FilmoraGo also allows you to add music from their licensed catalog as well as highly customized titles to your collection.
Price: Free, with in-app purchases
Compatible with: iPhone and Android
Magisto video creator was created with one-tap social sharing in mind, and it employs Artificial Intelligence (AI) to identify the greatest sections of your clip. Magisto, combines a plethora of video editing tools, such as stabilization, filters and effects, facial recognition, and auto-cropping, to help you make eye-catching films.
Premium and Professional memberships allow you to create lengthier videos and access a broader range of editing methods. You may either upload your audio or choose one from Magisto's library of professionally licensed songs.
Price: Free, with in-app purchases
Compatible with: iPhone, iPad, and Android
As an independent platform, it takes a lot of effort to create and curate quality content daily. Our content is totally funded by users like you.
Therefore, if you find information on this website useful, we kindly ask for your support in maintaining the longevity of our platform. If each person who benefits from our website contributes, we can secure a brighter future for our website.
Donate on Paypal or Buy us a coffee if you find the information shared in this blog post useful. Mention 'Coffee' in the Subject. So that I can thank you