Remember Apple's Airdrop sharing feature? Google is also working on a similar feature called "Nearby Sharing" and soon it will come to Windows and macOS. The company has already released the source code for Nearby Share.
Starting with the latest version of Chrome Stable, the company added Nearby Sharing flags and interested users can enable it.
Make sure, you're using the latest version of Chrome
Next, you need to visit: chrome://flags/#nearby-sharing
Using the Nearby Sharing drop-down change the settings from Default to Enabled.
Click on Relaunch to apply the changes.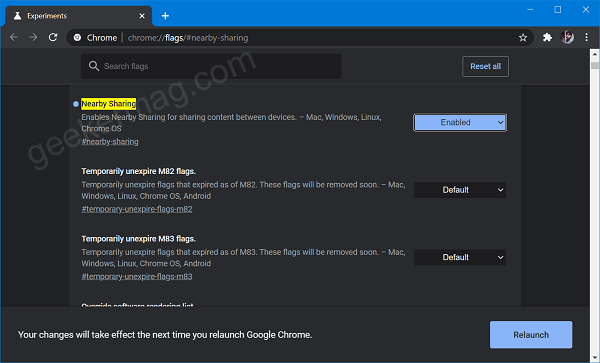 After enabling it, we figure out that feature is not working and still under development just like in latest version of Chrome Canary.
Although, Chrome Canary now has a Nearby share page (missing in Chrome stable) which you can access by going to chrome://nearby. As of writing this blog post, the page is just a setup for Nearby Share feature is not working and might a take while to start working.
Nearby Share page gives us an idea about what is coming for the desktop version of Chrome. Here's how the page looks like:
The Doggo.jpg on the left side will be a placeholder for other devices near your device. While on the right side, you will find a list of all the available devices. You need to select the device and click on the Next button to start sending the data.
All we can do is wait for Google to make this feature available while refreshing chrome://nearby page.
Whenever we get latest update about the feature, the information will be updated in this blog post ASAP.
Please do not hesitate to Contact me on Twitter if you want assistance with issue related to Windows 11, Windows 10, and Edge browser. I will try my best to assist you ASAP. (Follow me first and then PM your issue on Twitter)

Buy us a coffee if you find information shared in this blog post useful. Mention 'Coffee' in Subject. So that I can thank you