Remix 3D is the Microsoft platform that allows you to browse, share, and download 3D Objects. Unfortunately, it will close its doors on 10 January 2020.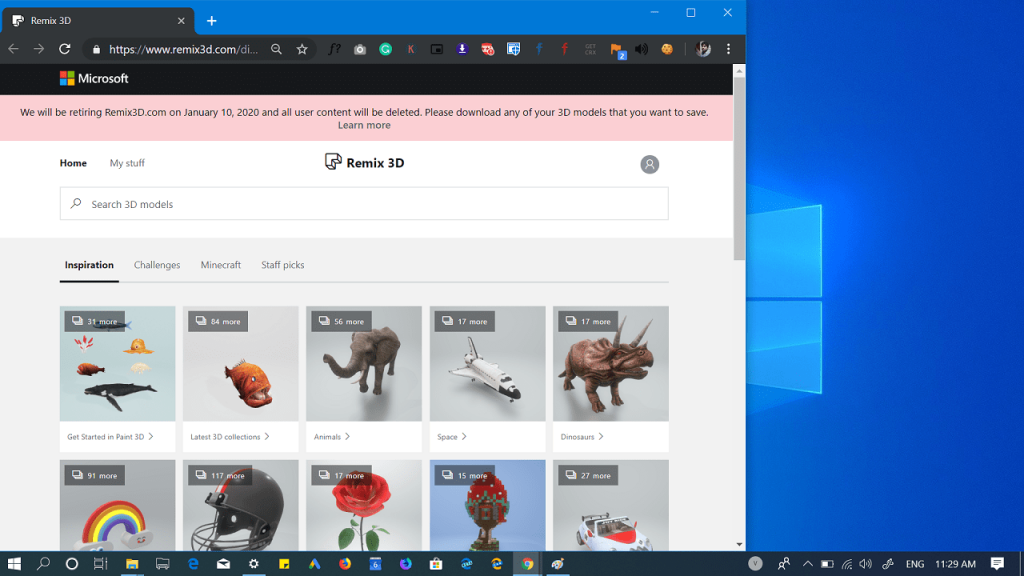 Now there are lots of users who still want to download Remix 3D Models, and if you made up so far, then you're one out of them for sure. Fortunately, it is possible to download the complete library of Remix 3D models. In the upcoming line, you will learn how to do that.
How to Download Remix 3D Models (All-In-One)
If you visit the Remix 3D Website, the following message appears at the top bar:
We will be retiring Remix3D.com on January 10, 2020 and all user content will be deleted. Please download any of your 3D models that you want to save.
If you click on the Learn more link, you will be redirected to Remix 3D: Frequently Asked Questions page of the Microsoft.
LanceMcCarthy on shared a tool on Github named as RemixDownloader, an application that allows you to download all 3D models from Remix 3D. This functionality is not available via the website.
You can visit this page on Github to know everything about RemixDownloader and how to use the app to download 3D models in bulk.
Since the steps mentioned in the Github page are technical, some users might find it challenging to download the 3D models. To make it easier for the users, WindowsBlogItalia has downloaded all the 3D models created by the Microsoft and Xbox accounts and put those in a single folder.
Inside the folder, you will find more than 4500+ models, over 40+ GB in size. You will find three models: one for 3D Viewer, one for Mixed Reality and the other one for HoloLens. You can download the folder containing all the 3D Models from the following link:
Download Remix 3D Models (All-in-one)
A solution to a noted problem
Many 3D Viewer models will return the error which reads Failed to load 3D model. To solve the problem, you can follow two solutions listed below:
Open the 3D Model for Mixed Reality, which is identical and has a higher quality.
Open the 3D Model with the Print 3D app, click on the Repair button at the bottom right, and save the model.
Have you used the 3D models available on the Remix3D.com site? Will you download all the Remix 3D Models using the link discussed above? Let us know your thoughts in the comments.
Via – WindowsBlogItalia

Donate on Paypal or Buy us a coffee or Join Patreon if you find the information shared in this blog post useful. Mention 'Coffee' in the Subject. So that I can thank you.