Google has added the option to enable Dark mode in Chrome for Android. In this blog post, we will guide you on how to do it.
Starting with Chrome v74, the company rolled out dark mode for Chrome for Windows, Mac OS, Linux accompanied by Android. The feature was already available in the Chrome Beta channel, but with the latest update for Chrome on Android, the dark theme is available for all users who have updated to version 74.
Enable Dark Mode in Chrome on Android
At the moment, users have to take the help of the Chrome flag to start viewing the option to enable dark mode in the Chrome Settings. Here's how to activate the option:
1. Head over to Google Play store and update Chrome browser to version 74.
The update is rolled out by the company is waves, so if you're not seeing the Chrome v74 update, then don't fret. Just wait for the update.
2. Next, Go to the address chrome://flags and search the following:
Android Chrome UI dark mode 
When it appears in the search results, using the drop-down change the settings from Default to Enabled.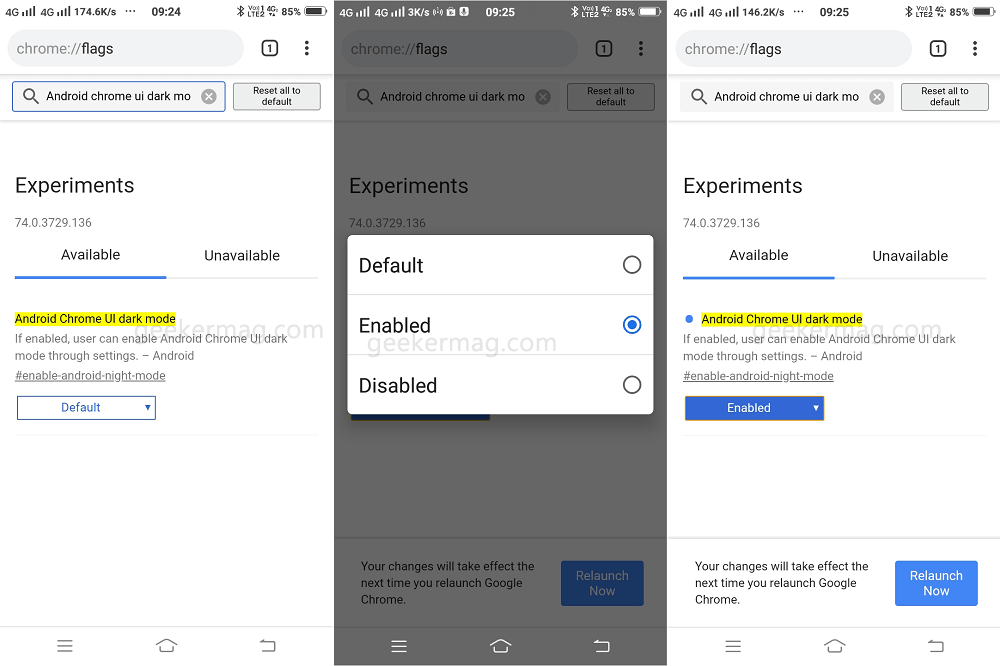 3. To apply the changes tap on the Relaunch now button. This will activate the Dark mode option in the Chrome Settings.
4. To enable the Chrome Dark mode, tap on the Three-dots icon available on the upper right corner and from the menu select Settings.
Under the Basic section, you will start seeing a Dark mode option, tap on it. On the next screen, tap on the slider and this will instantly switch the interface to dark color.
Note: After performing above steps, if you're not seeing the Dark mode option in the Chrome settings, then try to close the browser, remove it from the recent app list and launch again.
Dark mode on Chrome for Android is still under development, and due to this reason, we find that the effect of the dark mode is missing on various pages. The search results on the Chrome browser loads up with a white background.
Fortunately, there's another flag available in Chrome browser. You can enable it enjoy full dark mode experience on Chrome for Android.
Using the steps discussed above, search for "Android web contents dark mode" and change the settings from Default to Enable. Relaunch the browser.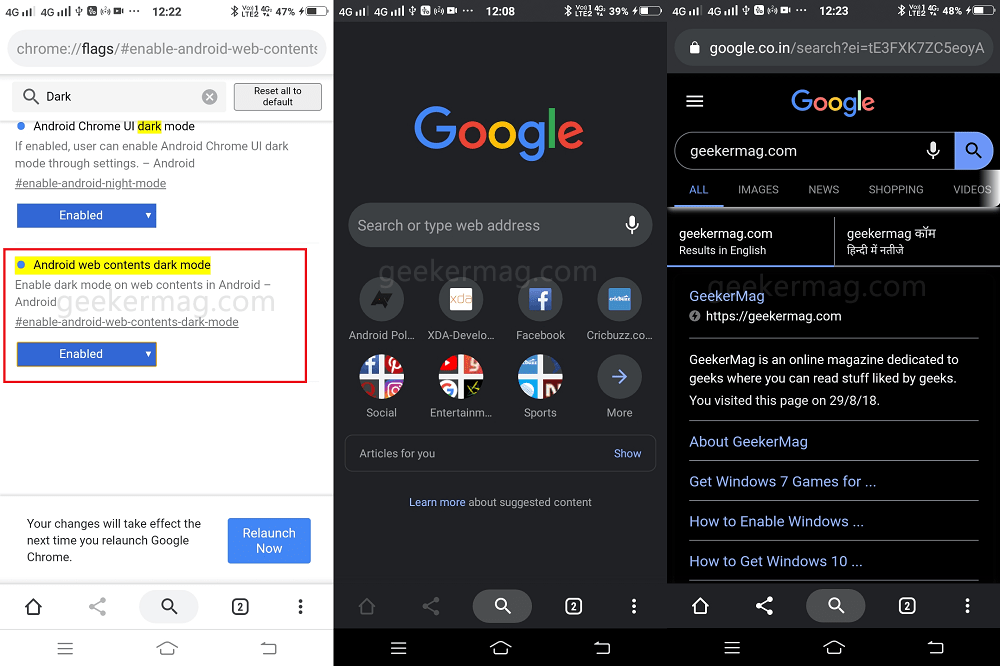 Note: Dark mode for Android web content is not ready yet, so its up to you whether you want to use it or not.
Additional tip: In case, Chrome v74 update is still not available to you via Play Store, and you can't wait to try Chrome dark mode on Android, then you can download and install Chrome beta from the Play Store and follow the same steps.
What are your thoughts about Dark mode on Chrome for Android? Do you like the Dark mode or keep using the light theme? We would like to hear your opinion in the comments.
Please do not hesitate to Contact me on Twitter if you want assistance with issue related to Windows 11, Windows 10, and Edge browser. I will try my best to assist you ASAP. (Follow me first and then PM your issue on Twitter)

Buy us a coffee if you find information shared in this blog post useful. Mention 'Coffee' in Subject. So that I can thank you