Microsoft recently rolled out Edge Canary v87.0.666.0 and it has a new Reveal Password button option under the Password settings page.
You might be wondering why we need that, right? Whenever you try to login to any website, you see an Eye icon available at the end of the Password field. Clicking the icon will show you the password you're typing. It comes handy when you have to confirm if the password you have entered is correct.
Most online websites like Gmail, Twitter, Facebook, WordPress and other offer its own Reveal Password button, but with Edge Password Reveal button you can enable the functionality in the websites that doesn't offer this functionality. For example Reddit and others.
Enable or Disable Reveal Password Button in Microsoft Edge
Although, it's a useful feature for some users on the other hand some users might want to turn off the Password Reveal button due to privacy concerns. Once it's disabled, either you or no one else will be able to view passwords.
With default settings, Microsoft Edge Reveal Password button is enabled out of the box. In case, you want to turn off the button, then here's how you can do that:
Make sure, you're using latest version of Microsoft Edge v87.0.666.0 or above.
Next, you need to click on the Ellipse (…) icon and select Settings from the menu.
Select Profile tab and then on the right-side, click Passwords.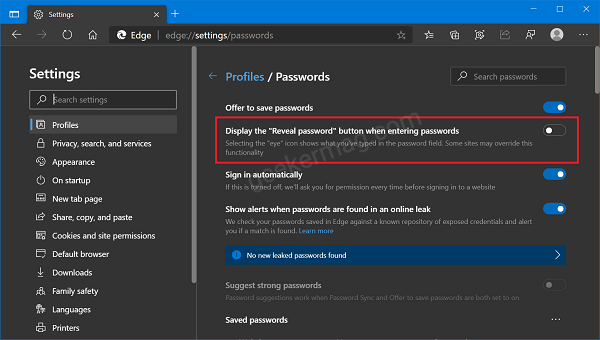 Here on this page, under Offer to save passwords, you will find option called "Display the "Reveal password" button when entering passwords", you need to turn it OFF or ON depending on your requirement.
As simple as that!
Do let us know, whether you want to enable or Disable Password Reveal Button in Microsoft Edge browser.