Microsoft developers have started testing new Windows Style overlay scrollbars that can transition between minimal and full modes based on pointer movements. The purpose of introducing a new layout for scrollbars is to provide a modern look to it when using in Windows 11.
Improvement in the design of Overlay Scrollbars in Microsoft Edge isn't new. The developers behind Edge are working on improving this feature for a long time. This time they have done an incredible job.
Enable Overlay Scrollbars for Microsoft Edge in Windows 11
Windows-style overlay scrollbar is disabled behind the flags out of the box in the latest version of Edge Canary. In case, you want to give it a try, then here's how you can enable it:
Launch Microsoft Edge Canary and then copy-paste this: edge://flags/#edge-overlay-scrollbars-win-style in the address bar and hit enter.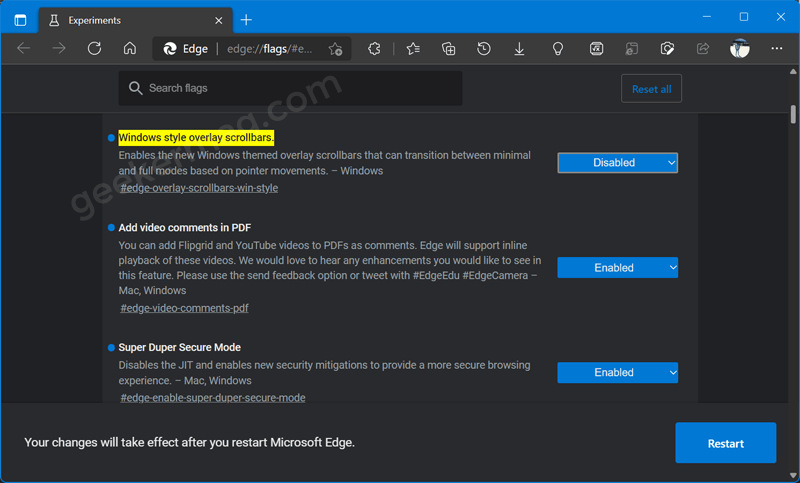 Windows style overlay scrollbars flag will be highlighted. Using the drop-down next to it, change the settings from Default to Enable.
Click on the Restart button to apply the change.
From now onwards, Microsoft Edge will load with Windows Style Overlay Scrollbar. Here's how it looks like:
Why don't you try the improved Windows style overlay scrollbars in Microsoft Edge for Windows 11. Did you like it? We would like to hear from you in the comments.
Please do not hesitate to contact us if you want assistance with Windows or its solutions. Our team is always here to help you. (Mention 'Tech Support' in Email Body)