Notepad is one of the native apps of Windows 11 that is part of user's daily workflow. On the basis of various feedback from the users, the company has updated the classic notepad app with a modern spin to make it fresh.
Microsoft has started rolling out the redesigned Notepad app for Windows 11 with a completed updated UI. You will notice the Mica effect, rounded corners, and even more.
The main highlight of the new notepad app for Windows 11 is dark mode. Out of the box, the Notepad app will respect system theme preferences, but you can select dark or light mode manually from the new dedicated new settings page. From the same settings page, you can also manage font type, size, and style.
To make the Notepad app more productive there's an improved find and replace with support for multi-level undo.
How to Get New Notepad app for Windows 11
As of writing this blog post, redesigned Notepad application is available for Windows 11 Insider running the latest build in the Dev channel. Those users who're running Windows 11 build 22509 or above can check for the update on Microsoft Store.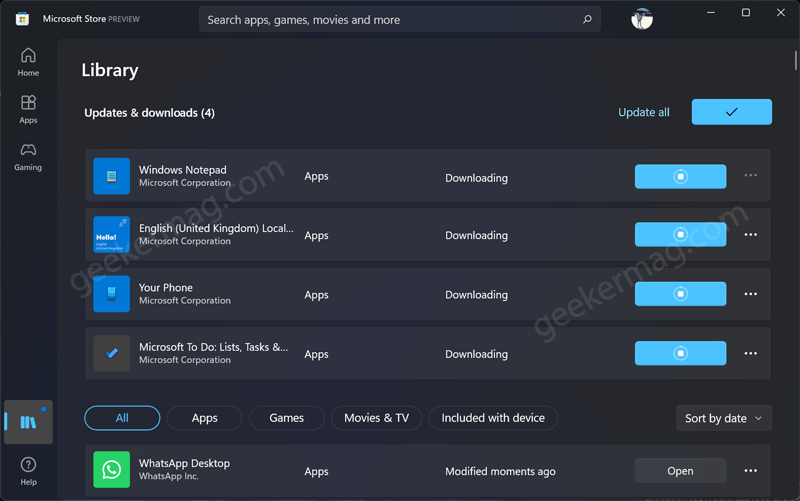 If the update is unavailable, then you can update the application manually. Here's what you need to do:
Download the Notepad msixbundle using this link, which is 8.3MB in size.
Or, visit store.rg-adguard.net, select the ProductID option on the left side of the search bar, and copy-paste this: 9msmlrh6lzf3 product Id of Notepad app.
You will get various results, look for the latest .appx file and download it.
Note – Before doing that, close the Notepad application, else the deployment will fail.
Launch Windows Terminal with admin rights: Add-AppxPackage -Path "path of notepad app". So full command will look like this: Add-AppPackage -path "C:\Users\username\Downloads\Microsoft_WindowsNotepad_11_2110_64_0_neutral_8wekyb3d8bbwe.Msixbundle"and hit enter.
This will start the deployment. Once done, the cursor will move to the next line. Launch the new Notepad app for Windows 11 and start using new features.
To Enable Dark or Light in Notepad app for Windows 11. Click on the Settings (Gear) icon on the upper right corner, this will take you new Notepad settings page.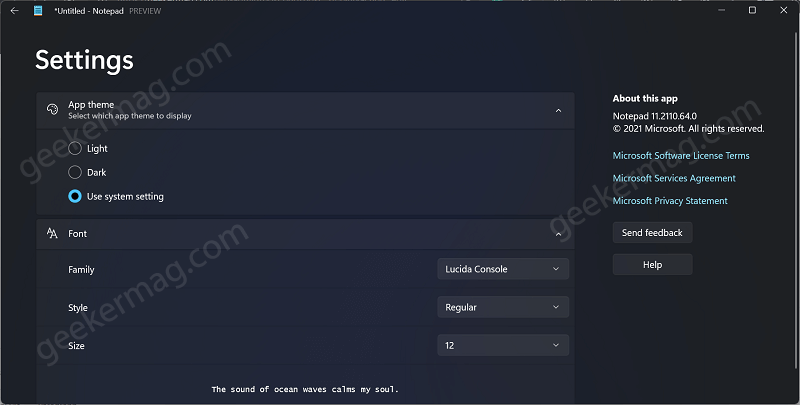 Here, click on the Theme app option to unlock more features. Select, dark or light theme depending on your choice.
In case, you want to manage what Font family, style, and size appear in the Notepad editor, then you can also do that from the dedicated settings page in Notepad.
To use the new Find and Replace feature in the Notepad app for Windows 11, use CTRL + F key combination to bring the find box.
These are the options that you will find in the File, Edit, and View menus: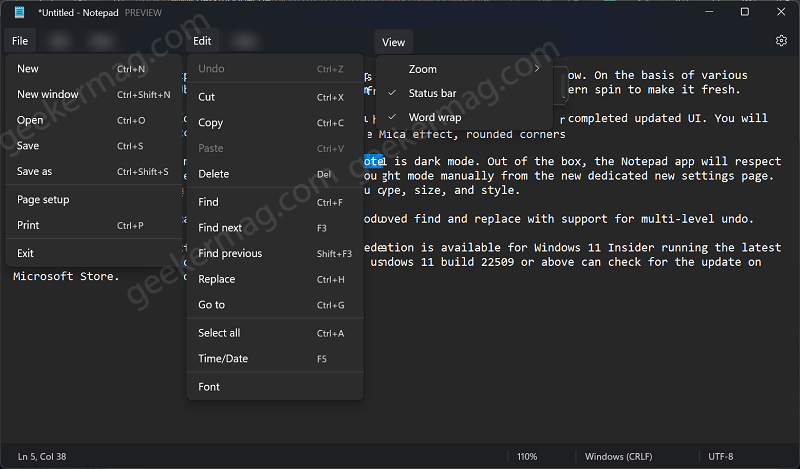 That's all about the new Notepad app for Windows 11. If you get it on your Windows 11 PC, then let us know your opinion in the comments.