Seeing error which reads "Modern Setup Host has stopped working" in Windows 10? Don't worry check out this post and you will find out the workaround to fix this Windows 10 error.
Windows 10, the latest version of windows operating system released by Microsoft. It has lots of new features with an improved user interface which makes it better in comparison to earlier Windows OS. But it is also true that the same operating system is home for lots of errors and bugs.
One of the Windows 10 issues about which lots of users reporting on Reddit and Microsoft Answers is the error named as "Modern Setup Host has stopped working". Normally this error starts appearing when the system is upgrading to Windows 10 or while using media creation tool for Windows 10.
The worst thing about this error is that even the Microsoft team is not giving proper solution to fix this error. In this situation, the solution shared by other users on Reddit and Microsoft answers might help in troubleshooting the issue
You can check out all the solution discussed below and check if any of them work fine for you.
Modern Setup Host has stopped working
Modern Setup Host is a default utility that extracts the Windows update archive and installs itself. It is available in the C:\$Windows.~BT\Sources\folder, every time user logs into the Windows 10 PC it automatically runs as a scheduled task, to run a process with local users rights inside the connect of its origin windowsstoresetupbox.exe. It helps the system when you're running setup file to upgrade PC to Windows 10. In case, it fails due to any reason, then in this situation, you will see the error and abort the system upgrade process.
To help users who're facing the same issue I decided to write this detailed post in which you will read about some precautions and workarounds that will help in troubleshooting the issue:
Precautions
You can take few precautions first before troubleshooting the issue:
Disable any Antivirus and Firewall program
Eject all the external devices connected to Windows 10 PC
Make sure you have enough disk space minimum of 20GB
In case, you're already followed these precautions and still issue persist, then check out workaround discussed below to fix modern setup host has stopped working in Windows 10
Solutions
1. Run Windows Update Troubleshooter
One of the quickest solutions is to run Windows Update Troubleshooter. For that, you need to download Windows Update Troubleshooter and run it. The troubleshooter will try to figure out the issue and fix it.
2. Do a Clean Boot
You can perform a clean boot Windows 10 and check out if this fixes the issue. Here is how you can do that:
1. Type msconfig in the start menu search bar. When System Configuration appears in the search result click to open it.
When UAC Dialog box appears, click Yes to continue.
2. In System Configuration window, under General tab choose Selective startup and then uncheck Load Startup items.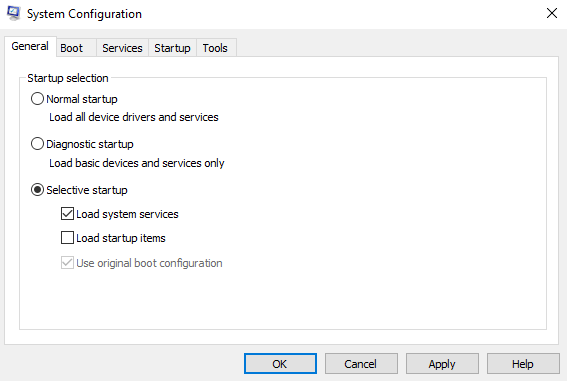 Make sure Load system services and Use original boot configuration option is checked.
3. Next, move to Services tab. Here choose the "Hide All Microsoft Services check box". After that click on Disable all button.
4. Now click on Apply/OK. Now this will boot Windows 10 into a Clean Boot State.
5. Click on Restart button.
After reboot check out if this fixes the issue or not. In case, the issue is still not fixed, then under the General tab, uncheck Load System Services box and then click Apply/OK and Restart.
Again check if this fixes, the issue. If the issue is fixed, you can undo the above changes to a default state to configure windows back to normal boot state.
3. Change Language
Some users reported on the web that they fixed the issue by changing the default language to English (United States). Here is how you can do that:
1. Launch Settings app (know how). For that Press WIN + I keyboard keys.
2. After that click on Time & Language -> Region & language.
3. On the right pane, Under Country or region section use the drop-down and select your country.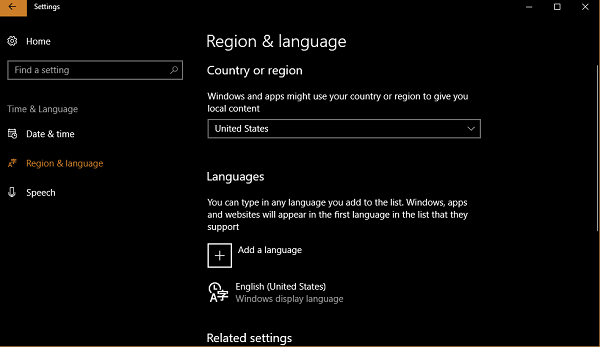 4. After that under Language, section check if the default language is English (United States). If it is the default language already, then you skip the next step because Language is not causing the issue.
Else, click on Add a language button and from the list of the languages select English (United States).
Reboot your system and check out if this work for you.
3. Delete Content in Software Distribution Download Folder
To delete all the content in download folder of Software distribution folder, you need to:
1. Press WIN + X keyboard keys and click on RUN.
2. In the RUN dialog box, you need to type or paste the following path and press Enter.
C:\Windows\SoftwareDistribution\Download
3. In the folder, you need to delete all the content available in the folder.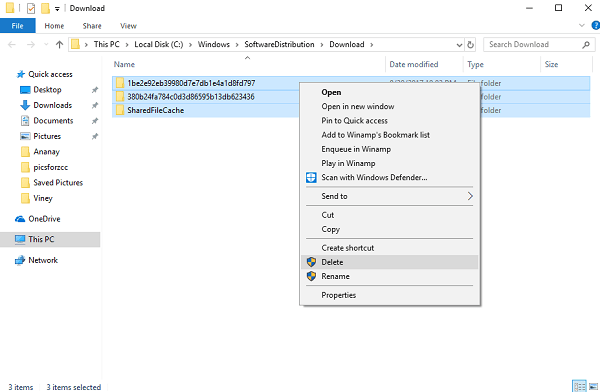 4. After that, launch elevated Command Prompt. For that, type CMD in the Start menu search bar and when it appears in the search results. Make a right click on it and Run as Administrator.
5. In CMD window type: wuauclt.exe /updatenow and press Enter.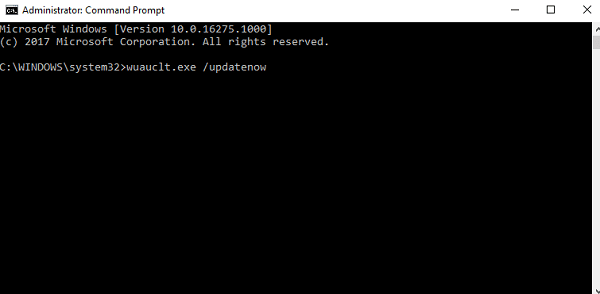 6. Reboot your PC and restart the upgrade process.
4. Run Windows 10 Media Creation Tool
One of the working solution which is suggested by Ben Wil on Microsoft Answer is to take help of Media Creation tool for Windows 10. Under this workaround, you need to:
1. Download the Microsoft tool named as Windows 10 Media Creation tool.
2. After that let the tool download the update and validate the download.
3. Once the process is finished, close the tool.
4. Press WIN + R keys to open RUN box and type or paste the following path:
C:\$Windows.~WS\Sources\Windows\sources\setupprep.exe
and press Enter.
5. Doing this will begin the installation and upgrade process will be completed successfully. I hope this work for you.
So these are possible precautions and workaround which you can try to Modern Setup Host has Stopped Working error in Windows 10. Why don't you try these solutions and let me know which one works fine for you in the comments?