3D Printing is still new to many people, but it has had an increasing impact on our daily lives as its applications are endless and undoubtedly beneficial. But as out of the box it is, food printing pushes the envelope towards a world where its applications are experienced daily.
With the expiration of most patents in the 3D segment, there has been a rise of start-ups developing the technology for commercial and industrial food supply. The industry has evolved so much that there has been at least one 3D food printer showcased at all the recent CES shows.
There is now a traveling restaurant called Food Ink that exclusively sells 3D printed food and creates its own cutlery and furniture. Such advancement would make anyone wonder how technology affects our lives daily. As Lynette Kucsma from Natural Machines says; "…in 10 to 15 years, 3D food printers will become a common kitchen appliance like your oven or microwave is today." This is becoming more of a reality with each day and even though a 3D food printer may not be in regular retail stores yet, it definitely will sit well in your kitchen besides the $89.96 Ambiano Retro collection in the Aldi ad this week. These are all gadgets that will simplify your life and make cooking the easiest part of your day.
Here are our top 3 picks of 3D printers that you need to be aware of as they are currently available for direct purchase from their respective makers. These suppliers will also give you the raw materials and product support.
Best Value 3D Food Printer
Mycusini – around $690 (Best Value)
The story of Mycuisini began with a Kickstarter campaign by a small German startup called Print2Taste. Since then, the company has created a few products in the 3D food printing segment, which are all eye-catching. However, none of them stands out as much as the Mycuisini 2.0. It has an earlier version which was released in 2019, and the 2.0 is an added improvement on it. Its compact design, lovely color options, and 2-hour strong internal battery make it a must-have for any kitchen counter.
They also have an excellent after-sales support network that allows more customization and cartridge refills. In addition to all this, it is easy to clean and pegged at a very affordable price.
Overall Best 3D Food Printer
Foodini – around $4,000
The Foodini made by Natural Machines was one of the most anticipated when it was released, and it is still one of the best. This can be attributed to its ease of use, stylish design, and superior variety of foods it can print. The Foodini can use more ingredients allowing it to fire up to 5 different cartridges at the same time. This allows it to create more complex foods from Jellies, pizza, and spaghetti all the way up to full-sized burgers.
As a testament to its superior quality, the Foodini is also used in London's Food Ink restaurant and at La Endeca Hotel in Barcelona.
Most Versatile 3D Food Printer
Zmorph VX – around $4,000
ZMorph VX boasts a reputation of reliability and versatility as it comes from the producers of one of the best 3D printers ever; the Zmorph Fab. This legacy of great technology makes it an all-rounder as it is a printer that can do it all. With the addition of the thick paste extruder, you can print using Nutella, chocolate, cookie dough, and a few more food 3D printer filaments too. It's important to note that this printer isn't certified explicitly for food.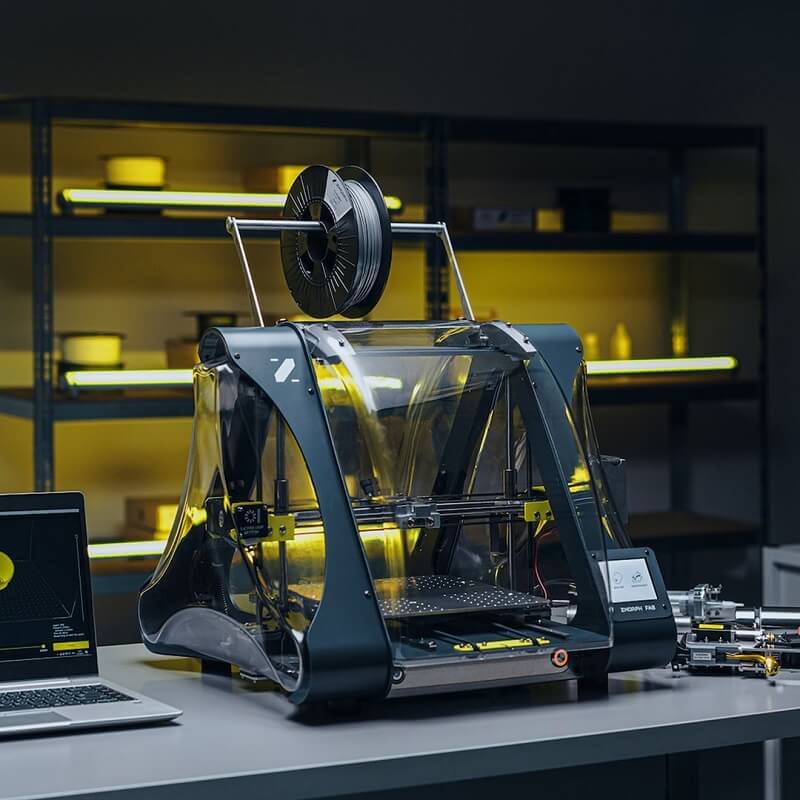 However, this would be great for anyone who doesn't want to buy another printer and can just add $250 for the extruder, which would be a great deal.
As an independent platform, it takes a lot of effort to create and curate quality content daily. Our content is totally funded by users like you.
Therefore, if you find information on this website useful, we kindly ask for your support in maintaining the longevity of our platform. If each person who benefits from our website contributes, we can secure a brighter future for our website.
Donate on Paypal or Buy us a coffee if you find the information shared in this blog post useful. Mention 'Coffee' in the Subject. So that I can thank you