Email inboxes can become very disorganized. Most people tend to have at least one email account, leading to even more disorganization. You could have a work email, a personal email, and an old email account that you check periodically.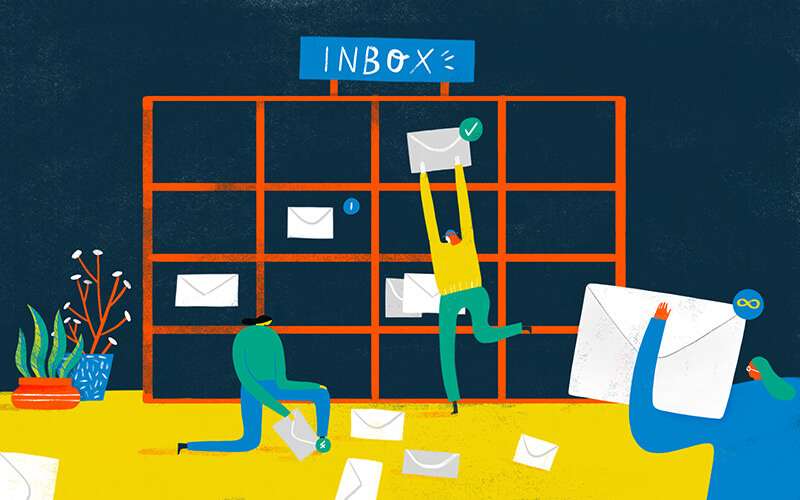 In addition to this, each email inbox could have multiple unopened messages that you plan to read at some time in the future. 
1. Consider Merging All Your Emails 
The best way to start organizing your email inbox is by merging all of your emails. If you are not sure how to merge multiple email accounts, there are tools that you can use to help you.
When you merge email accounts, you give yourself a real chance to organize everything. All of your emails will be in one place, which can help to make things much more manageable.
Once everything has been merged together, you can begin to create folders and place all of those unread emails in one place. Let's face it, organizing things may not always be the most exciting thing to do, but the end result can be worth it.
As soon as everything is merged into one email inbox, you can breathe a sigh of relief. All of your emails will be directed to just one inbox. You no longer need to spend hour after hour trying to find which account that all-important email was sent to.
Relatively easy to use, Spike, a tool that you can use to merge emails, can also turn your emails into simple chat threads. 
2. Use Labels and Folders
We briefly touched on using folders to help organize your email inbox. While this may seem a little pedantic, it can help to keep things incredibly organized.
Labels work a bit like a tag. They can be added to every single email you send or receive. In addition to this, you can also add them to draft emails. Labels are there to help you stay more organized. They are very similar to folders, but they work in a slightly different way. Any labeled email will remain in your inbox unless you choose to move it elsewhere.
These handy labels exist so that you can find exactly what you're looking for. You can also add sub-labels should you wish to. For example, let's imagine you received an email from Steve in accounts. This email contains information about petty cash. You could create a label called "Accounts" with "Petty cash" as the sub-label. So, the next time you need to look for an email that contains the petty cash information, you know where to find it.
Now onto folders…
Folders are similar to labels, as we have seen, but they act differently. With folders, you move the email from your inbox to the folder. Folders can be used as filing cabinets. You can store your emails in them, so they don't clutter up your inbox.
As long as you give the folders a relevant name, so you know what they contain, you should have no difficulty finding what you need. 
3. Unsubscribe
A great way to stay relatively well organized all the time is to unsubscribe from marketing emails that you don't want. Chances are, you probably get at least a few social media emails each day. You may also receive emails that promise you great deals if you shop online now! You get the gist.
While it may be easy for you to delete such emails from time to time, receiving them can be a little annoying. The only way for you to stop receiving emails such as these is by unsubscribing.
Don't worry; you don't have to make phone calls or write a long email stating why you want to unsubscribe. The whole process is a lot easier than you think. Simply:
Open the email in question and scroll to the bottom of the page
Find the link that allows you to unsubscribe
Click on the link, and you'll be directed to a page
Follow the instructions on the page to unsubscribe
Fill in the "reasons why you want to unsubscribe"
And you're done
It really is that simple. Of course, the process of unsubscribing is usually easier if you can do it on a laptop or desktop. Some websites aren't completely mobile-optimized yet. This means you may have to play around with the "unsubscribe" page until you reach the magic button.
Unsubscribing right now means you will receive fewer spam and marketing emails in the future. You can potentially keep all unwanted emails out of your inbox this way. You just need to be prepared to spend a few minutes unsubscribing.
Our Final Thoughts
Organizing your email inbox does not need to be a tricky affair. Most email providers give you options that can help you to get organized and stay that way. With a little bit of work, you too could have an email account that is so organized other people are envious.
Sooner or later, you may even wonder why it took you so long to get organized.
As an independent platform, it takes a lot of effort to create and curate quality content daily. Our content is totally funded by users like you.
Therefore, if you find information on this website useful, we kindly ask for your support in maintaining the longevity of our platform. If each person who benefits from our website contributes, we can secure a brighter future for our website.
Donate on Paypal or Buy us a coffee if you find the information shared in this blog post useful. Mention 'Coffee' in the Subject. So that I can thank you