Chrome Devs are frequently working on improving user's experience in the browser with multiple open tabs. To achieve this thing, they have recently introduced a scrollable tab strip feature and to move one step ahead working on another useful feature called Tab Search.
Right now, if you open multiple tabs in the Chrome browser and not using the tab group feature then it is possible that you reach in the situation when you only see an icon instead of a full tab, and sometimes the icon disappears too.
The above-discussed scenario makes it difficult to quickly head over to a particular tab. With the Tab Search search feature, the company wants to help users in this situation.
Enable Tab Search feature in Google Chrome
The feature is under development, but if you want to hand-on Tab Search feature, then here's how you can enable it using Properties hack.
Make sure you're using the latest version of Chrome browser.
Enable using flag in Edge Canary
Update – 23/10/2020 – Chrome Canary v 88.0.4300.0 now includes a flag to enable Tab Search feature. You need to visit chrome://flags/#enable-tab-search, using drop-down change settings from Default to Enabled.
Relaunch browser and you're ready to go
Enable using Shortcut hack in Edge Stable
Type Chrome browser in the start menu search box and when it appears in the results, right-click and select Open file location.
In Program folder, locate Google Chrome shortcut, right-click and select Properties.
In Google Chrome Properties dialog box, head over to Target section and in the space provided you need to type "–enable-features=TabSearch" after chrome.exe.
The full argument will look like: "C:\Program Files\Google\Chrome\Application\chrome.exe" --enable-features=TabSearch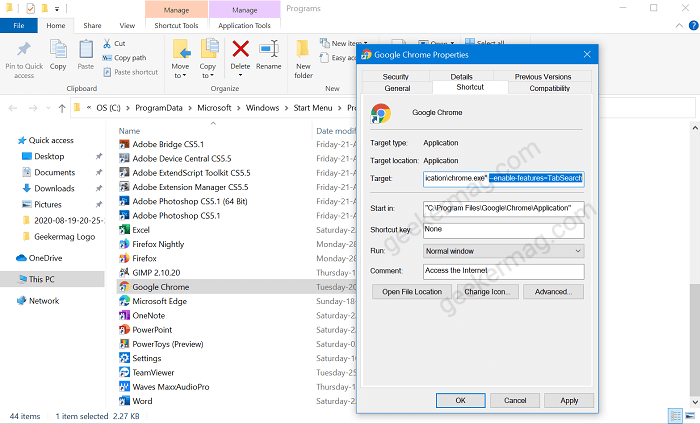 After that, click Apply and then OK.
Close Chrome browser if opened and then launch Chrome from modified shortcut.
Use Tab Search feature in Google Chrome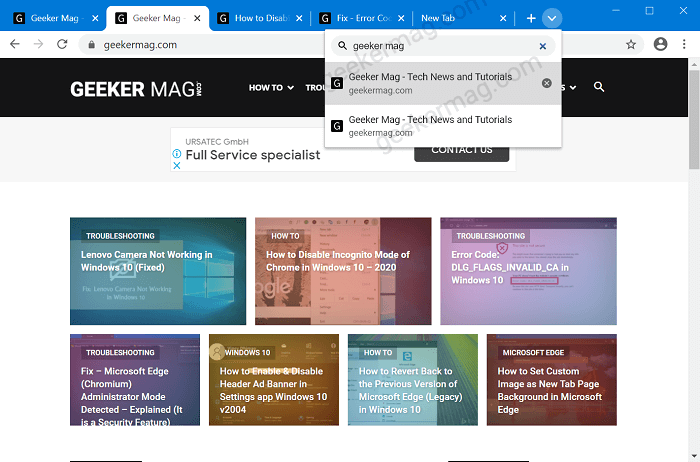 This time you will notice a new Tab Search (down arrow) icon available at the end of the tabs row. Clicking on it will bring the search flyout from where you can type and search tab.
You can also use CTRL + SHIFT + E keyboard combination to open the search flyout. Doing this will show you the matched tab and clicking on it will take you a particular tab.
What are your thoughts about Tab Search feature? Do you find it useful? We would like to hear from your in the comments.
If you find this blog post useful, please share it on Social Media. A quick share will help in growth of this blog. It hardly takes 10 seconds, isn't it?