If you use Discord, then the chances are that you are also looking for answers to question i.e. What is the best free voice changer for Discord right? The blog post has a list of best voice changing software worth trying.
Discord is an excellent freeware communication community and digital distribution platform dedicated to gamers. Majority of the gamers use this platform for making audio communication with other users in a chat channel. Apart from this, it also specializes in videos, images, and text. Discord runs on Windows, Mac, Linux, Android, iOS, and in a web browser.
While using Discord, you might want to troll other users, and one of the best ways to do it is by changing the voice. For this purpose, you can use Discord Voice changer apps, and fortunately, there are various voice changers which you can use.
Whether you want to sound like a Robot or want to mask your identity, the good thing is that all voice changing apps will help you to make that thing happen.
Discord app for changing voice is popular among users who play PUBG Players Unknowns Battleground, Minecraft, Fortnite, and League of Legends (LOL)
Best Discord Voice Changer App
If you want to change your voice while using Discord, then you can try the following apps.
1. Voicemod
Voicemod is a handy voice changer and soundboard software available for Windows. The app offers various voices, and most of them sound natural. The voices which I like; possessed, cathedral, cave, kong, and others.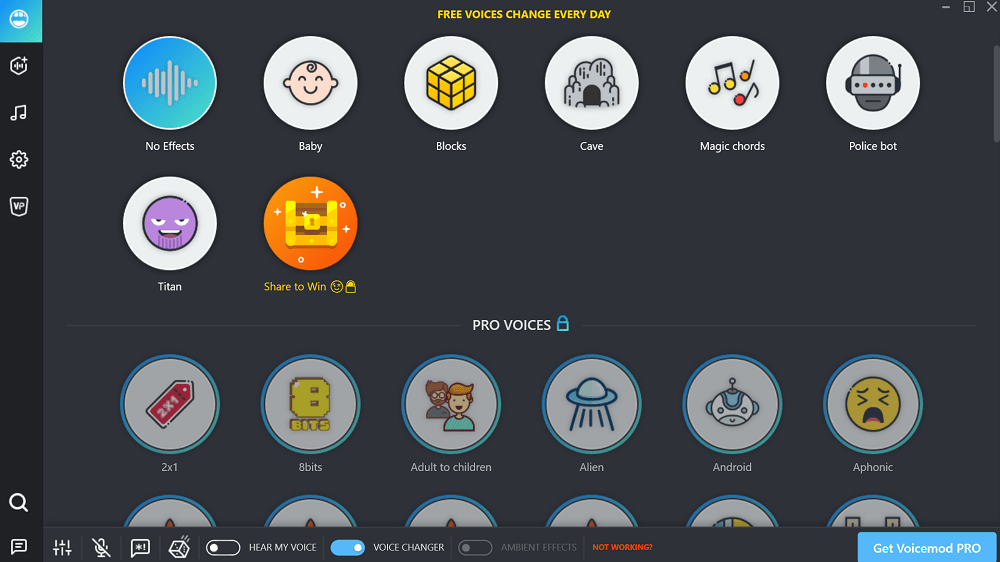 Voicemod transformer works with Discord, VRChat, Overwatch, Skype, and CSGO. You can also use it for Halloween and April Fools pranks.
Platform – Windows
Price – Limited Voice, To unlock all purchase subscription $14.99 (Download)
2. Voxal Voice Changer
It is a robust, real-time voice changing program. Using this, you can alter, change, and change your voice in various game and app (including Discord) that uses a microphone. Whether you want to change your voice from Alien to Girls, they offer various sounds.
Voxal works with almost various apps, so you don't have to play with configuration or settings. Install it like any other voice changer app, and you're ready to go. What makes this app special is that it is the only Discord voice changer for Mac in our list.
Platform – Windows, and Mac
Price – Free to Download, For home $14.99 and For Commerical $16.99
3. AV Voice Changer
AV Voice Changer Software is a professional voice changer software that works flawlessly with a platform like Discord and Twitch. With the help of AV Voice Changer, you can do almost whatever you want to with your voice. You can easily modify any audio file or your voice in a realtime.
You can record your morphed voice and then edit it in the waveform to make it sound natural. You can turn your voice sound deeper, younger, higher, older, more masculine, more feminine, more robotic and in a way you edit it.
Platform – Windows
Price – Free Trial, Basic: $29.99, Gold: 39.95, Diamond: 49.99 (Download)
4. Clownfish Voice Changer
Clownfish Voice Changer is a useful system-wide app for changing your voice. Once you install this application on your system it works with all the programs that use any audio capture device or microphone. It offers a limited number of voices which include Atari, Alien, Male, Female, Robot, Baby, Radio, and others. It's a well known Female voice changer
With the help of this application, you can not only change your voice in Discord but others in other apps too which includes Skype, ooVoo, Hangouts, Viber, Jitsi, TeamSpeak, Mumble and even more.
Platform – Windows
Price – Free (Download)
5. MorphVOX Jr
MorphVOX is another useful voice changer program that changes your voice according to your personality. With the help of default voice tools and sound effects, you can turn your voice into a man, women, or little folk.
There are some downsides to using this application. First, it shows ads while using it, and second, it is tough to set it up with Discord. Overall it is an excellent tool if you need a better sound quality.
Platform – Windows
Price – Free (Download)
So these are some of the best voice changer apps which you can use with Discord. Now it's your call to select the best one that fits your requirement. Also, let me know which discord voice changer you find useful? If you have any suggestion, share the names in the comments.
Donate on Paypal or Buy us a coffee or Join Patreon if you find the information shared in this blog post useful. Mention 'Coffee' in the Subject. So that I can thank you.